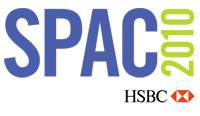 Spac's 2010 Season Opens This Weekend
Three Days; Three Exciting Events -- May 21, 22 And 23
Saratoga Springs, N.Y. -
FRIDAY, MAY 21 at 6 P.M. | SPAC's First-Ever Battle of the Bands  
(Spa Little Theatre)
  Ten finalists will compete in SPAC's first-ever
Battle of the Bands -
an addition to SPAC's Extended Season/Emerging Artist series. The audience and a panel of celebrity judges that includes Debbie Gabrione, lead singer of
Ten Year Vamp
, WEQX host Jason Irwin and Matt Baumgartner, restauranteur and FridayPuppy.com blogger, will select the winner who will receive a prize package valued at approximately $5,000. Fox 23 sports reporter Dani Stein will MC the evening. Chef David Britton's "Pies on Wheels" will be selling 10 different varieties of wood-fired, artisan pizzas, named for each of the bands competing. Tickets are available at
http://www.spac.org/
or at the door.
SATURDAY, MAY 22 at 8 P.M. | Ben Williams and Sound Effect
(Spa Little Theatre)
Jazz bassist Ben Williams, 2009 winner of the prestigious Thelonious Monk International Jazz Competition, will perform with his quintet,
Sound Effect
, which includes jazz pianist Aaron Goldberg whose newest album was recently named a
New York Times
 "Critics Choice," and acclaimed saxophonist Marcus Strickland. Tickets are $25 and are available at
http://www.spac.org/
or at the door.
SUNDAY, MAY 23 at 10:30 A.M. |  5K Rock & Run (one-mile kid's race begins at 10:00 a.m.) - SPAC/Saratoga Spa State Park
- WNYT Anchor Benita Zahn will give the "start" signal for this first-ever 5K walk/run sponsored by SPAC's Action Council. Beginning at the 'apron' of SPAC's Amphitheatre, runners will enjoy live entertainment at designated locations along the course by popular local bands. The race concludes with a party on SPAC's lawn, open to both participants and spectators. All proceeds will benefit SPAC's Vivienne Anderson arts education program for children.  Day-of registration begins at 8 a.m. at SPAC's Amphitheatre: Kids Race, $5 per person; Adults 5K, $25 per person. For more information, call 518-584-9330
.
Photographers and members of the media are encouraged to attend these events. Advance notification is appreciated.
###
Contact
: Shane Williams-Ness, 518.584.9330 x 116
shane@spac.org
Lisa Hill, 518.584.9330 x 119
lhill@spac.org
http://www.spac.org/