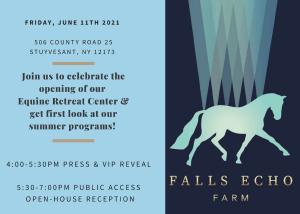 Showcasing a new facility for enjoyable equine interactions & luxury picnics
Stuyvesant, N.Y. – Falls Echo Equine Retreat Summer will open June 16, 2021 and feature outdoor, leisure activities with horses, mornings & afternoons. Guests can pamper horses with the "Social Grooming" offering and take a relaxing walk through the park-like property with horse in hand during a "Horse Hike". FEF has partnered with local caterer, NOSH to create a luxury picnic add-on to any experience. The venue will also be open for special events throughout the summer.
What: An afternoon open house for the community. Meet the horses, see the beauitful park-like property &, walk-through our stables where we will be hosting our summer programs.
4:00- 5:00pm: Press Only: Introductions & Tours
5:00- 6:00pm: Special guests by invitation
6:00-7:00pm: Open to the public
Who: Laura Vonk, Owner of Falls Echo Equine Retreat Center her professional staff + Caitlin Terry, Owner of CabaYoga, a Horse Yoga company that is opening their second location this summer at Falls Echo.
When: Friday, June 11, 2021 | 4-7 p.m.
Where: Hosted at the Falls Echo Farm, a picturesque acreage across from historic Chittenddens Falls.
506 County Road 25
Stuyvesant, NY 12173
Cost: Free.
RSVP: For press inquiries or media visits, please RSVP by emailing the Public Relations & Events Director:Caitlin@fallsechofarm.com
For more information, visit www.fallsechofarm.com or on social media by following @fallsechofarm
Summer feature, CabaYoga can be found at www.cabayoga.org or.by following @cabayoga on Facebook or Instagram.