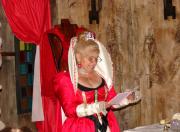 Mexico, N.Y.
- If you missed the Diamond Jubilee in London you can still have lunch with the Queen - Queen Edwina.  Her Royal Highness invites guests to an afternoon tea in her manor house, Casey's Cottage, on the grounds of Mexico Point Park on Sunday, June 24. Queen Edwina will host a relaxing afternoon of conversation, music, delicious tea, tea sandwiches, and delectable treats in the unique setting of Casey's Cottage. The queen will receive those who have made reservations at 2 p.m. for the mere sum of $10, and $3 for those 10 years of age and younger.  Guests are invited to come in costume. For reservations call Lady Betty at 315-963-7657. Casey's Cottage is one of Oswego County's hidden gems. The former carriage house was designed to resemble an 11
th
 century English manor house by Dr. William Casey, a professor at Columbia University, and artist Serverin Bishof during the 1930s. It is located at Mexico Point Park, overlooking Lake Ontario and the Little Salmon River. For additional information, go to
www.howardsplace.net/manorhouse.html
.  For Oswego County visitor information, go to
http://www.visitoswegocounty.com/
###
Photo caption
'Queen Edwina' will greet guests at an afternoon tea Sunday, June 24, at Casey's Cottage at Mexico Point Park on Lake Ontario. Originally a carriage house, the cottage was transformed into a medieval manor house during the 1930s.  For reservations call 315-963-7657.
Contact: Sandra Scott,
sanscott_2000@yahoo.com