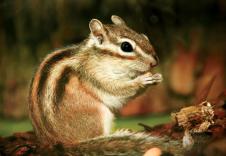 Cornwall, N.Y.
- On Saturday, May 4 at 10 a.m., come to the Hudson Highlands Nature Museum for
Dig In!
  Join Environmental Educator Megan Hoffman at the Museum's Outdoor Discovery Center, on Muser Drive, across from 174 Angola Road, Cornwall, to learn about burrowing animals of all kinds. "Did you know that a single chipmunk can store up to 8-pounds of food in its burrow and each female raises two litters of pups per year, usually 2-6 at a time?" said Megan. Meet a few of the Museum's digging creatures and take a short walk with Megan in search of animals that burrow at the Outdoor Discovery Center. Kids can make a fun craft to take home. For adults with or without children and children ages 5 and up. Admission: $7/Adults, $5/Children. Museum Members: $2 Discount.  For more information visit hhnaturemuseum.org or call 845-534-5506 x204.
###
Photo Caption
: Learn about animals that burrow like the Chipmunk at the Hudson Highlands Nature Museum on Saturday, May 4 at 10 a.m. Photo by Brian Kussard.
Contact:
Marian Goldin, Marketing Manager
Hudson Highlands Nature Museum
845-534-5506, ext. 215