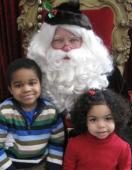 Also View a Rare Copy of the Poem "A Visit from St. Nicholas"
Rochester, N.Y.
- Ho, ho, ho! Tell your holiday wishes to the Jolly Good Fellow, the museum's old-fashioned Santa, and then view an extremely rare, signed copy of the beloved Clement Moore poem "A Visit from St. Nicholas" at the National Museum of Play at The Strong on Saturday, December 14 from 11 a.m. to 4 p.m. and Sunday, December 15 from 1 to 4 p.m. Guests can
also enjoy readings of "Twas the Night before Christmas" on Saturday and Sunday at 1:30 p.m., and join in festive singing with members of the
Golden Link Folk Singing Society
both days at 1, 2, and 3 p.m.
Clement Moore's poem
is a beloved national treasure and begins, "Twas the night before Christmas, and all through the house, not a creature was stirring, not even a mouse," and goes on to share the tale of the jolly, white-bearded St. Nicholas as he flies through the air on a "miniature sleigh" with "eight, tiny reindeer" to deliver bundles of toys to deserving children. Only four copies of the poem written and signed by Moore exist, and the earliest, dated 160 years ago in August 1853, is preserved in The Strong's collection. It will be on display from November 25, 2013 to January 1, 2014. Be sure to also check out Thomas Nast's original 1874 Jolly Good Fellow oil painting. Nast, who had drawn the Jolly Good Fellow hundreds of times for
Harper's Weekly
, modeled his Santa on Clement Moore's poem, complete with characteristic furs trimmed with holly and mistletoe. Also on view through the holiday season will be the
Miller Manor dollhouse
, lavishly decorated for the holidays with a twinkling Christmas tree on the front porch and windows festooned with their own tiny Christmas wreaths. The dollhouse-one of the largest in The Strong's collections-boasts 24 rooms, 24 fireplaces, 34 working windows, and nearly 100 electric lights. All Jolly Good Fellow Weekend activities and holiday displays are included with general museum admission fees. =====================================================================
Museum Hours:
Monday-Thursday, 10 a.m. to 5 p.m.; Friday and Saturday, 10 a.m. to 8 p.m.;  Sunday, noon to 5 p.m.
General Admission Fees
(does not include admission to
Dancing Wings Butterfly Garden
®
): age 2 and older $13.50, under age 2 free, members free.
Admission to
Dancing Wings Butterfly Garden
:
General Admission fee plus $3 for members, $4 for nonmembers, under age 2 free. Entry is by timed ticket only.
Parking:
Free parking is available at the museum for all guests on a first-come, first-served basis. Please note that, on high visitation days, the museum lot may reach capacity early in the day. If space is not available on site at the time of your visit, additional parking is available at neighboring municipal garages for a fee. The Strong is not responsible for fees incurred at off-site locations. ###
Contact
: Shane Rhinewald, 585-410-6365,
srhinewald@thestrong.org
Susan Trien, 585-410-6359,
strien@thestrong.org