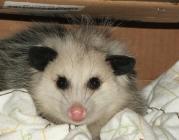 Cornwall-on-Hudson, N.Y.
- On Saturday, February 23 at 10 a.m., come to the Hudson Highlands Nature Museum's Wildlife Education Center, 25 Boulevard, Cornwall-on-Hudson to learn about the Awesome Opossum. Opossums are not related to rodents, they are actually marsupials (animals with a pouch) who have developed fascinating adaptations! Join Environmental Educator Pam Golben to learn about the Opossum through an illustrated slide show presentation and intriguing artifacts. "The Opossum is the record holder for the most teeth of any North American mammal - 50!" said Ms. Golben. "Opossum babies stay in mother's pouch for 2 months." Because this program takes place at the Wildlife Education Center, which houses all the museum's resident animals, participants will be able to observe the museum opossum's home and watch it enjoy a snack.  Visitors can also make a 'possum pouch to take home. This program is for adults with or without children and children ages 5 and older. Admission: $7/Adults - $5/Children. Museum Members: $5/Adults - $3/Children. For information visit the museum's website at hhhnaturemuseum.org or call 845-534-5506, ext. 204.                                                                      ###
Photo Caption
: Meet the Opossum at the Wildlife Education Center on Saturday, February 23 at 10 a.m. Photo by Pam Golben.
Contact:
Marian Goldin, Marketing Manager Hudson Highlands Nature Museum 845-534-5506, ext. 215