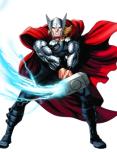 Rochester, N.Y.
- Zoom in for
Superheroes Weekend
at
The Strong
®
National Museum of Play
®
on Saturday, April 5 from 11 a.m. to 4 p.m. and Sunday, April 6 from 1 to 4 p.m. Do-gooders unite for a hero-filled weekend that includes character meet and greets, superhero training, and a variety of other superhero-themed activities.
Special Saturday & Sunday appearances:
Saturday, April 5: Thor rumbles in with his trademark hammer in hand from 11 a.m. to 2 p.m. and 3 to 6 p.m.
Sunday, April 6: Meet Iron Man as he rockets into the museum from noon to 5 p.m.
And all weekend long:
Visit with PBS Kids' WordGirl and Wonder Red.
Professional comic book artists will be available to share drawing and writing tips, display art, and sign autographs. Get inspired by Michael Borkowski, storyboard artist for cartoons including Beware The Batman, Avengers Assemble, Scooby Doo, Wolverine and X-Men; Chris Pallace, the co-creator of the iPad app Numbers League, a software version of the award-winning card game; Will Perkins, co-creator and artist of Beware... Comics! and art director at 215ink Publishing; and Ken Wheaton, comic book illustrations instructor and professional inker for The Simpsons and the Popeye comic book series.
View an engaging display of comic books spanning nearly 50 years created by Alfred University.
Enroll in Hero Training School, where you can develop your agility, strength, courage, and mental powers by leaping over buildings, lifting giant weights, going on rescue missions, and creating your own super persona.
Try out the enviroscape, get a free comic and temporary tattoo, and learn how you can be a hero for our environment by joining forces with Larry the H20 Hero.
Find out how you and your family can be healthy heroes! Discover the secrets to living the 5210 lifestyle with great nutrition tips, alternatives to screen time, and physical activities that will get the entire family moving.
Stop by the American Comic Book Heroes: The Battle of Good vs. Evil exhibit. Climb up the side of a skyscraper, test your skills at Super Powers School, and enjoy superhero dress-up and more!
All Superheroes Weekend activities are included with general admission fees. =====================================================================
Museum Hours:
Monday-Thursday, 10 a.m. to 5 p.m.; Friday and Saturday, 10 a.m. to 8 p.m.; Sunday, noon to 5 p.m.
General Admission Fees
(does not include admission to
Dancing Wings Butterfly Garden
®
): age 2 and older $13.50, under age 2 free, members free.
Admission to
Dancing Wings Butterfly Garden
:
General Admission fee plus $3 for members, $4 for nonmembers, under age 2 free. Entry is by timed ticket only.
Parking:
Free parking is available at the museum for all guests on a first-come, first-served basis. Please note that, on high visitation days, the museum lot may reach capacity early in the day. If space is not available on site at the time of your visit, additional parking is available at neighboring municipal garages for a fee. The Strong is not responsible for fees incurred at off-site locations. Contact: Shane Rhinewald, 585-410-6365,
mailto:srhinewald@thestrong.org
Kim Della Porta, 585-410-6325,
mailto:kdellaporata@museumofplay.org