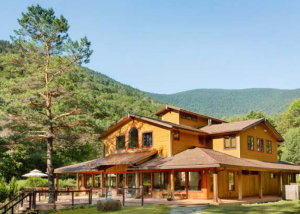 Phoenicia, NY - After temporarily closing to help combat the spread of COVID-19, Menla reopened on June 11th with new safety protocols in place. Now through July, they're offering 20% off normal lodging rates.
The health and wellness retreat lies on over 300 private acres in the heart of the Catskill Forest Preserve, just 2 hours north of NYC. Distance yourself from the noise and stress of city life while being enveloped by the healing touch of nature.
Menla offers a peaceful, safe escape for those wishing to avoid typically over-crowded, commercialized resorts.
Bob Thurman, Menla's Co-Founder and President of Tibet House US/Menla, calls it a "Force for good," going on to say that people "feel happier when they leave than when they arrive."
Connect with wildlife up close. As an Audubon bird sanctuary, birders have a unique opportunity to seek their favorite feathered friends in a secluded oasis, then return to the luxury of a private suite without having to leave the property.
Relax with one of many nature immersion experiences. Book a guided hike or explore on your own. Our guides will introduce you to the native flora and fauna found throughout the woods. There are three main hiking trails at Menla and a number of public trails just a short drive away. Let the water wash away your stress stream-side or work your cardio on the mountainous Metta Trail.
Bask in the elements of nature while forest bathing or learn about the environmental restoration work they've been doing on an ecology walk. Explore the medicinal plant garden and find out about natural remedies that have been used by native cultures for centuries. End the day with a bonfire in cool, crisp mountain air and take the opportunity to stargaze free from the light pollution urban jungles project.
There are plenty of mind-clearing activities you can choose from, like private yoga, qi gong, and meditation classes. Feel the soothing effect sound therapy has with a sound bath created by harmonic vibrations from gongs and singing bowls.
A fully equipped gym and outdoor pool will be open as well.
The vegetarian farm-to-table menu features organic dishes right from Menla's gardens. Enjoy complimentary breakfast and lunch takeout style. Dine on the deck overlooking Eva's Pond or in the comfort of your room.
Cozy, private villas and deluxe rooms are available if you need more personal space, or are traveling with family.
Sustainability has always been a core part of the Menla philosophy. Considerable effort is taken to source eco-friendly cleaning products like BRIOTECH. It's a cutting-edge, HOCI (Hypochlorous Acid) based antimicrobial biocide that works by inactivating viruses and other pathogens. All-natural, it's free of common additives such as alcohol, sulfates, and parabens.
Their world-class Dewa Spa is open in a limited capacity. Dive into hands-free therapy sessions which include, soul guidance and energy readings, yoga nidra, hatha yoga, life counseling, or health and wellness coaching.
Create Your Own Getaway by choosing dates and accommodations, then activities à la carte on the website.
For more information: https://menla.org/personal-getaways/
Social Media:
ABOUT MENLA
Spearheaded by Robert and Nena Thurman, Menla has been a project of TIBET HOUSE US since 2002. As a 501 c3 non-profit retreat and health spa, we are committed to bringing authentic Tibetan mind-body science to the West. Our vision draws on ancient Tibetan wisdom, the power of nature, and other alternative healing methods –– reinforcing the new wave of holistic integrative medicine emerging in Western societies.
###