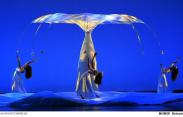 Thursday, August 1, 2013
Saratoga Springs, N.Y.
-- The fantastical, multi-media artistry of MOMIX, the celebrated troupe of dancer illusionists led by choreographer Moses Pendleton, comes to Saratoga Performing Arts Center (SPAC) on Thursday, August 1 at 8 P.M.  The company will present its highly acclaimed production of
Botanica
, a visually stunning performance that fuses elements of dance, theater and cinema to create spellbinding, larger-than-life images from the natural world.   "MOMIX's
Botanica
is a glorious melding of music, dance, theater and technology that is breathtaking in scope and innovative to its core," said Marcia J. White, SPAC's President & Executive Director. "It is an opportunity to see the beauty and imagery of nature, magnified and dramatized through the brilliant lens of choreographer Moses Pendleton." Created in 2009, MOMIX's production of
Botanica
follows the rhythms of the seasons, the changing shape of life on Earth and the passing of a day. Set to an eclectic score that ranges from birdsong to Vivaldi, the performance is enhanced by spectacular costumes, projections and giant puppetry designed by Michael Curry, acclaimed production designer for Cirque du Soleil, Disney's
The Lion King
and the Metropolitan Opera. The production has played to packed houses and rave reviews around the world.   Said Roslyn Sulcas of the
New York Times
: "... ["Botanica"] traffics in this tension between illusion and reality, apprehension and excitement: as with a
Halloween
disguise, you know there is a person behind the mask. The fun is in figuring out just how the effect is created..." Known internationally for presenting works of exceptional inventiveness and physical beauty, MOMIX is a company of dancer-illusionists led by Moses Pendleton, one of America's most innovative choreographers and directors for over 40 years.  In addition to stage performances world-wide, MOMIX has worked in film and television. The troupe was featured in IMAGINE, one of the first 3-D IMAX films to be released in IMAX theaters worldwide. Through performances on PBS's "Dance in America" series, France's Antenne II and Italian RAI television, the company's repertory has been broadcast to 55 countries.  The company has also appeared in feature films, in commercials and at major cultural events. A founding member of the groundbreaking Pilobus Dance Theatre before starting MOMIX in 1981, Moses Pendleton is known for his innovative choreography. His achievements include choreographing the closing ceremonies of the Winter Olympics at Lake Placid in 1980 as well as creating works and choreography for a number of dance and opera companies including the Joffrey Ballet, Munich State Opera, Arizona Ballet and Aspen Santa Fe Ballet.   "SPAC's lush setting among the flora and fauna of the Spa State Park offers the perfect backdrop for this performance. This event is a 'can't miss' of the 2013 season," White added. 
Enchanted Family Night Pre-Show, 6 - 8 P.M.
The evening will also feature a special "
Enchanted Family Night
"
Pre-Show.
 Children and families will be able to enjoy magical scavenger hunts on the lawn, illuminated balloons, whimsical glow-in-the-dark face painting, Sparkles on Stilts and more.  FREE with ticket to performance.
Tickets for MOMIX are offered at a special rate of $30 (inside seating).  Tickets for children 12 and under will be $15 on the night of the performance. Tickets go on sale online on March 18 at
spac.org
###