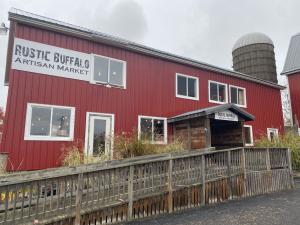 Tonawanda, N.Y. – Entrepreneurs John Pirrone and Scott DeMott, owners of Rustic Buffalo Artisan Market, have opened a new brick and mortar location 6610 Shawnee Road, North Tonawanda, NY 14120 with their Grand Opening Weekend set for Saturday November 14th from 9am to 9pm and Sunday November 15th from 9am to 9pm.
Rustic Buffalo Artisan Market have converted a Mid 1800's Barn into a 3700 Square foot shopping experience for all to enjoy.  They have added numerous enhancements to give it that Farmhouse charm to include second floor retail space as well as re-exposing the barn's hayloft.   
Pirrone & DeMott's business, Rustic Buffalo Artisan Market is a rather unique model bringing together over 50 local Artisans from WNY to showcase and sell their goods.  Most items in the market are made by local Artisans. Rustic Buffalo Artisan Market will be open year-round, 7 Days a week with evening hours for all to enjoy shopping at our eclectic artisan market.
As Buffalonians, we are all committed to shopping local and this is a perfect way to support local Artisans throughout the Western New York area.   DeMott, co-owner,  comments that "The opening of RUSTIC BUFFALO ARTISAN MARKET provides a solution for those Artisans that had been greatly affected by the challenges of the pandemic, leaving Artisans with very few options." 
If you are one to re-purpose furniture, RUSTIC BUFFALO ARTISAN MARKET was awarded the National line of FUSION MINERAL PAINT, a special paint for the "Do-it-Selfer" which has so many more benefits than traditional furniture paints on the market. Each employee of the Artisan Market had to take a certification class in the selling of Fusion Mineral Paint.    You can now find Fusion Mineral Paint at our Artisan Market location. 
RUSTIC BUFFALO ARTISAN MARKET offers Online shopping, curbside pick-up and Home delivery by our Rustic Buffalo Courier Service (Non-Contact Delivery). 
The opening of RUSTIC BUFFALO ARTISAN MARKET is a great opportunity for Artisans to showcase their talent, for the customers to shop local, and bring the community together.  Rustic Buffalo ARTISAN MARKET has plans to evolve their business model in 2021 to other areas of Western New York for all to enjoy. 
Rustic Buffalo Artisan Market has hired a full-time events coordinator which will allow our space to be used for various events such as: wine tasting by various Niagara Wine Trail wineries, Holiday Shopping Soiree, Rustic & Vintage Artisan DIY Classes, Summertime Food Truck Nights, Live Music Nights from our Rustic Buffalo outside deck and other great events to bring the community together.
RUSTIC BUFFALO ARTISAN MARKET's Grand Opening Weekend is Saturday November 14th Sunday November 15th, 2020 and is located at 6610 Shawnee Road, North Tonawanda NY 14120. Phone: 716-907-9318. Our Artisan Market is open 7 days a week year-round and you will find over 40 local Artisans that make up our market. Our Market specializes in: Farmhouse Décor, Rustic Décor and accents, Signs, Jewelry, re-purposed home furnishings/décor, candles, clothing, metal art, textiles, quality crafters, glass art, ceramic art, photography, prints, Buffalo Themed-décor, soap makers and specialty businesses who make gourmet popcorn, gourmet pet treats, Jelly & Jam distributors, chocolate makers, and other types of gourmet foods and spices. Come visit us starting November 14, 2020!!
Here is a list of Local Artisans that will make up RUSTIC BUFFALO ARTISAN MARKET starting November 14th:
3 Sisters Garlic & Oils
All Things Rustic Home Décor
Alluring Treasures
Buffalo Wood Blocks
BUFFALO D E SIGNS
BuffaWix Candle Co
Doggie Stylz
Doro Studios
E L Willow Designs
For The Love of Paint
Gourmet Creations by Tami
Granny Maude's Natural Soaps
Hammer & Stain Buffalo
Honey Sweet Jam LLC
Inedible Creations
Kiely  Kraft
L&J Creations
La Painted Peony
Little Miss Amelia Designs
Mittie Mittens
Mosaics By Madonna
NyZoSa Designs
Pillows for Keeps
Ramblin Rose Antiques
Remix086
Riv Co. VINTAGE
RUSTIC BUFFALO
Shade Vintage Home
Shady Birch Kreatives
Shop Buffalo Designs
Skindica
Sola Enchanted Petals & Gifts
Stephanie White Creations
Rose Heart Designs
Teri Mosley & Sarah Waechter
That Popcorn Shack
The Billett Bunch
The Creative Buffalo
The Painted Loft
The Savage Homestead
The Vintage Boutique
Thoughtful Tee & Gifts
Transformations by Teri
Vintage Soul Designs
We R Nuts
Wood You Look At That
Contact: John Pirrone
Email: info@RusticBuffaloDecor.com