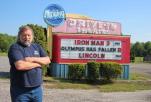 Minetto, N.Y.
-- Once a vibrant part of American culture, nearly 5,000 drive-ins dotted the nation in both big cities and small towns, but today less than 400 remain - and the Midway Drive-In, in Minetto, is one of those still going strong. This year commemorates 80 years of the iconic establishments and to celebrate, the Midway Drive-In has a special event planned for the weekend of June 7-9. Owner John Nagelschmidt announced that film director April Wright will be at the drive-in Friday, June 7, for the screening of her documentary, "Going Attractions." The full-length, 85-minute film examines the drive-in theater as an integral part of American culture from its invention in 1933, to its peak in the late 50s, to the rapid decline in the 70s and 80s, through the recent resurgence. "Wright herself will be available to chat with patrons about her seven-year project," Nagelschmidt said. "It will not be anything formal; she will be by the projection booth if anyone wants to visit with her." He also pointed out that June 6 is the day drive-in owners around the country celebrate as the birthday of the drive-in theater in memory Richard Hollingshead, creator of the first drive-in theater. For the Minetto drive-in, this year marks its 65th year of existence and for Nagelschmidt, 2013 will be his 26th year as a drive-in owner. But he has been around the industry longer than that. A retired Fulton G. Ray Bodley High School science teacher, Nagelschmidt said he started working at the Midway Drive-In when he was in high school and continued working there while attending SUNY Oswego for his teaching degree. "The drive-in is what paid my way through college," he recalled. The Midway Drive-In Theater opened in the summer of 1948 and was built by Ruben and Irving Canter. In the late 1960s, it was sold to A.T. Kolinski and C. Girard. "In 1987, the owners contacted me when they were ready to retire and made it possible for me to buy it," Nagelschmidt said. He said he also purchased one in Black River from them in 1995, but did not open it until sewer and water became available. "I opened it in 2006 with a partner, Loren Knapp, who used to be my projectionist," Nagelschmidt said. "Now, he manages the one in Black River." This year, the Midway Drive-In installed a brand new digital projection system, a Barco 32B, the brightest projector manufactured in the world. He also had the classic circa-1959 intermission advertisements everyone enjoys professionally digitized over the winter. "We could have made them pristine, but we left scratch marks in them to keep them original," Nagelschmidt said. He credits two main reasons for his Minetto drive-in's longevity. "For one thing, there is no pressure for property here like there is in places like Syracuse where properties are being sold to larger corporations and torn down for stores," Nagelschmidt said. "I don't see that happening in Minetto. The other big thing is the way films are distributed." He explained in 1970s, drive-ins had to wait to get newer films, but in the 1990s, right after he purchased the drive-in, newer releases became available sooner. The films now have open captions available as well, he said, so every Sunday night he runs them for the hearing impaired. Nagelschmidt said he makes every effort to create a family-friendly and fun place, playing mostly G and PG movies. He also gives patrons a chance every night at intermission to win a free large pizza with toppings of their choice by drawing a ticket stub from that evening's admissions. "If they save their ticket stubs from each time they attend, when they have eight they get a free pizza," Nagelschmidt said. "If they have 16 stubs, they get a T-shirt, if they save all 24, they get a free hat." For more information, call 343-0211 or visit their website at
http://www.midwaydrivein.com/
, where you can sign up to get weekly text of their showing and sign up to receive their newsletter.
###
CAPTION
: This year, drive-ins around the country will celebrate 80 years of drive-in history. John Nagelschmidt, above, owner of the Midway Drive-In, in Minetto, is hosting a special night in honor of the milestone anniversary June 7 with a feature showing of "Going Attractions," a complete history of drive-ins. Creator of the film, April Wright, will also be on hand that night to talk with patrons.