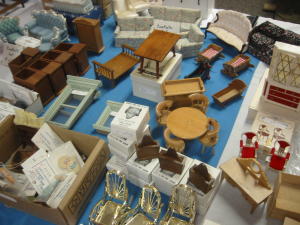 June 11th  Indoor Yard Sale of Miniature Furniture and Accessories for Dollhouses
Elmira, NY – The first annual Miniatures Vendors Yard Sale will be held at the National Soaring Museum on Sunday, June 11 from 10-4.  This is a great opportunity for miniaturists and dollhouse enthusiasts to pick up some great bargains to begin a new project or enhance one already in progress.  Our 25 sales tables will represent vendors from all over New York State and north central Pennsylvania. Don't miss this special event!
Admission to the Miniatures Yard Sale is included in a special one-day reduced museum admission of $5.00 for adults and $3.00 for children ages 7-18.  Children ages 6 and under are admitted free. The museum, which is located at 51 Soaring Hill Dr., Harris Hill, Elmira, NY, is open every day of the week from 10-5.
Located atop Harris Hill in Elmira, NY, the soaring museum is open year 'round. Here you can explore the history of soaring where soaring in America began, with one of the largest collections of historical and vintage gliders and sailplanes in the world.
In addition to the museum, there is a large playground, amusement park, swimming pool and picnic area on the Harris Hill campus, including the Harris Hill Soaring Corporation Flight Center, where visitors can purchase a 20-minute sailplane flight over the Chemung Valley.  Flights are available during the spring, summer and fall, weather permitting.  Watching the flights take off and land is free.
The museum itself houses not only a significant collection of sailplanes, but also presents a vast array of soaring trophies, memorabilia, photography and special exhibits. A trip through the National Soaring Museum tells the entire history of early soaring in America.
For more information, visit the museum website at www.soaringmuseum.org.
###
For More Information Contact:
Trafford Doherty, Executive Director
Tel. (607) 734-3128