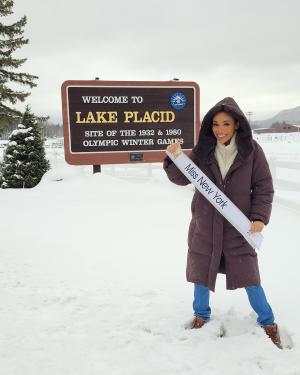 Lake Placid, NY (January 31, 2023) – Taryn Delanie Smith, Miss New York 2022, visited the Lake Placid region last week in support of her work with the Miss America Organization. As Miss New York, Ms. Smith works with the New York By Rail Organization to promote train travel throughout New York state. 
According to Communications Manager Jane Hooper, the Regional Office of Sustainable Tourism (ROOST) contacted Miss New York last October and suggested a visit to the Adirondack region. During late December and early January, trip details were finalized and an itinerary developed. 
During her time in the area, Ms. Smith rode the gondola to the top of Whiteface Mountain, she visited businesses along Lake Placid's Main Street, experienced a snowshoe adventure at Henry's Woods, visited John Brown Farm, toured the Olympic Museum, visited the Herb Brooks Arena in the Olympic Center, and spoke with a number of local residents, business owners, tourism industry personnel and regional tourism officials.
Throughout her visit, Ms. Smith captured a great deal of video and many photographs of her time spent at the various venues, visiting area businesses and during her time outdoors. These photos, videos and her personal accounts of the experience will be shared on the Miss New York Instagram page and on the New York By Rail social media accounts. Additionally, she will summarize her experiences in a blog written for NY By Rail that will be shared in a weekly newsletter, along with the video highlighting her experiences.
As a social media content creator, Ms. Smith's proficiency with various social media platforms has increased the Miss America NY Instagram account substantially, doubling the number of followers in her first 6 months in the role. She has used her expertise to share her experiences as Miss New York, along with her statewide travels and appearances, with a wide audience. 
This particular trip highlights the ease in which people can take the train to the Albany area and access the Adirondack region by car; allowing potential Adirondack travelers to learn more about the region. 
Hooper explained that ROOST often works with various media professionals to help promote all that the Adirondack region has to offer.  "ROOST undertakes a media relations strategy as part of its overall marketing effort," she said. "We work with travel writers, editors, and social media content creators to encourage story development about the Adirondack region; ultimately sharing information about travel to, and within, the area. Writers and social media content professionals present the Adirondacks to their audiences which adds to the overall understanding of the Adirondacks - these writers and social media personalities tell the 'story' of the region through words, photos and video. The stories are also reinforced through ROOST's advertising campaigns, encouraging potential visitors to begin planning their own Adirondack adventure."
Miss New York's adventures in Lake Placid and throughout the state can be seen on Instagram @missamericany and @newyorkbyrail.
The Regional Office of Sustainable Tourism is the destination marketing and management organization for Hamilton and Essex counties, including the communities of Lake Placid, Tupper Lake and Saranac Lake, all located within the Adirondacks in New York state.
About Miss New York 2022
Taryn Delanie Smith is a passionate communications and media creative with a strong educational background in media studies and international relations. As a bilingual 25-year-old, she has scholastic expertise and hands-on experience with digital communities, inter-cultural relations, and diplomacy. Taryn is an honors graduate who holds both a Bachelor of Science and Master of Science degree from St. John's University. She is a freelance content creator and consultant for numerous national and international brands. 
Taryn was the first runner-up at the Miss America pageant, held in December 2022.
About New York By Rail
New York By Rail is an annual magazine produced along with NewYorkByRail.com, a web version of the magazine, under a publishing agreement between Amtrak and Martinelli Custom Publishing that promotes Amtrak train travel, primarily in New York, and features information on Amtrak trains, routes, services and destinations and attractions. New York By Rail has an agreement with the Miss New York Organization for Miss New York to visit destinations via Amtrak and promote her experiences through a blog, video and social media. 
###
Contact:
Jane Hooper, communications manager
Regional Office of Sustainable Tourism
518-621-3662
518-578-6328 (cell)
jane@roostadk.com