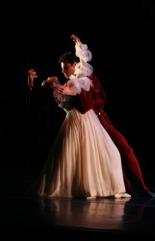 Program to Include The Moor's Pavane, Considered One of the Greatest Modern Dance Works of Twentieth Century
Special Pre-Curtain Talk by Artistic Director Carla Maxwell at 7:30 P.M.
Saratoga Springs, N.Y.
 - Powerful political, spiritual and dramatic themes will be on display as Limón Dance Company performs at Saratoga Performing Arts Center on Thursday, June 10. The evening will begin at 7:30 p.m. with a Pre-Curtain Talk by acclaimed Artistic Director Carla Maxwell. The Company's performance will follow at 8 p.m. and will feature three works, including the Pulitzer Prize-winning
The Moor's Pavane
, considered one of the greatest modern dance works of the twentieth century. Tickets are $25 and available at
www.spac.org
, 518-584-9330 or at SPAC's Box Office.  "José Limón changed modern dance forever. A pioneering dancer and the first Mexican-American choreographer, José Lim?n was a trailblazer in his time. He created the Lim?n technique and developed a body of work that is brilliant, compelling and strongly influenced by his cultural heritage and spiritual themes," said Marcia J. White, SPAC's President and Executive Director. "We are grateful that Limón Artistic Director Carla Maxwell will take the stage at 7:30 p.m. to talk about José Limón and his works. He was a fascinating artist; her insights will help explain what audiences will see on stage."   Acclaimed for its dramatic expression, technical mastery and expansive, yet nuanced movement, the Limón Dance Company continues to preserve and cultivate the masterpieces and legacy of founder José Limón (1908-1972). Lim?n, a pioneering Mexican-born modern dancer and choreographer, is regarded as one of the modern dance world's seminal creative artists, known for his intense presence and the theatricality and musicality of his dances. Lim?n, with his mentors Doris Humphrey and Charles Weidman, developed the Lim?n technique that focuses on the movement of breath through the body, the dynamic use of weight in each body part and the fluid succession of one movement into the next. This tradition stands among only a few other movement techniques that have actually altered the course of twentieth century dance. The company will present three works including Limón's incomparable masterwork
The Moor's Pavane
- a retelling of Shakepeare's
Othello
that is known the world over as one of the greatest dances of the 20th century. A
New York Times
review notes, "The Limón classic,
The Moor's
Pavane
, was created more than a half-century ago. But passing time and fashion have not diluted its power..." The program will also feature a work by choreographer Clay Taliaferro, the reflective
Into My Heart's House
and the major revival of another Limón masterwork,
There is a Time
, a lyrical dance of the circle of life set to the Pulitzer Prize-winning score by Norman Dello Joio.  The performance is presented in conjunction with Saratoga ArtsFest 2010 - a four-day celebration of the arts in Saratoga Springs from June 10-13, featuring music, dance, visual art, film, theatre, and literary art. "We are proud to support Saratoga ArtsFest by presenting this special Lim?n Company performance. This is a rare opportunity for SPAC audiences to experience one of the world's finest modern dance companies on one of the world's finest stages. We are looking forward to an extraordinary performance," said White. Tickets to the Limon Dance Company's performance are $25 and are available at
www.spac.org
, by phone at 518-584-9330 and in person at SPAC's Route 50 Box Office. Individuals who present an
ArtsPass
at the Box Office are entitled to $5 off the ticket price.
###