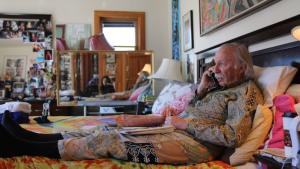 Lynne Sachs: Between Thought and Expression coincides with the Virtual Cinema release of her new feature "Film About a Father Who"
January 13–31, 2021
New York, New York — Mixing documentary and experimental modes of filmmaking, the Brooklyn-based filmmaker Lynne Sachs has produced a celebrated body of work that spans more than 30 years. In her earliest films, she experimented with classical avant-garde techniques to explore both the body and the material of film itself; in recent years, Sachs has incorporated live performance and observational documentary to address personal and historical experiences—all while looking at the world through a feminist lens. Museum of the Moving Image will present the 20-film retrospective Lynne Sachs: Between Thought and Expression from January 13 through 31, 2021. The career-ranging survey, all presented online, will include Sachs's acclaimed new film Film About a Father Who, which opens in MoMI's Virtual Cinema on January 15.

Film About a Father Who, a Cinema Guild release, constructs a kaleidoscopic portrait of the artist's maddeningly mercurial father through the eyes of his children, grandchildren, ex-girlfriends, ex-wives, and most of all his own mother. The film had its world premiere at the 2020 Slamdance Film Festival, and its New York City premiere at MoMA's Doc Fortnight.

Among other series highlights: three of Sachs's key early works, Drawn and Quartered (1987), The House of Science: a museum of false facts (1991), and Which Way Is East: Notebooks from Vietnam (1994), will be presented in new HD presentations. The last of these is both an intoxicating family travelogue and politically sobering diary of a trip from Ho Chi Minh City to Hanoi. The series will also include the premiere of Maya at 24 (2020), the third edition of Sachs's temporal portrait of her daughter Maya, which is presented as part of a program of films that document her children over a span of two decades. The full program is included below and available online at movingimage.us/LynneSachs.

Along with the screenings, the Museum will present a new recorded dialogue between Sachs and Assistant Curator of Film Edo Choi, who organized the retrospective, covering the breadth of Sachs's career. This exclusive video will be available to those who purchase tickets to any of the screenings.

"Over a 30-plus-year career, Lynne Sachs has charted a formal path defying conventional categorization. Each of her films is a self-reflexive meditation into the psychic origins and intellectual process of its own making, issuing from a space between thought and expression," said Choi. "This is true of her work as early as The House of Science and as recent as her latest and most personal film so far, Film About a Father Who."

About Sachs's work, Choi wrote: "Immersed in questions of form from her earliest, highly structural works, Sachs went on to embrace a more variegated aesthetic approach, incorporating elements of the essay film as well as observational documentary, while remaining dedicated to the embodied, gestural camerawork of the avant-garde. In her most recent long form works, such as Your Day Is My Night and Tip of My Tongue, she has progressed to a process of open-ended, communal collaboration with her subjects, making them equal partners in an effort to create works of multi-faceted and polychromatic dimension."

For more about Lynne Sachs, visit lynnesachs.com.

Special thanks to Canyon Cinema and Cinema Guild for their support in organizing this program.

FULL PROGRAM FOR 'LYNNE SACHS: BETWEEN THOUGHT AND EXPRESSION'
January 13–31, 2020: online retrospective at movingimage.us/LynneSachs

All films will be presented in MoMI's Virtual Cinema, including a new video interview between Lynne Sachs and Edo Choi, which will be available exclusively to ticket holders.

Tickets are $12 ($10 MoMI members) for Film About a Father Who / $5 for individual repertory programs. A $30 ($26 members) all-inclusive series pass is available / $20 ($16 members) pass for all repertory programs (not including Film About a Father Who).

All films are directed by Lynne Sachs.

NEW ONLINE RELEASE
Film About a Father Who
January 15–31, 2020
Dir. Lynne Sachs. 2020, 74 mins. Between 1984 and 2019, filmmaker Lynne Sachs shot 8 and 16mm film, videotape and digital images of her father, Ira Sachs Sr., a bon vivant and pioneering businessman from Park City, Utah. Film About a Father Who is her attempt to understand the web that connects a child to her parent and a sister to her siblings. With a nod to the Cubist renderings of a face, Sachs's cinematic exploration of her father offers simultaneous, sometimes contradictory, views of one seemingly unknowable man who is publicly the uninhibited center of the frame yet privately ensconced in secrets. With this meditation on fatherhood and masculinity, Sachs allows herself and her audience to see beneath the surface of the skin and beyond the projected reality. As the startling facts mount, she discovers more about her father than she had ever hoped to reveal. A Cinema Guild Release.

Program 1: Early Dissections
In her first three films, Sachs performs an exuberant autopsy of the medium itself, reveling in the investigation of its formal possibilities and cultural implications: the disjunctive layering of visual and verbal phrases in Still Life with Woman and Four Objects; un-split regular 8mm film as a metaphorical body and site of intercourse in the optically printed Drawn and Quartered; the scopophilic and gendered intentions of the camera's gaze in Following the Object to Its Logical Beginning. These experiments anticipate the range of the artist's mature work, beginning with her first essayistic collage The House of Science: a museum of false facts. Itself an autopsy, this mid-length film exposes the anatomy of western rationalism as a framework for sexual subjugation via a finely stitched patchwork of sounds and images from artistic renderings to archival films, home movies to staged performances. Program running time: 47 mins.

Still Life with Woman and Four Objects (1986, 4 mins.)
Drawn and Quartered (1987, 4 mins. New HD presentation)
Following the Object to Its Logical Beginning (1987, 9 mins.)
The House of Science: a museum of false facts (1991, 30 mins. New HD presentation)

Program 2: Family Travels
One of Lynne Sachs's most sheerly beautiful films, Which Way Is East is a simultaneously intoxicating and politically sobering diary of encounters with the sights, sounds, and people of Vietnam, as Sachs pays a visit to her sister Dana and the two set off north from Ho Chi Minh City to Hanoi. The film is paired here with a very different kind of family journey The Last Happy Day, recounting the life of Sachs's distant cousin Sandor Lenard, a Jewish Hungarian doctor who survived the Second World War and was ultimately hired to reassemble the bones of dead American soldiers. Here Sachs journeys through time as opposed to space, as she assembles a typically colorful array of documentary and performative elements, including Sandor's letters, a children's performance, and highly abstracted war footage, to bring us closer to a man who bore witness to terrible things. This program also features The Last Happy Day's brief predecessor, The Small Ones. Program running time: 73 mins.

Which Way Is East: Notebooks from Vietnam (1994, 33 mins. New HD presentation)
The Small Ones (2007, 3 mins.)
The Last Happy Day (2009, 37 mins.)

Program 3: Time Passes
Twenty years unspool over nine short films: portraits of Lynne Sachs's children; visits with her mother, brother, niece and nephew; a tribute to the city where she lives; and scenes of sociopolitical trauma and protest. Nearly all shot on super 8mm or 16mm, and often silent, each work is at once a preservation of a moment and a record of change, seamlessly weaving together the candid and the performed gesture, the public and the private memory, in a simultaneously objective and subjective posture toward the passing of time. Program running time: 51 mins.

Photograph of Wind (2001, 4 mins.)
Tornado (2002, 4 mins.)
Noa, Noa (2006, 8 mins.)
Georgic for a Forgotten Planet (2008, 11 mins.)
Same Stream Twice (2012, 4 mins.)
Viva and Felix Growing Up (2015, 10 mins.)
Day Residue (2016, 3 mins.)
And Then We Marched (2017, 3 mins.)
Maya at 24 (2021, 4 mins. World premiere)

Program 4: Your Day Is My Night
2013, 64 mins. "This bed doesn't necessarily belong to any one person," someone says early in Your Day Is My Night. It could be the metaphorical thesis of this film, perhaps Lynne Sachs's most self-effacing and meditative work. A seamless blend of closely observed verité footage, interpretive performance, and confessional monologues and interviews, the film doesn't document so much as create a space to accommodate the stories and experiences of seven Chinese immigrants from ages 58 to 78 who live together in a "shift-bed" apartment in Manhattan's Chinatown. Sachs's quilted sense of form achieves a new level of refinement and delicacy in collaboration with her cameraman Sean Hanley and her editor Amanda Katz, as she works with the participants to exhume a collective history of migration and struggle.

Program 5: Tip of My Tongue
2017, 80 mins. Sachs's richly generative Tip of My Tongue finds the filmmaker responding to her 50th birthday by gathering twelve members of her generational cohort—friends and peers all born between 1958 and 1964, and originating as far as Cuba, Iran, and Australia—to participate in the creation of a choral work about the convergent and divergent effects history leaves upon those who live it. From the Kennedy assassination to Occupy Wall Street, the participants reveal their memories of, and reflections upon, the transformative experiences of their lives. Set to an ecstatic, pulsing score by Stephen Vitiello, the film interweaves these personal confessions with impressionistic images of contemporary New York, obscured glimpses of archival footage, and graphically rendered fragments of text to create a radiant prism of collective memory. Preceded by Sachs's frantic record of accumulated daily to-do lists, A Year in Notes and Numbers (2018, 4 mins.).
###
Image: Ira Sachs Sr. and Lynne Sachs (in mirror reflection) in Film About a Father Who (2020) / Courtesy of Cinema Guild.

Press Contacts:
Tomoko Kawamoto, MoMI, tkawamoto@movingimage.us
Sylvia Savadjian, publicist for Film About a Father Who, Sylvia.Savadjian@gmail.com

Lynne Sachs is available for interviews. Film About a Father Who is available for review.

Press Materials:
Press Images for Lynne Sachs retrospective (user: press / pw: images)
Film About a Father Who press kit and photos 

ABOUT MUSEUM OF THE MOVING IMAGE
The Museum's mission is to advance the understanding, enjoyment, and appreciation of the art, history, technique, and technology of film, television, and digital media. Despite the effects of the COVID-19 pandemic, and with the building closed since March 14, the Museum continues to fulfill its mission online through live conversations with artists, filmmakers, scholars, media educators, and other industry professionals; articles published in MoMI's online film magazine Reverse Shot and science and film resource Sloan Science & Film; access to the Museum's collection of more than 130,000 objects; and the online presentation of a range of films—including acclaimed new release features and award-winning science shorts, plus archived video of Museum events, and more. In August 2020, the Museum co-created the Queens Drive-In, in partnership with Rooftop Films and New York Hall of Science, to revive communal moviegoing in a safe environment. For more information, visit movingimage.us. Follow MoMI on Facebook, Twitter, Instagram, and YouTube.

Museum of the Moving Image is housed in a building owned by the City of New York and has received significant support from the following public agencies: New York City Department of Cultural Affairs; New York City Council; New York City Economic Development Corporation; New York State Council on the Arts with the support of Governor Andrew M. Cuomo and the New York State Legislature; Institute of Museum and Library Services; National Endowment for the Humanities; National Endowment for the Arts; and Natural Heritage Trust (administered by the New York State Office of Parks, Recreation and Historic Preservation).