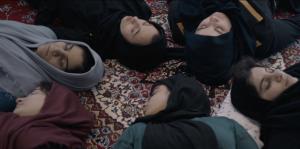 Exclusive presentation Includes his award-winning latest 'Sunless Shadows' 
Sunless Shadows, a Cinema Guild release, opens August 5 via Virtual Cinema
Astoria, New York, July 23, 2020 — Beginning August 5, 2020, Museum of the Moving Image is pleased to present Bound Unbound: Four by Mehrdad Oskouei, films by the esteemed Iranian documentarian who has spent twelve years exploring the lives of women and children in detention centers near Tehran. The series is anchored by Sunless Shadows, Oskouei's latest film, for which he was awarded Best Director at the International Documentary Film Festival Amsterdam in 2019. Punctuated by deeply confessional monologues, the film offers a window into the lives of women and girls imprisoned for the murder of a male family member. Sunless Shadows is a Cinema Guild release. View trailer.

"It is not hyperbolic to say that the films of Mehrdad Oskouei are without comparison in contemporary cinema," said Eric Hynes, MoMI's Curator of Film. "Both for his dedication to giving voice to people who are habitually and systematically silenced—the incarcerated youth of Iran, whose traumas preceded their criminality and remain raw and worth understanding—and also in terms of his easygoing, engaging style of observation and conversation, which allows for scenes of both heartbreaking intimacy and transcendent joy. We are honored to be showcasing his latest film, Sunless Shadows, as well as his three previous films, in hopes of bringing his work to a wider audience."

Alongside Sunless Shadows, the series includes Starless Dreams (2016, which MoMI presented in an exclusive New York theatrical run in 2017), The Last Days of Winter (2011), and It's Always Late for Freedom (2007)—films that offer "a tapestry of longing and self-negation," as Bilge Ebiri noted in The Village Voice in 2018. The films all feature intimate and riveting testimonies from teenage girls and boys removed from society for crimes that range from theft to murder and who suffer from addiction and abuse. The desperation of their situation is balanced by the community they build with fellow inmates, playing, eating, gossiping, caring for infants, and other everyday activities.

For Oskouei, whose father and grandfather were both incarcerated as political prisoners, and who considered suicide as an option to alleviate the suffering of his debt-ridden family, prisons and prisoners have always been a fascinating subject. Recently, the director reported on his state of quarantine from France, where his daughter is attending school, noting that when he returns to Iran he may be imprisoned for one year, having run afoul of censors with a new work-in-progress about men in prison for drug trafficking and how their wives and children survive without them.
Bound Unbound: Four by Mehrdad Oskouei (August 5–30, 2020)
All films screen via Virtual Cinema courtesy of Cinema Guild, with half of proceeds going to the Museum. Tickets for Sunless Shadows are $12 / $10 members; older titles are $3.99 per film. A series pass, good for all four films, will be available for $20 / $16 MoMI members. More information at movingimage.us/mehrdad-oskouei. See below for descriptions.

Sunless Shadows
Dir. Mehrdad Oskouei. 2019, 74 mins. In Persian with English subtitles. Oskouei's follow-up to the critically acclaimed Starless Dreams, Sunless Shadows takes another look at the lives of teenage girls in an Iranian juvenile detention center. But this time the focus is narrowed: each of the film's principal subjects is serving time for the murder of a male family member. One by one, Oskouei invites them to go into a room alone, push the red button on the camera and address their accomplices or victims. With this new confessional approach combined with the ever-deepening relationships he has with his subjects, Oskouei presents a picture of the disenfranchised in an aggressively male-dominated society and of the prison that is their shelter from it. View trailer.

"Humanist and sobering and enraging, Sunless Shadows is a vital portrait of young women in a society that has no room for them as people." — Alissa Wilkinson, Vox

Starless Dreams
Dir. Mehrdad Oskouei. 2016, 76 mins. In Persian with English subtitles. At a juvenile detention center on the outskirts of Tehran, troubled teenage girls seek comfort and joy from one another, while contemplating uncertain futures. Oskouei spent seven years securing access to this all-female facility, and he makes the awkwardness of being a male filmmaker in their environment a poignant and powerful aspect of his project. As the New Year approaches, the girls bond, and reveal—with disarming honesty—the circumstances and sometimes shocking acts that resulted in their incarceration. Yet as they rehabilitate and recover, they face dangers outside of the prison walls, even and at times especially within their own families. With startling frankness and "the conceptual rigor and emotional directness associated with the best of Iranian cinema" (Variety), Starless Dreams delivers an unforgettable portrayal of innocence lost and found.

The Last Days of Winter
Dir. Mehrdad Oskouei. 2011, 52 mins. In Persian with English subtitles. Oskouei follows seven young men, all under age 15, in the days leading up to the Iranian New Year. With only twelve days to shoot, Oskouei follows their daily activities at the facility and also joins them on a holiday excursion to the Caspian Sea. With no walls around them, the boys become more open, detailing their plans for the future, family, and for love, yet remain haunted by an unshakable sense of sadness and isolation.

It's Always Late for Freedom
Dir. Mehrdad Oskouei. 2007, 52 mins. In Persian with English subtitles. It's Always Late for Freedom introduces three adolescent detainees at the Tehran House of Correction who have committed crimes ranging from theft to drug smuggling to stabbing. But through Oskouei's masterful eye and gentle offscreen questioning, we learn that they are teenagers like any others—teasing, playful, and in the throes of first love.
###
Top image: Sunless Shadows (courtesy of Cinema Guild)

Press contacts:
For MoMI: Tomoko Kawamoto, tkawamoto@movingimage.us
For Cinema Guild: Qing Jin, jin@cinemaguild.com

Sunless Shadows is available for review. Please inquire about viewing earlier films.

Press images:
Sunless Shadows: http://www.cinemaguild.com/theatrical/sunless_press.html
Starless Dreams: http://www.cinemaguild.com/theatrical/starless_press.htm
Please inquire about images for It's Always Late for Freedom and The Last Days of Winter.
About Museum of the Moving Image
The Museum's mission is to advance the understanding, enjoyment, and appreciation of the art, history, technique, and technology of film, television, and digital media. Though devastated by the effects of the COVID-19 pandemic, the Museum continues to fulfill its mission online through: live conversations with artists, filmmakers, scholars, media educators, and other industry professionals; articles published in MoMI's online film magazine Reverse Shot and science and film resource Sloan Science & Film; access to the Museum's collection of more than 150,000 objects; and the online presentation of a range of films—including acclaimed new release features and award-winning science shorts, plus archived video of Museum events, and more. For more information, visit www.movingimage.us.

Follow MoMI on Facebook, Twitter, Instagram, and YouTube.

Museum of the Moving Image is housed in a building owned by the City of New York and has received significant support from the following public agencies: New York City Department of Cultural Affairs; New York City Council; New York City Economic Development Corporation; New York State Council on the Arts with the support of Governor Andrew M. Cuomo and the New York State Legislature; Institute of Museum and Library Services; National Endowment for the Humanities; National Endowment for the Arts; and Natural Heritage Trust (administered by the New York State Office of Parks, Recreation and Historic Preservation).