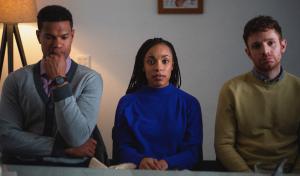 Also new initiatives on Moving Image Studio;
Virtual Cinema releases include Seahorse, Shirley, Marona's Fantastic Tale, Picture a Scientist, You Don't Nomi, and The Surrogate
New York, N.Y. – Museum of the Moving Image has continued to present remote programs while its building is closed to the public during the COVID-19 health crisis. The schedule below for June 2020 features live online events, films to view from home, and online education and creative activities for youth presented by Museum educators and media artists. Please see below for confirmed events; additional programs will be announced as scheduled.
For the local Queens community: The Museum continues to serve as a free meal distribution site on weekdays (beginning at 12:00 p.m.), in partnership with DanceNYC and World Central Kitchen. From June 13–21, the Museum will be one of twelve early voting sites in Queens.
LIVE ONLINE EVENTS
Visit the Museum's YouTube channel for recordings of live events. While most online events are free, the Museum welcomes donations ($10 suggested).

Reverse Shot Happy Hour
WEEKLY ON FRIDAYS, 5:00 TO 6:00 P.M. EDT
Start the weekend by joining the editors and writers of Reverse Shot for an informal discussion about the state of cinema, criticism, and culture, hosted by co–editors and founders Michael Koresky and Jeff Reichert and longtime contributor Farihah Zaman. Invited guests change each week. Reverse Shot is a publication of Museum of the Moving Image, a space for serious thought about the past, present, and the future of the cinematic medium.
Free with RSVP (suggested $10 donation). More info.

Conversation with Jeanie Finlay
THURSDAY, JUNE 11, 6:00 P.M. EDT
Where other nonfiction filmmakers might make sideshow spectacles of unconventional lifestyles, Emmy-nominated U.K. documentarian Jeanie Finlay has always met her subjects where they are, as equals, focusing on individuals and communities with passions to pursue and stories to tell. Join us for a live online conversation with Finlay, who is currently the subject of a ten-film MoMI retrospective, People Everyday: The Films of Jeanie Finlay, including the debut release of her new film Seahorse, about a trans man who gives birth. Free with RSVP (suggested $10 donation). RSVP here.

Jim Henson's World: Q&A with Craig Shemin and Friends
SATURDAY, JUNE 13, 7:00 P.M. EDT
The latest in the online series Jim Henson's World: Conversations shines a spotlight on writing for the Muppets as Craig Shemin, President of The Jim Henson Legacy, and his co-host and performer, Stephanie D'Abruzzo, are joined by Jim Lewis, who started his career with Muppet Magazine and continues to write for the classic characters today. Lewis's credits include Muppets Tonight, Kermit's Swamp Years, "Miss Piggy's Hollywood," and many, many more. Craig, Stephanie, and Jim Lewis will answer questions from viewers and display some very special "show and tell" items. Free with RSVP (suggested $10 donation). More info.

Fantastic Voyage and Representing COVID-19
Live Conversation with CDC medical illustrator Alissa Eckert and David Serlin
THURSDAY, JUNE 25, 8:00 P.M. EDT
Hollywood and the Centers for Disease Control and Prevention have faced similar challenges in visually representing microscopic threats to the human body. The classic 1966 sci-fi film Fantastic Voyage and the ubiquitous 2019 illustration of COVID-19 both render elusive yet life-threatening ailments. Sonia Epstein, Science on Screen curator (and Executive Editor of scienceandfilm.org, the Museum's online publication on the intersection of science and cinema), hosts a live online conversation with CDC medical illustrator Alissa Eckert—the person responsible for creating the image of COVID-19 (the spiky blob)—and science and technology scholar and author David Serlin (Imagining Illness: Public Health and Visual Culture). The conversation, including clips and images, will consider illustration and visualization, public education and accessibility, and the creation of the image of COVID-19. Free with RSVP (suggested $10 donation).
VIRTUAL CINEMA
In partnership with film distributors and/or filmmakers, the Museum presents new releases for viewers to stream from home. Fifty percent of ticket sales benefit the Museum.

People Everyday: The Films of Jeanie Finlay
JUNE 5–JULY 3
Where other documentaries might make sideshow spectacles of unconventional lifestyles, the films of Emmy-nominated U.K. filmmaker Jeanie Finlay have always met her subjects where they are, as equals, focusing on individuals and communities with passions to pursue and stories to tell. MoMI presents a ten-film retrospective—all online—of Finlay's films, including the Virtual Cinema release of her new film Seahorse, about a trans man who gives birth. Other titles are Orion: The Man Who Would Be King; SOUND IT OUT!, a portrait of the last remaining record store and its patrons in a small English town; Goth Cruise; Panto!, a heartfelt and heartbreaking documentary about amateur actors putting on a community theater production of Puss in Boots; The Great Hip Hop Hoax; Teenland, an intimate look at four teens interviewed in their own bedrooms about hopes, fears, and the future; and the three short works Indietracks, Nottingham Lace, and Love Takes. Tickets: $3.99 per film ($20 series pass, excl. Seahorse / $15 for MoMI members). Press release | Press images | Series information

Seahorse
JUNE 5–15
Dir. Jeanie Finlay. 2019, 89 mins. Freddy is 30 and yearns to start a family, but for him this ordinary desire comes with unique challenges. He is a gay transgender man. Deciding to carry his own baby took years of soul searching, but nothing could prepare him for the reality of pregnancy, as both a physical experience and one that challenges society's fundamental understanding of gender, parenthood, and family. Made with unprecedented access and collaboration over three years, the film follows Freddy from preparing to conceive right through to birth. It is an intimate, audacious, and lyrical story about conception, pregnancy, birth, and what makes us who we are. Trailer | View Seahorse ($12 / $10 MoMI Members).

Shirley
JUNE 5–18
Dir. Josephine Decker. 2020, 107 mins. With Elisabeth Moss, Michael Stuhlbarg, Odessa Young, Logan Lerman. The latest from celebrated director Josephine Decker (Madeline's Madeline) is a Sundance Film Festival award-winning dramatization of a real-life event centered on mid-century horror writer Shirley Jackson (The Haunting of Hill House, which inspired multiple screen adaptations, including a recent Netflix series by the same name). Jackson (Moss) is on the precipice of writing her masterpiece when the arrival of newlyweds (Young and Lerman) upends her meticulous routine and heightens tensions in her already tempestuous relationship with her philandering husband (Stuhlbarg). The middle-aged couple, prone to ruthless barbs and copious afternoon cocktails, begins to toy mercilessly with the naïve young couple. A NEON release. Trailer | View Shirley ($5.99).

You Don't Nomi
JUNE 10–24
Dir. Jeffrey McHale. 2019, 92 mins. How did one of the most reviled films of all time become an audience favorite and critical darling? You Don't Nomi revisits Paul Verhoeven's notorious 1995 movie Showgirls 25 years after it premiered to negative reviews, public scorn, and box office failure. Debut filmmaker Jeffrey McHale brings together archival footage, visual analysis, and critical perspective from a variety of partisans—including Adam Nayman, April Kidwell, Haley Mlotek, and Peaches Christ—to explore the complicated, fascinating afterlife of a film that has become an improbable topic of critical conversation and academic study. A RLJ Entertainment release. Trailer | View You Don't Nomi ($9.99).

Marona's Fantastic Tale
JUNE 12–25
Dir. Anca Damian. 2020, 92 mins. In French with English subtitles. This poetic and touching film from director Anca Damian follows an optimistic stray dog named Marona (inspired by a dog Damian rescued from the streets of Bucharest, Romania) as she looks back on the human companions she has loved throughout her life. Featuring dazzlingly colorful, sweeping visuals, designed in part by acclaimed artist Brecht Evens, Marona's Fantastic Tale is a life-affirming story told with the patient, boundless love of a dog, and reminds us that happiness can come in small packages. A GKids release. Recommended for ages 8+ Trailer | View Marona's Fantastic Tale ($10 / $8 Museum members).

Picture a Scientist
JUNE 12–25
Dirs. Ian Cheney, Sharon Shattuck. 2020, 97 mins. The male-dominated culture of science—replete with bias, discrimination, and harassment towards women scientists—is laid bare and challenged in the new documentary Picture a Scientist. From award-winning directors Ian Cheney (The Search for General Tso) and Sharon Shattuck (From This Day Forward), the film features women devoted to science who have been waylaid by discrimination. To make the scientific enterprise more inclusive, biologist Nancy Hopkins, chemist Raychelle Burks, and geologist Jane Willenbring come forward with their own stories, advocating for change and encouraging all to hope for better and to act accordingly. Official Selection of the 2020 Tribeca Film Festival (postponed due to COVID-19). Trailer | View Picture a Scientist ($6.99).

The Surrogate
JUNE 12–25
Dir. Jeremy Hersh. 2020, 93 mins. With Jasmine Batchelor, Chris Perfetti, Sullivan Jones, Brooke Bloom. Twenty-nine-year-old web designer Jess Harris (Batchelor) is ecstatic to be the surrogate and egg-donor for her best friend, Josh (Perfetti), and his husband Aaron (Jones). However, twelve weeks into the pregnancy, a prenatal test comes back with unexpected results that pose a moral dilemma. As they all consider the best course of action, differences emerge that threaten their friendship and leave them facing lives that diverge significantly from what they had planned. A selection of the 2020 SXSW Film Festival, the first feature from award-winning director Jeremy Hersh dives deftly into murky ethical waters, asking audiences to consider, along with the characters, a difficult scenario in a constantly evolving present. A Monument Releasing release. Trailer | View The Surrogate ($12 / $10 for Museum members).

ALSO SHOWING:
Bacurau (Dirs. Kleber Mendonça Filho, Juliano Dornelles. 2019. A Kino Lorber release)
Beanpole (Dir. Kantemir Balagov. 2019. A Kino Lorber release)
The Cordillera of Dreams (Dir. Patricio Guzmán. 2019. An Icarus Films release)
Feast of the Epiphany (Dirs. Michael Koresky, Jeff Reichert, Farihah Zaman. 2018)
Fourteen (Dir. Dan Sallitt. 2019. A Grasshopper Film release)
The Hottest August (Dir. Brett Story. 2019. A Grasshopper Film release)
The Infiltrators (Dirs. Alex Rivera, Cristina Ibarra. 2019. An Oscilloscope Labs release)
Pahokee (Dirs. Ivete Lucas, Patrick Bresnan. 2019. A Monument Releasing release)
The Painter and the Thief (Dir. Benjamin Ree. 2020. A NEON release)
Spaceship Earth (Dir. Matt Wolf. 2020. A NEON release)
MOVING IMAGE STUDIO
With the closing of schools across the country and across the world, the Museum's media educators and media artists have been providing instruction, guidance, and mentorship to youth ages 8–18 in the local community as well as cities across the globe. MoMI has provided 100 hours of instructional time and feedback to 800 students and teachers, through 26 new online programs that have welcomed students from New Jersey, New Hampshire, New York State, Puerto Rico, and Mexico. Ongoing programs include virtual field trips, real-time live tours of Museum exhibitions for viewers joining remotely; free tutorials for creative mediamaking and videos posted on @ Moving Image Studio, including series on puppet making and performance, green screen, animation, mockumentary, and building a Pocket Media Museum; live online events featuring discussions with filmmakers, media educators, and artists, most recently featuring Nuotama Bodomo and her film Afronauts. This summer, the Museum will offer an Online Summer Media Camp.

Virtual field trips & guided tours
Teachers and student groups can request an online tour or virtual field trip to the Museum. In real time, a Museum educator will present an interactive tour of an exhibition with students joining remotely. Exhibitions include The Jim Henson Exhibition, the core exhibition Behind the Screen, or Envisioning 2001: Stanley Kubrick's Space Odyssey. Student and group tours scheduled in June will be offered as donation based: Pay what you wish; funds go directly to supporting the Museum's education efforts in bringing media education to all. To find out more and to schedule a tour, go to movingimage.us/education/online

Afrofuturist Instagram challenge (throughout June 2020)
In this ongoing Instagram challenge, Moving Image Studio invites youth to create and share their own still or moving image commemorating iconic moments from Afrofuturist films like Afronauts (Dir. Nuotama Bodomo), Born in Flames (Dir. Lizzie Borden), and Black Panther (Dir. Ryan Coogler). Use the hashtags #AfrofuturistChallenge and #MovingImageStudio.

Online Summer Media Camp (July 6–August 21): Registration Open Now
While the Museum's building is closed, the popular Summer Media Camp will be offered online with week-long projects that run daily Monday through Friday (1.5 hours each day, offered in the morning or afternoon). Campers may choose to attend one or both daily sessions (10:00–11:30 a.m. and 12:30–2:00 p.m. EDT), and select add-ons for game-play and activity hour (9:00–10:00 a.m. and 2:00–3:00 p.m. EDT). Projects vary week to week, and can be taken independently or in any combination; they include Next Generation Animators, Future Screenwriters, Digital Game Designers, Claymation Creators, Storyboard Creators, Puppet TV, and more. There is a $45 registration fee; each week-long project fee is $150 with discounts for additional weeks. For more information and to register, go to movingimage.us/summermediacamp

Virtual Cinema releases for family audiences
The Museum will present the acclaimed new animated film Marona's Fantastic Tale (recommended for ages 8+) and Picture a Scientist (ages 13+), a documentary about gender discrimination in the sciences. See above under "Virtual Cinema" for dates and descriptions.
Top image: Still from The Surrogate (courtesy of Monument Releasing)

Press contact: Tomoko Kawamoto, tkawamoto@movingimage.us 
Virtual Cinema titles are available for review. Please inquire about screener availability.

About Museum of the Moving Image
The Museum's mission is to advance the understanding, enjoyment, and appreciation of the art, history, technique, and technology of film, television, and digital media. Though devastated by the effects of the COVID-19 pandemic, the Museum continues to fulfill its mission online through: live conversations with artists, filmmakers, scholars, media educators, and other industry professionals; articles published in MoMI's online film magazine Reverse Shot and science and film resource Sloan Science & Film; access to the Museum's collection of more than 150,000 objects; and the online presentation of a range of films—including acclaimed new release features and award-winning science shorts, plus archived video of Museum events, and more. For more information, visit www.movingimage.us.