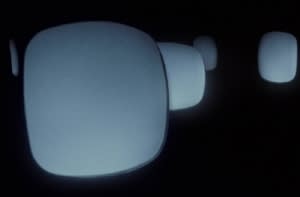 August 31–September 9, 2018
Astoria, New York, August 15, 2017—Museum of the Moving Image will present the U.S. theatrical premiere of PROTOTYPE, the visceral 3-D experimental film by American-born Canadian filmmaker Blake Williams. "PROTOTYPE is as mysterious as it is mesmerizing, a film that feels like a speculative sci-fi history of moving image technology," said Chief Curator David Schwartz. The Museum's exclusive engagement is also a U.S. theatrical premiere. View Trailer
PRESS SCREENINGS: THURS, AUG. 23, 3:00 P.M. AND MON, AUG. 27, 11:00 A.M.
PROTOTYPE runs August 31 through September 9. Schedule and Tickets

As a major storm strikes Texas in 1900, a mysterious televisual device projects images of unknown origin. Blake Williams's experimental 3-D sci-fi film (Canada, 2017, 63 mins. DCP) immerses us in the aftermath of the deadly Galveston disaster, represented by remarkable and mysterious sights of one world nearing destruction as another emerges. A haunting, mind-bending consideration of technology, cinema, and the medium's future, PROTOTYPE combines archival material with various optical manipulations and imagist surfaces to fashion an experience with no clear ancestor or likely successor. A Grasshopper Film release.
 
"The most significant 3-D film since Goodbye to Language." — Calum Marsh, The Village Voice

"Continuously stunning"—Vadim Rizov, Filmmaker Magazine
 
PROTOTYPE was the opening night film of the Museum's 2018 First Look Festival.
 
###
Photo: A still from Blake Williams's PROTOTYPE / courtesy of Grasshopper Film

AVAILABLE FOR REVIEW. Please RSVP for a press screening here (8/23 or 8/29).
Blake Williams is available for interviews. Please contact Tomoko to arrange.

Press contact: Tomoko Kawamoto, tkawamoto@movingimage.us or 718 777 6830.
MUSEUM INFORMATION
Museum of the Moving Image (movingimage.us) advances the understanding, enjoyment, and appreciation of the art, history, technique, and technology of film, television, and digital media. In its stunning facility—acclaimed for both its accessibility and bold design—the Museum presents exhibitions; screenings of significant works; discussion programs featuring actors, directors, craftspeople, and business leaders; and education programs which serve more than 50,000 students each year. The Museum also houses a significant collection of moving-image artifacts.

Hours: Wednesday–Thursday, 10:30 a.m. to 5:00 p.m. Friday, 10:30 to 8:00 p.m. Saturday–Sunday, 10:30 a.m. to 6:00 p.m. 
Museum Admission: $15 adults; $11 senior citizens (ages 65+) and students (ages 18+) with ID; $7 youth (ages 3–17). Children under 3 and Museum members are admitted free. Admission to the galleries is free on Fridays, 4:00 to 8:00 p.m. 
Film Screenings: Friday evenings, Saturdays and Sundays, and as scheduled. Unless otherwise noted, tickets are $15 adults / $11 students and seniors / $7 youth (ages 3–17) / discounted or free for Museum members. Advance purchase is available online. Ticket purchase may be applied toward same-day admission to the Museum's galleries.
Location: 36-01 35 Avenue (at 37 Street) in Astoria.
Subway: M (weekdays only) or R to Steinway Street. W (weekdays only) or N to Broadway.
Program Information: Telephone: 718 777 6888; Website: movingimage.us
Membership: http://movingimage.us/support/membership or 718 777 6877

Museum of the Moving Image is housed in a building owned by the City of New York and has received significant support from the following public agencies: New York City Department of Cultural Affairs; New York City Council; New York City Economic Development Corporation; New York State Council on the Arts with the support of Governor Andrew M. Cuomo and the New York State Legislature; Institute of Museum and Library Services; National Endowment for the Humanities; National Endowment for the Arts; and Natural Heritage Trust (administered by the New York State Office of Parks, Recreation and Historic Preservation). For more information, please visit movingimage.us.