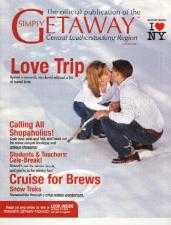 Fonda, NY
- Montgomery County is back in the Central Leatherstocking Region's magazine in 2009!  The Central Leatherstocking Region spans eight counties: Broome, Chenango, Herkimer, Madison, Montgomery, Oneida, Otsego, and Schoharie, promoting tourism throughout the region.
Simply Getaway, Volume 5
is available to start planning fall harvest and winter fun activities.  The Fall/Winter edition of the publication features information and articles on romantic weekends, unique boutique and antiques shopping, winter break enjoyment, snowmobiling, and breweries along with the calendar of major events in the region.  "This magazine is a great resource for harvest and holiday planning.  It features some of the county's favorite hot spots and activities," says Gina DaBiere-Gibbs, Tourism Director.  "Each region has the opportunity to produce a travel guide and the Central Leatherstocking Region chose to create a magazine.  The magazine has developed articles that spotlight a sampling of activities and attractions to peak the readers' interest and then draw them to the area for a visit."
Simply Getaway, Volume 5
will be mailed out to 30,000 people who had inquired about the region. As in previous volumes,
Volume 5
will also include the online contest to win vacation packages, prizes, and other area promotions.  A mailing database is continuously building through the online contest entries.
Simply Getaway, Volume
5
can be obtained at the Montgomery County Chamber of Commerce, 12 South Bridge Street, Fonda across from the fairgrounds.  Supplies are limited; please call (518)853-1800 ext. 12 for a copy.  For more Central Leatherstocking Region information and the online contest please log on to
http://www.nyfun4u.com/
.  For more information on all of the wonderful things to do in Montgomery County go to
http://www.visitmontgomerycountyny.com/
.
***
Photo Caption
: Cover of
Simply Getaway, Volume 5
Contact:
Gina DaBiere-Gibbs Tourism Director 518-853-1800 ext. 12
http://www.visitmontgomerycountyny.com/