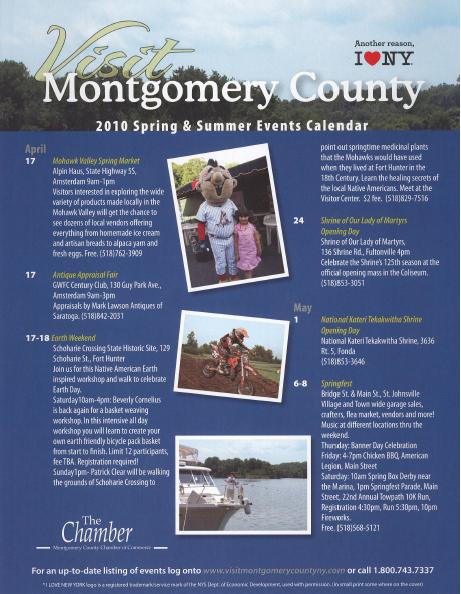 Fonda, N.Y.
- The Montgomery County Chamber of Commerce is pleased to announce that the official 2010 Montgomery County Spring & Summer Event Calendar is now available.  "The calendar is a fantastic resource for people inquiring about our community.  They are mailed to inquiries from across the country and internationally especially Canada," says Gina DaBiere-Gibbs, Tourism Director.  "People are always looking for something new and exciting which makes this a resource the residents of Montgomery County should each have as well.  Keep in mind that most of the events in Montgomery County are of a nominal fee, if not free, making it easy for families to enjoy activities."  The Calendar is printed semi-annually and includes major events such as festivals, fairs, farm markets, concert and lecture series, and so much more.  Major 'don't miss' events this spring are the Mohawk Valley Farm Market, the opening day at the Shrine of Our Lady of Martyrs marking their 125
th
season, several attraction openings, Fort Plain Street Fair Days and Springfest.  A sampling of summer activities includes Amsterdam Mohawks Baseball, Music on Mainstreet, Holding Down the Fort and the 169
th
Fonda Fair.  Start making plans to get your 2010-2011 Fall & Winter events in the next calendar.  These events are also located on the tourism website with up-to-date activities,
http://www.montgomerycountyny.com/
.  A downloadable PDF version of the calendar is located on the Brochures page of the tourism website as well. Highlights are also posted on the Visit Montgomery County Facebook page; fan us by searching Visit Montgomery County. The Chamber is the Tourism Promotion Agency (TPA) for the county.  The TPA allocates
I Love NY
matching funds for promotions such as the Spring & Summer Calendar of Events as well as the tourism website.  The Calendar of Events will be distributed to several local businesses and is also available in The Chamber's office, 12 South Bridge Street, Fonda across from the fairgrounds.  For more information call Gina DaBiere-Gibbs, (518)853-1800 ext. 12.
***
 Caption: 2010 Spring & Summer Event Calendar
Contact
: Gina DaBiere-Gibbs Tourism Director 518-853-1800 ext. 12
http://www.montgomerycountyny.com/