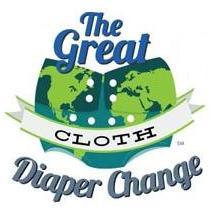 Oswego, N.Y.
- Families from Northern and Central NY are invited to attend the inaugural Healthy Baby Expo featuring the 2013 Great Cloth Diaper Change Saturday April 20, 2013 11am to 3pm at the YMCA Armory located in Oswego NY. This is a family oriented, free event that will feature fun activities, educational information and a vendor fair for future and new parents, grandparents, and infant caregivers. Participants will find much-needed information about infant safety, healthy nutrition, baby massage, baby basics, breast feeding, car seat safety, and more! In addition, the Health Baby Expo will feature the 3rd Annual Great Cloth Diaper Change, 2 days before Earth Day and during International Cloth Diaper Awareness Week. In its third year, The Great Cloth Diaper Change event will attempt to break last year's Guinness World Record
TM
of 8,251 cloth diapers changed simultaneously at 189 locations on 4 continents. Last year Oswego, NY had 25 mom and baby pairs participate in the event. This year's goal is to qualify towards the world record attempt by doubling our numbers to 50 pairs of mothers and babies. Help break the Guinness World Record for the most cloth diapers changed at one time and let the world know that here in Oswego, NY we are serious about cloth diapers! The Expo is hosted by Mother Earth Baby with the support of many sponsors and community partners. For more information on being a participant in the change, volunteer or as a vendor please contact Lisa at 315-719-4498 or e-mail
lisa@mebabyshop.com
. If you would like to participate in the Great Cloth Diaper Change event as a parent/baby pair, you may register at
http://gcdcoswego2013-eac2.eventbrite.com/
. Follow the event on Facebook at
https://www.facebook.com/GCDCOswego
and check out the website at
http://www.healthbabyexpo.com/
.
About MOTHER EARTH BABY:
Mother Earth Baby offers a full selection of cloth diapers, natural baby products, breastfeeding supplies, baby carriers, toys, clothing, and more. Additionally, Mother Earth Baby offers baby registries, classes and a cloth diaper service. We currently have two retail locations including our main store located at 70 West Bridge St. Oswego, NY and our boutique inside Mother Earth Health Foods in North Syracuse, NY.
About The Great Cloth Diaper Change:
In its third year, The Great Cloth Diaper Change is an international initiative organized with the help of the nonprofit Real Diaper Association designed to show the world that cloth diapers are a real option for today's families. The brainchild of Judy Aagard of Tiny Tots in California, Aagard says she came up with the idea in an effort to host a family event celebrating Earth Day. The Great Cloth Diaper Change has morphed into an exciting Guinness World Record
TM
breaking event, and in 2012, 8,251 babies were changed simultaneously. For more information visit
http://www.greatclothdiaperchange.com/
.
###