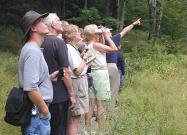 Event is a unique walking tour in the Mountaintop region to look for warblers and other migrating birds returning for the spring
Tannersville, N.Y.
- Renowned Audubon Society Educator, Larry Federman, will lead an exciting walking tour on Saturday, May 21st at 6 a.m. to look for warblers and other migrating birds as they spend some time at the Mountain Top Arboretum in Tannersville, NY to set up their nest and start a family this summer or just to pass through to their northern nesting sites. The month of May offers one of the best opportunities to see beautiful North American birds, such as warblers, throughout the area. During the late spring these tiny and sometimes brightly colored birds return from Central and South America where they spend the winter months. Throughout the spring, these and other birds flock to their breeding grounds at the Mountain Top Arboretum where they are eager to set up their nests and get down to the business of raising a family. Larry Federman has an 18-year history with the National Audubon Society and has lead past bird walks through the Mountain Top Arboretum. Those that accompanied him on his invigorating bird walk last spring saw over 54 different bird species. The group had some exciting moments including up close action with a Cooper's hawk, watching a male bluebird defend his nest box and two tree swallows mating. This year's bird walk on Saturday, May 21st from 6-7:30 a.m. should offer just as many experiences for anyone in the region, from beginners to avid bird watchers. All visitors for the bird walk should meet at the parking lot of the Mountain Top Arboretum at Route 23C and Maude Adams Road in Tannersville, NY - remember to bring your binoculars!
About the Mountain Top Arboretum
The Mountain Top Arboretum has twenty three acres of trees and shrub collections as well as native woodlands and wetlands. Its mission is to engage in the applied science of horticulture, promote stewardship of the environment, and offer a diversity of programs for the education and pleasure of the public. The Arboretum is open every day of the year, and admission is free. Visit online at
http://www.mtarboretum.org/
.  
###
For more information call 518-589-3903.