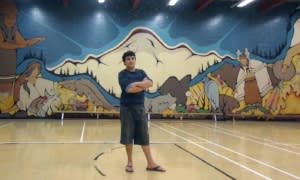 Get creative this summer at the Iroquois Indian Museum!
Howes Cave, N.Y. – Starting on July 26th, Jay Havens will be at the Iroquois Indian Museum producing a 10' x 40' mural in the Children's Museum. Jay will invite visitors from 8 years of age to elders to take part in the painting of this unique permanent installation. Related activities will be available for younger visitors. Jay will debut his collaboratively created mural during our annual Iroquois Indian Festival on September 2 & 3.
During his residency at the Museum, Jay will discuss the development of the project, the significance of the mural, and the contemporary stories and concepts it portrays. On Fridays at 1pm Jay will also present artist talks focused on his creative process, his other works addressing consumerism and environmental degradation, and the plasticity between conventional and contemporary Native arts.
Jay will be at the Iroquois Indian Museum on:
Week 1: July 26, 27, 28
Week 2: August 3, 4, 5
Week 3: August 9, 10, 11
Week 4: August 17, 18, 19
Week 5: August 23, 24, 25
Week 6: August 31, September 1 & 2
To find out more about this event and others at the museum, visit the online calendar.
###