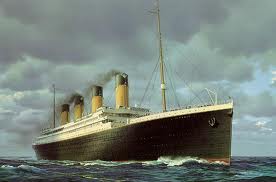 Oswego, N.Y
. - The H. Lee White Marine Museum has unveiled a new, temporary exhibit entitled "
Titanic
: Commemorating the 100
th
Anniversary." The exhibit will run through Tuesday, November 15. The exhibit features artifacts from the collection of Mr. George DeMass, Chaplain of the
Titanic
Historical Society. DeMass spent time developing close ties to a number of survivors and the families of those who perished with the ship. "They are all gone now, Titanic's passengers and crew," says DeMass. "They are all gone. But Titanic's story and their story lives on. It has captured the attention and imagination of people all over the world. It's not only a story of a great ship but the story of how individuals coped with their mortality and life's values. I am pleased to share their stories with the public." One featured item is a limited edition print called
Grace and Glory
by Tom Freeman. It depicts the
R. M. S. Titanic
departing April 10, 1912 from South Hampton, England on her maiden voyage to the U.S. Photos of the last survivor, Elizabeth Gladys "Millvina" Dean, are part of the exhibit as well. Dean was only two months old when she was lowered into a lifeboat that fateful day. She died in 2009 at the age of 97. In addition to photographs, several books and objects will pique visitors' interests. One of the most interesting items is a fold out book called
The Wallchart of the Titanic
by Tom McCluskie, which contains over-sized, pullout deck plans over 15 feet long, a timeline, lifeboat details, and photographs. "We are honored to offer this collection for viewing within our community, although for only a short time. Mr. DeMass has a personal connection to the people who survived and is eager to share with us his knowledge, artifacts and stories of people affected by this monumental disaster," noted Mercedes Niess, H. Lee white Marine Museum Executive Director. Mr. George Demass will give a special presentation on Sunday, October 23, from 3:00 - 4:30 p. m. A special admission price of $5 for adults and $3 for children will be charged for the duration of this exhibition.   This exhibit is part of a series of activities and programs leading up to the Museum's premier fund rasisng event and commemoration of the 100
th
anniversary of the sinking of the
Titanic
: "A Titanic Affair," to be held on Saturday, April 14, 2012 at The American Foundry.  Contact the Museum office at (315) 342.0480 for more information, visit the website at
http://www.hleewhitemarinemuseum.com/
or visit us on Facebook.
###