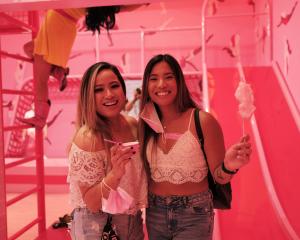 The world famous attraction is inviting the public to share their "sweetest ice cream memory" for a chance to win free admission 
New York, N.Y. (JUNE 30, 2022) -- In celebration of National Ice Cream Day (NICD) Museum of Ice Cream is spreading the love of ice cream! To honor their favorite day, MOIC is giving out 1,000 free tickets across all locations, during a "Sweetest Ice Cream Memory" campaign on social media. Ice cream fans who follow @museumoficecream on Instagram will be asked to share their sweetest ice cream memory on the corresponding posts for the chance to win a pair of tickets for a future visit to the experium. 
Guests who scoop up tickets to MOIC NYC for National Ice Cream Day on Sunday, July 17 will enjoy exclusive sweets and treats, created just for the holiday! Visitors will be welcomed with a sprinkle crown and an exclusive NICD popsicle, before melting into a world of imagination and human cone-ection. In the cafe, MOIC will offer a limited time only NICD Sundae made with three decadent scoops of ice cream – all covered in strawberry, caramel and chocolate sauce, dollops of whipped cream and topped with pink cherries. There's simply no better place for the ice-cream obsessed to celebrate the sweetest day of the year!
NATIONAL ICE CREAM DAY CELEBRATIONS
Since 2018, Museum of Ice Cream has celebrated National Ice Cream Day with legen-dairy activations and partnerships, and one year even broke a world record in Los Angeles for the largest ice cream social ever held! They partnered with the city of New York as part of the "ice cream truck of rights" initiative to educate residents about their rights with topics focusing on housing, immigrant issues, the environment, healthcare, voting rights, and more — and gave out free treats for all ice cream lovers. In 2020, they also partnered with local BIPOC-owned ice cream powerhouses to serve up a variety of incredible innovations and cool confections. Last year, MOIC debuted exclusive NICD flavors in collaborations with Topo Chico, Bailey's and local businesses, cementing its parties as the perfect place for ice cream lovers and the young at heart!
TICKET SALES
General admission tickets for Sunday, July 17, 2022 start at $44 for adults, and are free for children aged 2 and below. Tickets are available at museumoficecream.com/new-york-city. Museum of Ice Cream NYC is open Wednesday to Monday and is located at 558 Broadway. Follow @museumoficecream on Facebook, Instagram and Tiktok for updates and for a chance to win free tickets to the museum! 
IMAGERY
ABOUT MOIC
Museum of Ice Cream transforms concepts and dreams into spaces that provoke imagination and creativity. MOIC is designed to be a culturally inclusive environment and community, inspiring human connection and imagination through the universal power of ice cream. Museum of Ice Cream is a Figure8 brand.