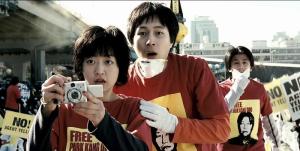 A four-part series of popular science-fiction films introduced by top public-health experts, supported by the Alfred P. Sloan Foundation, to entertain and engage the Queens community on critical issues the COVID-19 pandemic has brought to light
April 9–June 4, 2021
New York, New York — As part of the ongoing series Science on Screen, Museum of the Moving Image (MoMI) announced today that with its partners Rooftop Films and the New York Hall of Science (NYSCI), it will showcase a series of popular science-fiction films that also explore science and public health issues during this year's spring season at the Queens Drive-In. The series, Proceed with Caution, showcases acclaimed thrillers and adventures framed by introductions from scientists and public health experts on the front lines of research, in order to both entertain and engage members of the Queens community and surrounding boroughs in critical issues the COVID-19 pandemic has brought to light. With support from the Alfred P. Sloan Foundation, which has an impressive history of supporting public health–focused films, the series will also feature a number of diverse, Sloan-supported short films that address public health topics, as well as the Sloan-supported PBS documentary The Polio Crusade, a relevant story about the polio vaccine development and rollout.

Thanks to the support of the Alfred P. Sloan Foundation, the screenings will be offered at a reduced ticket price of $20 and will also include a free screening on May 13, in an effort to continue one of the Drive-In's core missions of providing access to the community.

Organized by Associate Curator of Science and Film Sonia Epstein, who also serves as Executive Editor of the Museum's online publication Sloan Science & Film, the series pairs hit films with four key themes—pandemic preparedness, isolation, vaccine development, and zoonotic spillover and climate change—central to the COVID-19 pandemic that warrant attention, asking, what do we still have to watch out for, and how can we best take care? The apocalyptic-themed films exemplify these topics while also being fun big-screen experiences. Moreover, bringing public health experts into direct conversation with audiences is a rare chance to directly hear from those on the front lines of research.

"A year into the pandemic, I hope that the series Proceed with Caution offers opportunities for entertainment that is both escapist and acknowledges the realities of our present circumstances with some cautious optimism about how we might proceed," said Epstein.

Below is the upcoming schedule of films and notable health experts who will introduce each film at the Queens Drive-In (also listed at movingimage.us/scienceonscreen-qdi)

Friday, April 9
12 Monkeys & La Jetée
Terry Gilliam's sci-fi classic, plus two shorts that speak to how past mistakes can haunt us, including the 1962 film that inspired it. Featuring an introduction by Dr. Jennifer Nuzzo—lead epidemiologist for the Johns Hopkins COVID-19 Testing Insights Initiative—about pandemic preparedness and what we can learn from the past to help our present and future.

Friday, April 30
Gravity
Alfonso Cuarón's unparalleled outer-space adventure will be introduced first by Dr. Alexander C. Stahn, Assistant Professor of Medical Science at Penn Medicine and member of the European Space Agency's Isolation Steering Committee, who will address how the COVID-19 pandemic has impacted the study of the effects of isolation. He will be followed by Dr. Karen Nyberg, veteran NASA astronaut and the 50th woman in space, who was living aboard the International Space Station when Gravity was released.

Thursday, May 13
28 Days Later...
Danny Boyle's groundbreaking zombie film reimagining, featuring an introduction by Dr. Caitlin Rivers—infectious disease epidemiologist at the Johns Hopkins Center for Health Security which advises U.S. and international leaders on epidemics—about how quickly viruses can spread and the importance of interventions like vaccines in response, accompanied by public understanding of these interventions.

Friday, June 4
The Host
Oscar-winning Korean master Bong Joon-ho's breakthrough monster movie, featuring an introduction by Dr. Kendra Phelps—a field scientist who specializes in the diseases bats can spread and how to minimize risk for spillover events—about how quickly viruses can spread, the zoonotic transmission of disease, and what interventions can help protect populations.

TICKETS
Tickets are now on sale for select upcoming screenings at the Queens Drive-In. Tickets for individual programs in the Science on Screen series are $20, except for the May 13 event which is free.

VENUE
Queens Drive-In, on the grounds of the New York Hall of Science in Flushing Meadows Corona Park, 47-01 111th St, Flushing, NY 11368. Map

ABOUT THE QUEENS DRIVE-IN
The Queens Drive-In was co-created by Rooftop Films, New York Hall of Science, and Museum of the Moving Image to present safe, communal moviegoing in New York City during the ongoing COVID-19 pandemic, while sustaining jobs, and supporting New York and the larger filmmaking community. Since August 2020, it has been presenting an exciting mix of new and classic movies on a 62-ft.-wide screen featuring bright 4K projection in Flushing Meadows Corona Park on the grounds of the New York Hall of Science. A portion of every ticket sold will be donated to a local non-profit organization serving the community.

ABOUT SCIENCE ON SCREEN
Science on Screen®, an initiative of the Coolidge Corner Theatre, with major support from the Alfred P. Sloan Foundation, combines special screenings and discussions including scientists and filmmakers. The series at Museum of the Moving Image spans films from the silent era through those made for the internet; subjects range from seahorses to robotic clones. Science on Screen is organized by Sonia Epstein, Executive Editor and Associate Curator of Science and Film.

ABOUT THE ALFRED P. SLOAN FOUNDATION
The Alfred P. Sloan Foundation is a New York based, philanthropic, not-for-profit institution that makes grants in three areas: research in science, technology, and economics; quality and diversity of scientific institutions; and public engagement with science. Sloan's program in Public Understanding of Science and Technology, directed by Doron Weber, aims to enrich people's lives through a keener appreciation of our increasingly scientific and technological world and to humanize the lives of the men and women working as scientists, engineers, and mathematicians. The goal is to integrate the two cultures of science and the humanities by supporting an array of original works such as books, radio, television, film, theater, and new media. The Foundation works with about 20 film school and film festival partners and has supported over 700 film projects, including over 30 feature films. For more information visit sloan.org or follow @SloanPublic on Twitter or Facebook.
Top image: The Host / courtesy of Magnolia Pictures.

PRESS CONTACTS:

For Rooftop Films/Queens Drive-In:
Lauren Schwartz & Alex Cutler, Sunshine Sachs
rooftopfilms@sunshinesachs.com

Kelley Rand, Rooftop Films
kelley@rooftopfilms.com

For Museum of the Moving Image
Tomoko Kawamoto
tkawamoto@movingimage.us

PRESS MATERIALS/IMAGES ARE AVAILABLE HERE.

ABOUT MUSEUM OF THE MOVING IMAGE
The Museum's mission is to advance the understanding, enjoyment, and appreciation of the art, history, technique, and technology of film, television, and digital media. Despite the effects of the COVID-19 pandemic, the Museum continues to fulfill its mission online through live conversations with artists, filmmakers, scholars, media educators, and other industry professionals; articles published in MoMI's online film magazine Reverse Shot and science and film resource Sloan Science & Film; online access to the Museum's collection and exhibitions, including through virtual tours and recorded programs; and the presentation of a range of films—including acclaimed new theatrical releases and repertory programming—online and at the Queens Drive-In. For more information, visit movingimage.us. Follow MoMI on Facebook, Twitter, Instagram, and YouTube.

Museum of the Moving Image is housed in a building owned by the City of New York and has received significant support from the following public agencies: New York City Department of Cultural Affairs; New York City Council; New York City Economic Development Corporation; New York State Council on the Arts with the support of Governor Andrew M. Cuomo and the New York State Legislature; Institute of Museum and Library Services; National Endowment for the Humanities; National Endowment for the Arts; and Natural Heritage Trust (administered by the New York State Office of Parks, Recreation and Historic Preservation).