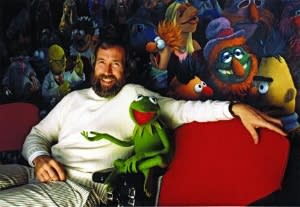 The permanent exhibition at the New York museum is devoted to the creative innovator and puppeteer who brought to life some of America's most memorable characters
Astoria, New York, May 24, 2017—Museum of the Moving Image will open The Jim Henson Exhibition, a permanent exhibition devoted to Jim Henson, on Saturday, July 22, 2017. This dynamic visitor experience—housed in a new gallery space funded by the City of New York—explores Henson's groundbreaking work for film and television and his transformative impact on popular culture.

The Jim Henson Exhibition features a broad range of artifacts from throughout Jim Henson's remarkable television and film career. It reveals how Henson and his team of builders, performers, and writers brought to life the enduringly popular worlds of The Muppet Show, Sesame Street, Fraggle Rock, The Dark Crystal, and Labyrinth. It also includes material from Henson's lesser known and experimental film projects, presenting Henson as a restlessly creative performer, filmmaker, and technical innovator.

Among the nearly 300 objects on view in The Jim Henson Exhibition are 47 puppets—including Kermit the Frog, Miss Piggy, Rowlf, The Swedish Chef, Statler, Waldorf, Big Bird, Elmo, Cantus Fraggle, a Skeksis, and other popular favorites—character sketches, storyboards, scripts, photographs, and iconic costumes. Film and television clips and behind-the-scenes footage are presented on more than 27 monitors and projections throughout. Interactive experiences allow visitors to try their hand at puppeteering on screen and designing a puppet character.

Many of the artifacts in the exhibition are drawn from the 2013 donation by Jim Henson's family to the Museum's collection, which includes nearly 500 objects related to Henson's unparalleled career and features historic puppets, costumes, production design material, and licensed merchandise. The exhibition also includes sketches, storyboards, scripts, and other material on loan from The Jim Henson Company Archives. Archival video and photographic material was provided by The Jim Henson Company, Sesame Workshop, and The Muppets Studio.

The Jim Henson Exhibition is made possible by major support from Cheryl Henson, Brian Henson, Joan Ganz Cooney and Peter G. Peterson, Bill Prady, Booth Ferris Foundation, Jane Henson Foundation, George S. Kaufman, Institute of Museum and Library Services, George Lucas Family Foundation, Stavros Niarchos Foundation, Herbert  S. Schlosser, and Lisa Henson. In addition, a Kickstarter campaign brought together more than 2,000 individual fans and supporters to help fund the exhibition.

Capital funding for construction of the new gallery space to house The Jim Henson Exhibition  was provided through the NYC Department of Cultural Affairs by The City of New York: Mayor Bill de Blasio; City Council Speaker Melissa Mark-Viverito; Queens Borough President Melinda Katz ; City Council Majority Leader and Cultural Affairs Committee Chair Jimmy Van Bramer; and the Queens Delegation of the City Council. Construction was managed by the New York City Economic Development Corporation.

Museum of the Moving Image organized The Jim Henson Exhibition in close collaboration with the Henson family, The Jim Henson Company, and The Jim Henson Legacy, and in cooperation with Sesame Workshop and The Muppets Studio. The Museum collaborated with COLLINS on the exhibition's visual identity system, spatial design, and interactive experience development. RadicalMedia, whose CEO, Jon Kamen, serves on the Museum's Board of Trustees, created, produced, and donated the two video installations that open and close the exhibition.

Advance tickets for timed entry to The Jim Henson Exhibition will be made available soon. Complementing the exhibition, the Museum will present an array of education programs and public events.

A traveling version of the exhibition, The Jim Henson Exhibition: Imagination Unlimited, opened on May 20 at the Museum of Pop Culture in Seattle, Washington.

 
# # #
Press contact: Tomoko Kawamoto, tkawamoto@movingimage.us / 718 777 6830
Press gallery (user: press / password: images)

A press preview for The Jim Henson Exhibition will take place on Tuesday, July 18.
MUSEUM INFORMATION
Museum of the Moving Image (movingimage.us) advances the understanding, enjoyment, and appreciation of the art, history, technique, and technology of film, television, and digital media. In its stunning facilities—acclaimed for both its accessibility and bold design—the Museum presents exhibitions; screenings of significant works; discussion programs featuring actors, directors, craftspeople, and business leaders; and education programs which serve more than 50,000 students each year. The Museum also houses a significant collection of moving-image artifacts.

Hours: Wednesday-Thursday, 10:30 a.m. to 2:00 p.m. Friday, 10:30 to 8:00 p.m. Saturday-Sunday, 11:30 a.m. to 7:00 p.m.
Museum Admission: $15 adults (18+); $11 senior citizens (65+) and students (18+) with ID; $7 youth (ages 3–17). Children under 3 and Museum members are admitted free. Admission to the galleries is free on Fridays, 4:00 to 8:00 p.m.
Film Screenings: Friday evenings, Saturdays and Sundays, and as scheduled. Unless otherwise noted, ticket are $15 adults / $11 seniors and students / $7 youth 3–17 / Free for members at the Film Lover and Kids Premium levels and above. Advance purchase is available online. Ticket purchase may be applied toward same-day admission to the Museum's galleries.
Location: 36-01 35 Avenue (at 37 Street) in Astoria.
Subway: M (weekdays only) or R to Steinway Street. W (weekdays only) or N to 36 Avenue.
Program Information: Telephone: 718 777 6888; Website: movingimage.us
Membership: movingimage.us/support/membership or 718 777 6877

Museum of the Moving Image is housed in a building owned by the City of New York and has received significant support from the following public agencies: New York City Department of Cultural Affairs; New York City Economic Development Corporation; New York State Council on the Arts with the support of Governor Andrew M. Cuomo and the New York State Legislature; Institute of Museum and Library Services; National Endowment for the Humanities; National Endowment for the Arts; and Natural Heritage Trust (administered by the New York State Office of Parks, Recreation and Historic Preservation). For more information, please visit movingimage.us.