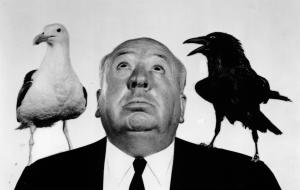 October 2020 Exhibitions, Programs, and Activities
Online exhibitions The Living Room Candidate and Every Movie Cough, Hitchcock double-feature at the Queens Drive-In, William Greaves's Nationtime, and more
New York, N.Y. – This October, Museum of the Moving Image continues to present off-site and online programs while it prepares its building for re-opening. Online exhibitions include the launch of the 2020 edition of The Living Room Candidate, a history of presidential campaign commercials, and the playful web project Every Movie Cough. Big-screen movies, both new and classic, including a series of Halloween-themed titles, continue at the Queens Drive-In, co-presented with Rooftop Films and New York Hall of Science. Plus, Virtual Cinema offerings include William Greaves's Nationtime – Gary, the sci-fi thriller The Antenna, and more. Live online events continue with Reverse Shot Happy Hour, Jim Henson's World, and more. Additional programs will be announced as they are confirmed.

Now that New York City schools are back in session, the Museum is offering virtual field trips and workshops for remote class trips. For more information, visit movingimage.us/education.

Please note: Museum of the Moving Image will serve as an early voting poll site from October 24 through November 1.

EXHIBITIONS

The Living Room Candidate: Presidential Campaign Commercials, 1952–2020
ONLINE EXHIBITION AT LIVINGROOMCANDIDATE.ORG
Acclaimed as "addictive" (The New York Times) and "the finest collection of presidential campaign ads ever assembled" (Wall Street Journal), The Living Room Candidate has served as an important, free resource for journalists, scholars, teachers, and students nationwide since it was first published online in 2000. The website presents more than 400 commercials from every presidential race since the inception of television campaign advertising in 1952. The 2020 edition has been reformatted with an updated video player, allowing for improved accessibility and sharing of videos, and new ads from the election cycle of Donald Trump vs. Joe Biden.

Every Movie Cough
ONLINE EXHIBIT OPENS OCTOBER 9, 2020
Every Movie Cough is a new online exhibit presenting coughs and sneezes from throughout the history of cinema, commissioned by Museum of the Moving Image from curators Jason Eppink and Michael Lacher. The exhibit offers a playful yet provocative look at how such bodily expulsions take on a new significance as vectors for disease when viewed during a pandemic. Separate release to follow.

The Jim Henson Exhibition: Imagination Unlimited
TRAVELING EXHIBITION OPENS OCTOBER 3
At The Durham Museum in Omaha, Nebraska
MoMI's traveling version of The Jim Henson Exhibition, which explores Henson's groundbreaking work for film and television and his transformative impact on popular culture, will be on view at The Durham Museum through January 10, 2021. The exhibition features a broad range of artifacts related to Henson's unparalleled career, including 20 puppets, production materials, photographs, audiovisual material, and more. More info.

LIVE ONLINE EVENTS

Jim Henson's World: Q&A with Craig Shemin and Stephanie D'Abruzzo with special guest Matt Vogel
SATURDAY, OCTOBER 3, 7:00 P.M. E.D.T.
Craig Shemin, President of The Jim Henson Legacy and author of The Muppet Character Encyclopedia, and co-host, performer Stephanie D'Abruzzo, return for another informal online conversation about the work and creations of Jim Henson. They will be joined by Matt Vogel, who performs Kermit, Big Bird, The Count, and many other Henson characters; directs episodes of Sesame Street; and hosts the podcast Below the Frame. Free with RSVP. More info.

Reverse Shot Happy Hour
WEDNESDAYS AT 5:00 P.M. E.D.T.
Reverse Shot editors Michael Koresky and Jeff Reichert and longtime contributor Farihah Zaman began hosting weekly "Happy Hour" sessions, informal discussions about the state of cinema, criticism, and culture. Guests have included Bill and Turner Ross, Kirsten Johnson, Sierra Pettengill, Ashley Clark, Adam Nayman, and Julia Reichert and Steve Bognar. Recorded events are posted to YouTube. Free with RSVP. More info.

Theorizing the Web Presents
BIMONTHLY, WEDNESDAYS: NEXT SESSION ON OCT. 7, 10:00 A.M. E.D.T.
Co-presented with the annual conference Theorizing the Web, this series of live online events highlights critical perspectives on timely issues at the intersection of tech and media, such as the surveillance of Black lives, living in an environment mediated by advertising, facial recognition bias, and more. Twice a month on Wednesdays. Free. More info.

The Living Room Candidate: Political Advertising in the 2020 Presidential Campaign
THURSDAY, OCTOBER 15, 7:00 P.M. E.D.T.
To mark the launch of the 2020 edition of the Museum's online exhibition The Living Room Candidate, this roundtable discussion moderated by Consulting Curator Kathryn Cramer Brownell, Associate Professor of History at Purdue University, will explore advertisements from the past and present to help the audience better understand the dynamics of the media landscape and political strategies at work today. Free with RSVP. More info.
This program and the 2020 edition of The Living Room Candidate have been made possible in part by the National Endowment for the Humanities: Exploring the human endeavor.

QUEENS DRIVE-IN
Co-presented by Rooftop Films, Museum of the Moving Image, and New York Hall of Science. Address: New York Hall of Science, 47-01 111 St, Corona, NY. For tickets, visit rooftopfilms.com/drivein/queens/ Tickets range from Free–$45 per car (up to 5 passengers). Free shows require RSVP. Sign up for email updates at QueensDriveIn.com

Vice Presidential Debate Watch Party
WEDNESDAY, OCTOBER 7, 7:00 P.M.
Before a free communal showing of the Vice Presidential debate, there will be a discussion with Dawn Porter (John Lewis: Good Trouble) and Liz Garbus (All In: The Fight for Democracy), two filmmakers whose documentaries speak directly to our political moment and the issues at stake in the 2020 campaign. Voter registration will be available on site (NY state deadline is Oct. 9). Free with RSVP. More info.

Wall-E
WEDNESDAY, OCTOBER 14, 7:00 P.M.
Dir. Andrew Stanton. 2008, 97 mins. With its wide-set E.T.-like eyes and tiny, motorized R2D2 body, trash compactor Wall-E is one of Pixar's most poignant creations. This tiny robot becomes humanity's greatest hope in an adventure that takes him to space and back to Earth again.  Recommended for all ages. Part of the Wednesday Night Movies series of free screenings presented by Queens Borough President Sharon Lee. Free with RSVP. More info.

Moonstruck + Love Is Short (Films)
THURSDAY, OCTOBER 15, 7:00 P.M.
Dir. Norman Jewison. U.S., 1987, 102 mins. Moonstruck stars a revelatory Cher in her Oscar-winning role as Loretta Castorini, a young Brooklyn widow who is supposed to marry Johnny Cammareri (Danny Aiello) but falls for his brother Ronny (Nicolas Cage) instead. Fueled by an Academy Award–winning screenplay by John Patrick Shanley, Moonstruck endures as a quintessential New York love story. Preceded by the short film program Love Is Short (Films), stories of wayward loves and unexpected romantic entanglements: Waiting for Sun (Dir. Zelene Pineda Suchilt. U.S., 3 mins.), an ode to the art and music of El Barrio; and Who Can Predict What Will Move You? (Dir. Livia Huang. U.S., 9 mins.). More info.

DOUBLE-FEATURE PRESENTATION
Dick Johnson Is Dead + Cameraperson
SATURDAY, OCTOBER 17, 6:30 P.M.
The darkly funny and wildly imaginative Dick Johnson Is Dead (Dir. Kirsten Johnson. 2020, 102 mins.) is a love letter from a daughter to a father, creatively blending fact and fiction to create a celebratory exploration of how movies give us the tools to grapple with life's profundity. Followed by Cameraperson (Dir. Kirsten Johnson. 2016, 103 mins.), both a moving glimpse into one filmmaker's personal journey and a thoughtful examination of what it means to train a camera on the world. Courtesy of Netflix. Free with RSVP. More info.

Black Panther
SUNDAY, OCTOBER 18, 7:00 P.M.
Dir. Ryan Coogler. 2018, 134 mins. The late Chadwick Boseman portrayed the King of Wakanda—and Marvel hero Black Panther—with fierce dignity and sly charisma, in this acclaimed, groundbreaking action movie. Lupita Nyong'o, Danai Gurira, and Letitia Wright co-star as the strong, brilliant women who provide support, while Michael B. Jordan embodies his nemesis, Erik Kilmonger. Part of a free screening series presented by NYC Council Member Francisco Moya. Free with RSVP.

Be Water
THURSDAY, OCTOBER 22, 7:00 P.M.
Dir. Bao Nguyen. 2020, 105 mins. Martial arts star Bruce Lee's life gets told through the people who knew him best: his wife Linda, daughter Shannon, and other family members and friends including Kareem Abdul-Jabbar. They give shape to an astonishing life spent between Hollywood and Hong Kong. Released as part of ESPN's documentary series 30 for 30. Free with RSVP. Courtesy of ESPN.

Hitchcock Double Feature: Psycho + The Birds
SATURDAY, OCTOBER 24, 6:30 P.M.
Alfred Hitchcock's horror game-changer, Psycho (1960, 109 mins.) is a film of spare intensity, at once austere and baroque in style, and so shockingly perverse in its implications that it cracked cinema open wide forever after. Followed by The Birds (1963, 119 mins.), Hitchcock's masterpiece of avian horror. Tippi Hedren's mod socialite Melanie Daniels finds herself fleeing for her life from swarms of seagulls, jays, hawks, and sparrows gone curiously amok in Bodega Boy, California. More info.
Coco
SUNDAY, NOVEMBER 1, 7:00 P.M.
Dirs. Lee Unkrich, Adrian Molina. 2017, 105 mins. The Oscar-winning animated film is one of Pixar's very best, a joyous and poignant celebration of family, love, and following your dreams, as well as a reminder of the importance of respecting one's ancestors—screening on the holiday of Dia de Muertos (Day of the Dead). Part of a free screening series presented by NYC Council Member Francisco Moya. Free with RSVP.
 
VIRTUAL CINEMA
MoMI announces the following new release films available for online viewing. A portion (50%) of ticket proceeds go to support the Museum.

The Antenna
OPENING FRIDAY, OCTOBER 2
Dir. Orçun Behram. 2019, 115 mins. In Turkish with English subtitles. In a dystopian Turkey, the government installs new networks throughout the country to monitor information. The installation goes wrong in a crumbling apartment complex and Mehmet (Ihsan Önal), the building's shy superintendent, will have to confront the evil entity behind the inexplicable transmissions that threaten the residents. Trailer | Tickets ($10/$8 MoMI members)

William Greaves's Nationtime – Gary
OPENING FRIDAY, OCTOBER 23
Dir. William Greaves. 1973, 79 mins. Best known for Symbiopsychotaxiplasm, William Greaves was also the director of over 100 documentary films, the majority focused on Black history, politics, and culture. Nationtime – Gary is a report on the National Black Political Convention held in Gary, Indiana, in 1972, a historic event that gathered Black voices from across the political spectrum, among them Jesse Jackson, Dick Gregory, Coretta Scott King, Richard Hatcher, and Amiri Baraka. Narrated by Sidney Poitier and Harry Belafonte, the film was considered too militant for television broadcast at the time. This new 4K restoration from IndieCollect, with funding from Jane Fonda and the Hollywood Foreign Press Association, returns the film to its original 79-minute length and visual quality. A Kino Lorber release.

Sweetgrass
OPENING FRIDAY, OCTOBER 23
Dirs. Ilisa Barbash, Lucien Castaing-Taylor. 2009, 101 mins. New digital restoration. An unsentimental elegy to the American West, Sweetgrass follows the last modern-day cowboys to lead their flocks of sheep up into Montana's breathtaking and often dangerous Absaroka-Beartooth mountains for summer pasture. This astonishingly beautiful yet unsparing film reveals a world in which nature and culture, animals and humans, vulnerability and violence are all intimately meshed. A Grasshopper Film release.

CONTINUING VIRTUAL CINEMA PROGRAMS:

Ghost Tropic
THROUGH OCTOBER 11
Dir. Bas Devos. Belgium. 2019, 85 mins. A Cinema Guild release. Trailer | Tickets ($12/$10 MoMI members)

Native Son
THROUGH OCTOBER 11
Dir. Pierre Chenal. 1951, 108 mins. A Kino Lorber release. Trailer | Tickets ($10)

Softie
THROUGH OCTOBER 4
Dir. Sam Soko. Kenya, 2020, 96 mins. An Icarus Films release. Trailer | Tickets ($12)

Mr. Soul!
THROUGH OCTOBER 4
Dir. Melissa Haizlip. 2018, 115 mins. Trailer | Tickets ($12)

Visit MoMI's Virtual Cinema page for all ongoing titles.
Top image: Alfred Hitchcock, publicity still from The Birds (1963) / Courtesy of NBC Universal.

Press contact: Tomoko Kawamoto, tkawamoto@movingimage.us
PRESS IMAGES (USER: press / PW: images).

ABOUT QUEENS DRIVE-IN
The Queens Drive-In was co-created by Rooftop Films, New York Hall of Science, and Museum of the Moving Image to present safe, communal moviegoing in New York City during the ongoing COVID-19 pandemic. With the goal of bringing film, culture, togetherness, and joy back to the City, the drive-in will be donating a portion of every ticket sale to non-profit organizations that serve the hardest-hit communities in our borough. The drive-in also serves to sustain jobs, and support New York and the larger filmmaking community. Located at the New York Hall of Science in Flushing Meadows Corona Park, screenings run from August 13 through October 31. For more information, visit queensdrivein.com.

ABOUT MUSEUM OF THE MOVING IMAGE
The Museum's mission is to advance the understanding, enjoyment, and appreciation of the art, history, technique, and technology of film, television, and digital media. Despite the effects of the COVID-19 pandemic, and with the building closed since March 14, the Museum continues to fulfill its mission online through live conversations with artists, filmmakers, scholars, media educators, and other industry professionals; articles published in MoMI's online film magazine Reverse Shot and science and film resource Sloan Science & Film; access to the Museum's collection of more than 130,000 objects; and the online presentation of a range of films—including acclaimed new release features and award-winning science shorts, plus archived video of Museum events, and more. In August 2020, the Museum co-created the Queens Drive-In, in partnership with Rooftop Films and New York Hall of Science, to revive communal moviegoing in a safe environment. For more information, visit movingimage.us. Follow MoMI on Facebook, Twitter, Instagram, and YouTube.

Museum of the Moving Image is housed in a building owned by the City of New York and has received significant support from the following public agencies: New York City Department of Cultural Affairs; New York City Council; New York City Economic Development Corporation; New York State Council on the Arts with the support of Governor Andrew M. Cuomo and the New York State Legislature; Institute of Museum and Library Services; National Endowment for the Humanities; National Endowment for the Arts; and Natural Heritage Trust (administered by the New York State Office of Parks, Recreation and Historic Preservation).