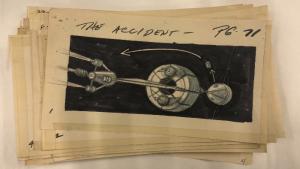 Astoria, New York (April 22, 2020) — With the building closed due to the ongoing coronavirus outbreak, Museum of the Moving Image has shifted to offering remote programs, which include tutorials in media-making as part of a wider online education initiative, "View from Home" new-release films, and live conversations with filmmakers, scholars, curators, and educators on topics relating to film and media, exhibitions, and the collection.

"In the midst of this devastating time, which has had a serious impact on our own operations, we are offering remote programming tied to our core mission. Moving-image media is now the main form of communication connecting, informing, and entertaining people who are sheltering in place. Online, we are offering video tutorials and live Q&As with our media educators to help students activate their creativity, presenting new films to view from home, and hosting conversations with a range of filmmakers, scholars, and other professionals," said Carl Goodman, the Museum's Executive Director.

In addition, the Museum is now serving the local Queens community as a free meal distribution site for residents, artists, and health care workers affected by the COVID-19 pandemic; part of Chef José Andrés's World Central Kitchen initiative. Monday–Friday, beginning at 12:00 p.m. (until meals are no longer available), at 36-01 35 Ave (from the 36 Street side entrance), Astoria, NY.

A schedule of current and upcoming programs are included below. Most live online events are free with a suggested donation. Most tickets for View from Home releases are $12 (some with discounts for MoMI members); a portion of ticket sales directly supports the Museum.

LIVE ONLINE EVENTS

Envisioning 2001 Without HAL: Douglas Trumbull and Michael Benson on Re-Discovered Early Storyboards for 2001: A Space Odyssey
Wednesday, April 22, 7:00 p.m. EDT
Join us for a live conversation with visual effects legend and director Douglas Trumbull, and Michael Benson, author of Space Odyssey: Stanley Kubrick, Arthur C. Clarke, and the Making of a Masterpiece, about recently re-discovered early storyboard drawings for 2001: A Space Odyssey in the Museum's collection. Suggested donation of $10. More info.

Town Hall for Teen Digital Media Innovators
Thursday, April 23, 3:30 p.m. EDT
MoMI's Teen Council will host their first town hall for Teen Digital Media Innovators, featuring conversation with filmmakers and game designers. To participate you must be between 12 and 19 years of age, and make media. Send an email to studio@movingimage to join the conversation on Google classroom. RSVP. More info.

Preserving Jim Henson's Legacy: Perspectives on Four Collections
Saturday, April 25, 7:00 p.m. EDT
Karen Falk, Archives Director at The Jim Henson Company and Vice President of the Jim Henson Legacy, will interview colleagues from three institutions that collect, preserve, and exhibit material related to the singular career of Muppets-creator, director, and performer Jim Henson. Participating in the event are Barbara Miller, Director of Curatorial Affairs, Museum of the Moving Image; Jill Nash Malool, Museum Director, Center for Puppetry Arts; and Ryan Lintelman, Curator of the Entertainment Collection, National Museum of American History, Smithsonian Institution. Suggested donation of $10. More info.

@ MOVING IMAGE STUDIO: ONLINE LEARNING AT MOMI

The Museum's education department has shifted to remote learning, with live events like the Teen Digital Media Innovators Town Hall mentioned above, and tutorials and videos hosted at a dedicated YouTube channel @ Moving Image Studio. Here, youth and teachers can attend a Behind the Screen virtual tour; learn about and apply to be a part of the Pocket Media Museum online class (for ages 9–13); and see student work. In addition, the weekly Ask a Media Educator live online event invites teachers and older students to join in a Q&A about how to use video to teach anything online, while highlighting artists and educators associated with the Museum. Finally, teens ages 13-19 are invited to submit short film(s) they created or helped to create in the annual Teen Film Festival.

VIEW FROM HOME: NEW ONLINE FILM RELEASES
A portion of ticket sales directly support the Museum.

Beanpole
Through April 29
Russian wunderkind Kantemir Balagov returns with his acclaimed sophomore feature. Set in post-WWII Leningrad, two women—portrayed by astonishing newcomers Viktoria Miroshnichenko and Vasilisa Perelygina—intensely bonded after fighting side by side as anti-aircraft gunners, attempt to readjust to a haunted world. A Kino Lorber release. Trailer. | View from Home.

Earth
Through May 1
Filmmaker Nikolaus Geyrhalter (Our Daily Bread, Homo Sapiens) spans the globe to observe people—in mines, quarries and at large construction sites—shredding, detonating, despoiling, and taking possession of the earth. "One of the most important and poignant environmental documentaries in recent years." A KimStim release. Trailer. | View from Home.

The Cordillera of Dreams
April 22–May 5
Winner of the Best Documentary award at the Cannes Film Festival, Patricio Guzmán's The Cordillera of Dreams completes the master Chilean director's trilogy (following the beloved Nostalgia for the Light and The Pearl Button) investigating the relationship between historical memory, political trauma, and geography in his native country. It centers on the cordillera, an imposing landscape feature of the Andes—at once protective and isolating, magisterial and indifferent—which serves as an enigmatic focal point around which Guzmán contemplates the enduring legacy of the 1973 military coup d'état. An Icarus Films release. Trailer. | View from Home.

Pahokee
April 24–May 7
This powerful documentary, which premiered in competition at the 2019 Sundance Film Festival, follows four teens from the isolated rural town of Pahokee, Florida, as they experience the joys and heartbreaks of their last year in high school. Directed by Ivete Lucas and Patrick Bresnan (The Rabbit Hunt), Pahokee was shot on 16mm film and bears traces of both American observational nonfiction and Italian neorealism, in a distinctive style illuminating the lives, and myriad hopes and dreams, of too often overlooked youth in today's society. A Monument Films release. MoMI members receive $2 off tickets. Trailer. | View from Home.

The Infiltrators
May 1–14
The Infiltrators is a docu-thriller, from directors Alex Rivera (Sleep Dealer) and Cristina Ibarra, that tells the true story of young immigrants who are detained by Border Patrol—on purpose—and thrown into a shadowy for-profit detention center. From the inside, Marco and Viri, members of the National Immigrant Youth Alliance—a group of radical DREAMers who are on a mission to stop unjust deportations—call attention to the plight of the undocumented. On Thursday May 7, 8:35 p.m., MoMI hosts a live online event with Marco Saveedra, one of the activists featured in the film, in conversation with film curator Tiffany Joy Butler. An Oscilloscope Labs release. Trailer.

ROOM H.264: Quarantine Edition, April 2020
Through May 3
The Museum is presenting the online release of a documentary, filmed and edited over the course of two weeks at the end of March, featuring more than 20 filmmakers responding to the current situation. This is the fourth iteration of the ROOM H.264 documentary series by Jeff Reichert, Damon Smith, and Eric Hynes. The recording of a live conversation featuring the participating filmmakers is also available online. View from Home.

ARTICLES

The Museum's publications, the online film magazine Reverse Shot and Sloan Science & Film, continue to publish regularly each week. Recently on Reverse Shot, the "Connected" column focuses on the two films Defending Your Life and The Lusty Men and critic Susannah Gruder looks at Anna Eborn's Transnistra, which was featured in MoMI's First Look Festival. On Sloan Science & Film, Executive Editor Sonia Epstein interviews Kate Novack about Hysterical Girl, currently showing online as part of The New York Times Op-Docs series.

In addition, visit the Collection Spotlight for a series of articles highlighting material from the Museum's collection relating to the historic Astoria studio, which is celebrating its 100th anniversary.
 
###
Top image: An early storyboard drawing for 2001: A Space Odyssey in the Museum's collection.

Press contact: Tomoko Kawamoto, tkawamoto@movingimage.us 

About Museum of the Moving Image (MoMI)
The Museum's mission is to advance the understanding, enjoyment, and appreciation of the art, history, technique, and technology of film, television, and digital media. Though devastated by the effects of the COVID-19 pandemic, the Museum continues to fulfill its mission online, through remote education programs, online screenings and talks, and other resources. For more information, visit www.movingimage.us.

Facebook: https://www.facebook.com/MovingImageMuseum
Twitter: http://twitter.com/MovingImageNYC
Instagram: https://instagram.com/movingimagenyc/