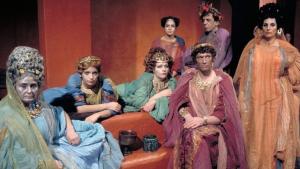 An Edition of its Signature Series Featuring Films That Embrace Excess
Part One: November 5–December 19, 2021
New York, New York, October 26, 2021 — Museum of the Moving Image and Reverse Shot will present a new edition of See It Big, their signature series devoted to big-screen movie experiences, focused on films that push cinematic style into excess. See It Big: Extravaganzas! (Part 1) features a broad selection of filmmakers, including Federico Fellini, Zhang Yimou, Vera Chytilová, and Josef von Sternberg, and more than a dozen films crossing genres and continents. Extravaganzas! will be presented in two parts; part one runs November 5 through December 19.
The series opens with a 35mm presentation of Cecil B. DeMille's The Sign of the Cross on November 5 and continues with such highlights as the Fellini double feature Satyricon and Toby Dammit; a double feature of Von Sternberg's The Scarlet Empress with Jack Smith's Flaming Creatures; Wes Anderson's The Grand Budapest Hotel with Méliès's The Impossible Voyage; Terry Gilliam's The Adventures of Baron Munchausen; Ken Russell's adaptation of The Who's rock opera Tommy; back-to-back showings of Sally Potter's Orlando and Ulrike Ottinger's Freak Orlando; Hype Williams's Belly starring DMX and Nas; Zhang Yimou's wuxia fantasy House of Flying Daggers; Bram Stoker's Dracula, directed by Francis Ford Coppola and starring Gary Oldman as the Count; Guy Maddin's phantasmagoric The Forbidden Room; and Vera Chytilová's beloved Czech New Wave romp Daisies. See below for schedule and descriptions or visit www.movingimage.us/extravaganzas1.
See It Big: Extravaganzas! is programmed by Curator of Film Eric Hynes, Assistant Curator of Film Edo Choi, and Reverse Shot co-editors Jeff Reichert and Michael Koresky, MoMI's Editorial Director.
From the curators: "Often we praise movies for their restraint. We're putting a stop to such gentility with our latest edition of See It Big, a properly super-sized, two-part, bursting-at-the-seams program that features a selection of films that push cinematic style into excess. The makers of these films, which span the silent era to the 21st-century, really pile it on: teeming canvases, crammed frames, ornate art direction and costume design foregrounded by lush camerawork and intense performance style."
See It Big: Extravaganzas! is presented with support from MUBI GO. MUBI GO is the first-ever service of its kind: an innovative new membership offering that gives members the opportunity to see a film in a theater each week, and stream a new film every day, each chosen by MUBI's curators. More information at mubi.com/go.

SEE IT BIG: EXTRAVAGANZAS! (PART ONE), NOV. 5–DEC. 19, 2021
All films will screen in the Redstone Theater or Bartos Screening Room at Museum of the Moving Image, 36-01 35 Ave, Astoria, NY 11106. Advance tickets are available at movingimage.us/extravaganzas1 (unless noted, tickets are $15 with discounts for seniors, students, youth, and MoMI members).
All descriptions were written by the curators.
The Sign of the Cross
FRIDAY, NOVEMBER 5, 7:00 P.M.
SUNDAY, NOVEMBER 7, 12:30 P.M.
Dir. Cecil B. DeMille. 1932, 125 mins. 35mm. With Fredric March, Claudette Colbert, Charles Laughton, Elissa Landi, Ian Keith. Immensely controversial, DeMille's The Sign of the Cross is a work of auteurist insanity that was deemed degenerate and a prime example of the kind of Hollywood decadence that would kick the restrictive Hays Production Code into full gear. An exorbitantly mounted portrait of ancient Rome, bedecked with over-the-top sadism and eroticism, DeMille's hedonistic tale features a randy Laughton as Emperor Nero, a handsome young March as Roman prefect Marcus Superbus, and then-superstar Colbert as Empress Poppaea, who infamously bathes in a tub of asses' milk. Heavily censored upon release, even before the Code went into effect, The Sign of the Cross is now noted as offering the kind of early queer Hollywood playfulness and sensuality that would all but disappear.
The Adventures of Baron Munchausen
SATURDAY, NOVEMBER 6, 4:00 P.M.
SUNDAY, NOVEMBER 14, 1:00 P.M.
FRIDAY, NOVEMBER 19, 3:00 P.M.
Dir. Terry Gilliam. 1989, 126 mins. With John Neville, Sarah Polley, Eric Idle, Jack Purvis, Valentina Cortese, Uma Thurman, Oliver Reed. Gilliam's follow-up to the critical triumph of Brazil is a work of nonstop visual invention, a dazzling fantasy based on the mythical 18th-century figure of a German nobleman who fought against the Ottoman army. Triumphant, Oscar-nominated visual effects, sets, and costumes take center stage, yet just as crucial are the delightful performances by Neville as the tall-tale-telling Baron and young Polley as the stowaway who accompanies him to the moon, into the belly of a whale, and to the center of a volcano. Rocket-paced and engaging from first frame to last, Gilliam's family-friendly fantasy is a wonder of practical design indebted to the work of early cinema wizard George Méliès.
Tommy
SATURDAY, NOVEMBER 13, 1:00 P.M.
SUNDAY, NOVEMBER 14, 5:30 P.M.
Dir. Ken Russell. 1975, 111 mins. 4K DCP. With Roger Daltrey, Ann-Margret, Oliver Reed. Adapting The Who's rock opera to the screen, gonzo auteur Ken Russell gooses every lyrical detail about the titular "deaf, dumb, and blind boy"-turned-pinball-playing-progeny/cult leader into an audacious, fever dream of sets and costumes. Tasmanian devilish Russell regular Oliver Reed is somehow tame when surrounded by Elton John as Pinball Wizard in five-foot platform heels and satin lederhosen; Tina Turner's scowling, raven-haired Acid Queen, seemingly on loan from a Hammer horror film; Roger Daltrey's improbable mushroom-cloud curls; and an Oscar-nominated Ann-Margret at her most unleashed. Moment by moment, tableau by tableau, she locks step with the director's excess, most memorably when, dressed in mink and mesh and champagne drunk—color-matched with a white monochromatic mod bedroom—she is flooded with baked beans vomited by a television set. To the tune of "See Me, Feel Me," naturally. Tommy is also a part of the series Musical Matinees.
The Scarlet Empress + Flaming Creatures
SATURDAY, NOVEMBER 13, 4:00 P.M.
FRIDAY, NOVEMBER 19, 6:30 P.M.
The Scarlet Empress. Dir. Josef von Sternberg. 1934, 104 mins. 35mm. With Marlene Dietrich, John Lodge, Sam Jaffe. A notorious box-office flop in its day, Sternberg's The Scarlet Empress has been reclaimed as one of the greatest of the director's legendary collaborations with Dietrich, and certainly the most lavish. As a heavily fictionalized version of Catherine the Great, the Prussian princess who was brought to Russia to marry the Grand Duke Peter (portrayed by Sam Jaffe as a grotesque simpleton) and bear him a child, Dietrich grows from wide-eyed innocent to imperious ruler, her rise framed by Sternberg's grandiose camerawork and wildly baroque set design. This work of frenetic, mad genius is a cornerstone of Hollywood excess from one of the industry's greatest, boldest practitioners.
Flaming Creatures. Dir. Jack Smith. 1963, 43 mins. 16mm. With Francis Francine, Sheila Bick, Mario Montez, Joel Markman. Deemed obscene by the State of New York, Smith's revolutionary and elusive avant-garde masterpiece Flaming Creatures was shot on expired black-and-white film stock, reproducing some of Hollywood's golden days on a Lower East Side rooftop. Smith gives his actors the freedom to preen, dance, and playfully inhabit the rapturous and exotic fantasies of Hollywood cinema. This landmark of queer cinema remains an unparalleled riot of experimental film.
Satyricon + Toby Dammit
SATURDAY, NOVEMBER 20, 6:00 P.M.
SUNDAY, NOVEMBER 21, 4:00 P.M.
Satyricon. Dir. Federico Fellini. 1969, 128 mins. In Italian with English subtitles. 35mm. With Martin Potter, Hiram Keller, Magali Noël, Alain Cuny. The ultimate Fellini phantasmagoria. The maestro's legendary re-creation of first-century Rome provides the backdrop for a wondrous journey into another world—a free adaptation of Petronius's satirical ancient novel that is as gritty as it is surreal. Grotesque, erotic, and bizarre, and reportedly inspired by Jack Smith's Flaming Creatures, Satyricon remains a radical and divisive film, but no one can deny its almost constant visual invention.
Toby Dammit. Dir. Federico Fellini. 1968, 45 mins. DCP. In Italian with English subtitles. With Terence Stamp, Salvo Randone. The closest Fellini ever came to making a horror movie, this adaptation of a story by Edgar Allan Poe was produced at the height of the Italian director's fame, right in between Juliet of the Spirits and Satyricon. Risk-taking matinee idol Stamp plays a dissolute, alcoholic actor who has come to Rome to work on a new film, only to be haunted by terrifying and inexplicable visions. Anticipating his seventies films, Fellini adorns his frames with an excess of lush and dreadful style, concocting a color-drenched, metaphysical masterpiece that is both movie industry satire and macabre moral tale.
The Grand Budapest Hotel + The Impossible Voyage
SUNDAY, NOVEMBER 21, 1:00 P.M.
SATURDAY, NOVEMBER 27, 3:30 P.M.
FRIDAY, DECEMBER 10, 3:00 P.M.
Dir. Wes Anderson. 2014, 100 mins. DCP. With Ralph Fiennes, Tony Revolori, F. Murray Abraham, Mathieu Amalric, Adrien Brody, Willem Dafoe, Jeff Goldblum, Harvey Keitel, Jude Law, Bill Murray, Edward Norton, Saoirse Ronan, Jason Schwartzman, Léa Seydoux, Tilda Swinton, Tom Wilkinson, Owen Wilson. Inspired by the Old World airs and manners of Ernst Lubitsch comedies and the pre-fascist Europe evoked by exiled Viennese author Stefan Zweig, Anderson's most elaborate film (at least until this year's The French Dispatch) conjures a dollhouse vision of a bygone world as delectable as a Viennese café confection. Fiennes is the redoubtable concierge of a splendid hilltop hotel in the fictional land of Zubrowka; Revolori is Zero, the new lobby boy, an immigrant from the Middle East who comes to love his mentor and whose older self (Abraham) will honor and safeguard his memory. Comprised of endless nesting framing devices, Adam Stockhausen's matte painting and miniature-heavy production design, genre pastiche set-pieces, and the filmmaker's signature tableau compositional style, The Grand Budapest Hotel is maximalist cinema worthy of George Méliès—whose 1904 masterpiece The Impossible Voyage (20 mins., digital projection) affectionately precedes it.
Daisies
FRIDAY, NOVEMBER 26, 7:00 P.M.
SATURDAY, NOVEMBER 27, 6:30 P.M.
Dir. Vera Chytilová. 1966, 76 mins. 35mm. In Czech with English subtitles. With Jitka Cerhová and Ivana Karbanová. One of the most beloved films of the radical sixties, Czech New Wave legend Vera Chytilová's sublimely anything-goes explosion of cinema has been called many things: a great feminist work, a classic of anarchist comedy, a key experimental film, and, by the censorious Czech government at the time, a public menace due to its "promoting of food wastage." Any way you look at it—and there's a lot to look at—this fanciful, narrative-decimating portrait of two young women who refuse to play by the rules of patriarchal society and begin to tear it all down is a singular vision that has to be experienced communally in a theater.
The Forbidden Room
SUNDAY, NOVEMBER 28, 1:30 P.M.
FRIDAY, DECEMBER 10, 7:00 P.M.
Dir. Guy Maddin, 2015, 120 mins. DCP. With Clara Furey, Louis Negin, Roy Dupuis, Udo Kier. Throughout his career, Guy Maddin has created wild, dreamlike phantasmagorias that appropriate the forms and styles of classic cinema and filter them through his own singular vision. Made with co-director Evan Johnson, here is his ultimate tribute to cinema and cinephilia, a Russian-nesting doll of a film with multiple plots, evoking a wide range of movies from the past, with surprise appearances by such actors as Mathieu Almaric and Charlotte Rampling. In the words of Mark Peranson in Cinema Scope, it is "a supremely hopeful and energetic dreamwork about a cinema that, while it may at times seem in danger of vanishing, will never end."
Orlando
SUNDAY, DECEMBER 5, 1:30 P.M.
SATURDAY, DECEMBER 18, 4:00 P.M.
Dir. Sally Potter. 1992, 94 mins. 35mm. With Tilda Swinton, Billy Zane, Quentin Crisp, Simon Russell Beale. In one of the most audacious movies of the '90s, British director Sally Potter undertook Virginia Woolf's seemingly unadaptable 1928 modernist novel about an Elizabethan poet and nobleman who inexplicably lives for centuries as both a man and a woman. Potter comes out on the other side of this challenge with a sumptuous, lavish triumph that's a landmark of feminist and queer filmmaking. And in a breakthrough performance, a majestically porcelain Tilda Swinton fully embodies Orlando as a mischievous, androgynous romantic.
Freak Orlando
SUNDAY, DECEMBER 5, 4:00 P.M.
SATURDAY, DECEMBER 18, 1:00 P.M.
Dir. Ulrike Ottinger. 1981, 126 mins. In German with English subtitles. With Delphine Seyrig, Magdalena Montezuma. Among the most baroquely ambitious and uncompromising directors of the New German Cinema and a cult icon of queer filmmaking, Ulrike Ottinger made fearlessly irreverent films that playfully toyed with religion, literature, genre, and the sexually normative modern world. Using Virginia Woolf's gender- and time-bending novel Orlando as a loose inspiration, her Freak Orlando is a work of buoyant, comic madness, a pageant of punk-operatic excess that feels like a mix of Jodorowsky, Buñuel, and Monty Python, and features the unforgettable Magdalena Montezuma as an inscrutable, magnetically crude version of Woolf's gender nonconforming hero.
Bram Stoker's Dracula
SATURDAY, DECEMBER 11, 3:30 P.M.
SUNDAY, DECEMBER 12, 1:30 P.M.
Dir. Francis Ford Coppola. 1992, 128 mins. With Gary Oldman, Winona Ryder, Anthony Hopkins, Sadie Frost, Keanu Reeves, Tom Waits. In adapting the original Victorian-era Gothic vampire novel, Coppola pulled out all the stops and then some. For his rendition of the Dracula story, Coppola produced a quirky, idiosyncratic, and over-the-top cascade of lush and violent horror imagery that was, miraculously, a box-office smash. Working with brilliantly self-imposed limitations (all practical effects that would have been possible in the silent era); cramming every frame with monumental sets and matte paintings; and directing Oldman in one of his finest performances as the devilishly romantic Transylvanian count, Coppola created a film so sensational that even the notoriously horror-averse Academy Awards honored it three times, for makeup, sound effects, and Eiko Ishioka's dazzling costumes.
Belly
FRIDAY, DECEMBER 17, 7:00 P.M.
SUNDAY, DECEMBER 19, 4:00 P.M.
Dir. Hype Williams. 1998, 96 mins. 35mm. With Earl "DMX" Simmons, Nasir "Nas" Jones, Taral Hicks, Method Man, Louie Rankin, Tionne "T-Boz" Watkins. Celebrated music video director Hype Williams made his feature debut with this riveting American crime drama. Lifelong friends Tommy Brown (DMX) and Sincere (Nas) are pulled into darkness as each struggles toward a better life far from the streets of Queens where each cut his teeth. Belly is far more than an extended meditation on how drugs, violence, and easy money combine to destroy the African American community. With its rhapsodic visual style, Williams offers, in the words of scholar Thomas F. Defrantz, a "visual experience that extends possibilities for the medium of filmmaking toward the evocation of Black visual intonation."
House of Flying Daggers
SATURDAY, DECEMBER 18. 6:00 P.M.
SUNDAY, DECEMBER 19, 1:00 P.M.
Dir. Zhang Yimou. 2004, 119 mins. 35mm. In Chinese (Mandarin) with English subtitles. With Zhang Ziyi, Takeshi Kaneshiro, Andy Lau. After reinventing his career with 2002's extravagant action spectacle Hero, nineties critical darling of Chinese cinema Zhang Yimou (Raise the Red Lantern) pushed his style into even more florid extremes with the remarkable, color-saturated, Tang Dynasty–era wuxia fantasy House of Flying Daggers. Still hot from her international breakthrough in Crouching Tiger, Hidden Dragon, Zhang Ziyi plays a dancer and daughter of a suspected Robin Hood–like rebel leader; after she is arrested by military police (superstars Kaneshiro and Lau), a series of brutal reversals and betrayals ensue. But the real star here is the director's excessive, self-conscious visual pastiche, an onslaught of gravity-defying action and ravishing color captured in precise, vibrant detail.
Top image: Satyricon (Dir. Federico Fellini. 1969 / courtesy of Park Circus)

Press contact: Tomoko Kawamoto, tkawamoto@movingimage.us or 718 777 6830.
Press images are available here (user: press / password: images).

MUSEUM INFORMATION
Museum of the Moving Image (movingimage.us) advances the understanding, enjoyment, and appreciation of the art, history, technique, and technology of film, television, and digital media. In its stunning facility—acclaimed for both its accessibility and bold design—the Museum presents exhibitions; screenings of significant works; discussion programs featuring actors, directors, craftspeople, and business leaders; and education programs which serve more than 70,000 students each year. The Museum also houses a significant collection of moving-image artifacts.

Temporary Hours (through Nov. 2021): Friday, 2:00 to 8:00 p.m. Saturday–Sunday, 12:00 to 6:00 p.m.
Museum Admission : $15 adults; $11 senior citizens (ages 65+) and students (ages 18+) with ID; $9 youth (ages 3–17). Children under 3 and Museum members are admitted free.
Address : 36-01 35 Avenue (at 37 Street), Astoria (Queens), NY, 11106
Subway : M (weekdays only) or R to Steinway Street. W (weekdays only) or N to 36 Ave.
Program Information : Telephone: 718 777 6888; Website: movingimage.us
Membership : http://movingimage.us/support/membership or 718 777 6877
Film Screenings: Friday evenings, Saturdays and Sundays, and as scheduled. Unless noted, tickets are $15 adults / $11 students and seniors / $9 youth (ages 3–17) / free or discounted for Museum members. Advance online purchase is recommended.

Please note safety protocols for visiting the Museum.
Museum of the Moving Image is housed in a building owned by the City of New York and has received significant support from the following public agencies: New York City Department of Cultural Affairs; New York City Council; New York City Economic Development Corporation; New York State Council on the Arts with the support of Governor Kathy Hochul and the New York State Legislature; Institute of Museum and Library Services; National Endowment for the Humanities; National Endowment for the Arts; and Natural Heritage Trust (administered by the New York State Office of Parks, Recreation and Historic Preservation). For more information, please visit movingimage.us