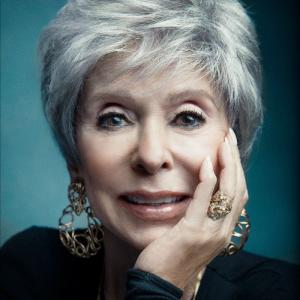 The celebratory event on December 1 raises funds to support year-round Museum programming, including online education and tours for youth and seniors
New York, New York (October 29, 2021) — The Board of Trustees of Museum of the Moving Image today announced that screen and stage legend Rita Moreno will be honored at its 2021 Moving Image Awards on Wednesday, December 1, at 6:30 p.m. in Astoria, Queens. Moreno will be celebrated by friends and collaborators with a special program in the grand Redstone Theater, preceded by a cocktail reception and followed by dessert in the Hearst Lobby. Additional special guests to be announced. "There is no better time to celebrate the illustrious career of Rita Moreno. She is a legendary figure who has been a constant and formidable presence in American cinema for almost 70 years, from her brief but unforgettable appearance in Singin' in the Rain, through her Oscar-winning role in the original West Side Story, and to her latest, in the eagerly anticipated Steven Spielberg adaptation," said Carl Goodman, MoMI's Executive Director. "We look forward to safely welcoming Ms. Moreno and our supporters back to the Museum for our first in-person gala event since the start of the pandemic."  Rita Moreno has won all four of the most prestigious awards in show business: an Oscar, a Tony, two Emmys, and a Grammy. Her countless credits span more than seven decades, beginning with her Broadway debut at age 13. Moreno has starred on Broadway and London's West End, appeared in more than 40 feature films, and countless television shows, and has performed in numerous regional theaters including her one-woman show, Life Without Makeup. Moreno is also the recipient of the Peabody Career Achievement Award and the Kennedy Center Honor for her lifetime contributions to American culture; and she was also honored by her peers as the 50th recipient of the Screen Actors Guild Life Achievement Award.  Most recently, Moreno co-starred in the critically acclaimed Latinx reimagining of Norman Lear's classic sitcom One Day at a Time. Her documentary Rita Moreno: Just a Girl Who Decided to Go for It for American Masters Pictures had its world premiere at the Sundance Film Festival earlier this year, was released theatrically in over 220 theaters, and broadcast nationwide on PBS and is currently streaming on Netflix.  Moreno co-stars and is an executive producer of Steven Spielberg's West Side Story, which opens in theaters December 10. She also stars in the upcoming feature film The Prank, due to be released in 2022.  Beginning on November 26, the Museum will present a retrospective screening series devoted to Rita Moreno, including Rita Moreno: Just a Girl Who Decided to Go for It, The King and I, and additional titles to be announced. Funds raised from the Moving Image Awards will support the Museum's mission to explore all facets of film, television, and digital media, including support for education programs, which serve more than 70,000 students each year. For more information and to purchase tickets for the Moving Image Awards Honoring Rita Moreno, please visit movingimage.us/honoring-rita. Museum of the Moving Image (MoMI) is the only institution in the United States that deals comprehensively with the art, technology, enjoyment, and social impact of film, television, and digital media. In its acclaimed facility in Astoria, New York, the Museum presents exhibitions; screenings; discussion programs featuring actors, directors, and creative leaders; and education programs. It houses the nation's largest collection of moving image artifacts and screens over 500 films annually. Its exhibitions—including the core exhibition Behind the Screen and The Jim Henson Exhibition—are noted for their integration of material objects, interactive experiences, and audiovisual presentations. For more information about the MoMI, visit movingimage.us.
###
Photo credit: Austin Hargrave Press contact: Tomoko Kawamoto, tkawamoto@movingimage.us or 718 777 6830. MUSEUM INFORMATION Temporary Hours (through Nov. 2021): Friday, 2:00 to 8:00 p.m. Saturday–Sunday, 12:00 to 6:00 p.m. Museum Admission : $15 adults; $11 senior citizens (ages 65+) and students (ages 18+) with ID; $9 youth (ages 3–17). Children under 3 and Museum members are admitted free. Address : 36-01 35 Avenue (at 37 Street), Astoria (Queens), NY, 11106 Subway : M (weekdays only) or R to Steinway Street. W (weekdays only) or N to 36 Ave. Program Information : Telephone: 718 777 6888; Website: movingimage.us Membership : http://movingimage.us/support/membership or 718 777 6877 Film Screenings: Friday evenings, Saturdays and Sundays, and as scheduled. Unless noted, tickets are $15 adults / $11 students and seniors / $9 youth (ages 3–17) / free or discounted for Museum members. Advance online purchase is recommended. Please note safety protocols for visiting the Museum.  
Museum of the Moving Image is housed in a building owned by the City of New York and has received significant support from the following public agencies: New York City Department of Cultural Affairs; New York City Council; New York City Economic Development Corporation; New York State Council on the Arts with the support of Governor Kathy Hochul and the New York State Legislature; Institute of Museum and Library Services; National Endowment for the Humanities; National Endowment for the Arts; and Natural Heritage Trust (administered by the New York State Office of Parks, Recreation and Historic Preservation). For more information, please visit movingimage.us.