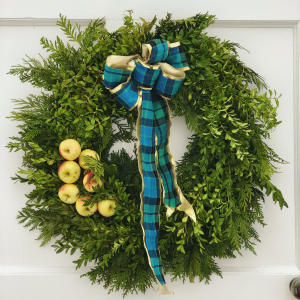 Mumford, NY (October 27, 2021) – Visitors will find many opportunities to include Genesee Country Village & Museum in their holiday traditions this November and December. The Museum presents a full lineup of festive holiday shopping experiences, theatrical tours of the Historic Village, pancake breakfasts with St. Nick, and more.
Get into the holiday spirit on Saturday, November 20, and Sunday, November 21, from 10 a.m. – 3 p.m. at GCV&M's Holiday Market & Preparing for Winter event. This combination of two festive favorites includes a cheerful vendor market where visitors can shop hand-crafted, locally produced goods from a multitude of vendors. Visitors can also peruse unique gift items and Village-made goods in the Flint Hill Store, including pottery, maple products, Museum apparel, historic toys, and more. In addition to the market, visitors can stroll through the Historic Village where preparations will be underway for the snowy season ahead. See the Village in a truly unique setting in the early winter months – historic buildings covered in a light dusting of snow, candles in window sills, and hearth fires roaring. Explore candle-making, creation of winter garments, food preservation, baking of seasonal treats, and more. General admission for Holiday Market & Preparing for Winter is $10, $7 for Museum Members, and children three and under are free. Tickets can be purchased online in advance or at the door. Holiday Market & Preparing for Winter is sponsored by Brite.
Visit the Museum on select Fridays and Saturdays in December (December 3, 4, 10, 11, 17, and 18), for Yuletide in the Country Tours & Dinners. Visitors can explore the wintry Village and be invited into scenes that highlight celebrations and gatherings as they would have looked throughout the 19th century. Historic homes will be bedecked in holiday splendor, and visitors can immerse themselves in the exuberance of a spirited town dance, merry singing, candle-lit trees, and jubilant gift-giving. St. Nick himself may even make an appearance about town. Yuletide Tours will run from 5:00 p.m. - 8:30 p.m. on Fridays, and from 2:00 p.m. - 8:30 p.m. on Saturdays. General admission for Yuletide Tours is $27, and admission for Members is $24. Yuletide theatrical tours can be paired with a festive Yuletide Dinner – a sumptuous GCV&M tradition featuring savory and sweet holiday dishes. Yuletide Dinners are $25 for adults and $15 for guests 12 and under. Reservations are required for both tours and dinner, and can be made separately. Yuletide in the Country is sponsored by Valley Propane & Fuels and Cedar Street Sales & Rentals. 
On Sundays in December (5, 12, and 19) from 11 a.m. – 3 p.m., families can celebrate the season by exploring the festive Historic Village during Holiday Open House. See villagers bustling with winter tasks and offering greetings to their neighbors and friends. Bring the whole family for self-guided tours through historic homes that are warmed by fires and alive with holiday lights, candles, and traditional decorations. Tickets are available online for advance purchase as well as at the door. General admission for the Holiday Open House is $12, $9 for Museum Members, and children three and under are free.
On the same Sundays as Holiday Open House (December 5, 12, and 19), GCV&M will also be offering a holiday favorite, Pancake Breakfast with St. Nick. With seatings at 10 a.m., 11 a.m. and 12 p.m., guests can enjoy a sweet and savory buffet breakfast of pancakes, stuffed French toast, sausage, and other offerings, and afterwards, take a stroll through the wintry Historic Village. Breakfast with St. Nick is $12 for adults, $10 for youths 12 and under, and children three and under are free. Reservations are required.
Those looking to get ahead of holiday shopping can find the perfect item for everyone on their list in the Flint Hill Store at GCV&M, open during holiday events and online at gcv.org/shop. Plus, holiday cookies boxes will be available this winter online and in-store. Those wishing to support Genesee Country Village & Museum this holiday season can make a gift at gcv.org/give-join, become a Museum Member, or purchase a gift membership for a family member or fellow history lover.
For the remainder of the 2021 season, masks will be required for all visitors. Visitors should also continue to practice safe social distancing at all points when on Museum grounds. For those unable or unwilling to wear a mask, we kindly ask that you consider attending events at GCV&M at a later date when masks are no longer required. Find all upcoming event listings and more information at https://www.gcv.org/events/.
###
Photo 1: Don't miss Holiday Market & Preparing for Winter at Genesee Country Village & Museum on Saturday, November 20, and Sunday, November 21!
Photo 2: Explore the festive Historic Village this holiday season during Yuletide in the Country Tours and Holiday Open Houses throughout December at Genesee Country Village & Museum.
Additional photos are available by request. To be removed from this mailing list, contact pengard@gcv.org.
GCV&M is the largest living history museum in New York State with the largest collection of historic buildings in the Northeast. The Museum, with its John L. Wehle Gallery, working brewery, vintage base ball park, and Nature Center, is located in Mumford, NY, 20 miles southwest of Rochester and 45 miles east of Buffalo. Visit during the 2021 holiday season to share in the excitement of Genesee Country Village & Museum's 45th anniversary. Visit www.gcv.org for more information.