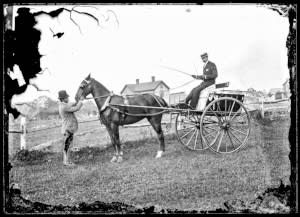 Southampton, N.Y. – On Saturday, August 18, the Southampton Historical Museum will present "100 Years of Photographs from Morris Studio: 1892-1992." This exhibit presents the rich history of the South Fork on Long Island through the historic archives from The Morris Studio. The photographs date as far back as 1892. Though The Morris Studio closed its doors in 2017 the photographs show a long lost era of time to be presented over 100 years later. Among the photographs are local historic landmarks and portraits of local families.
Curator Mary Godfrey worked for several years at the locally well-known and beloved Morris Studio until it closed in 2017. George W. Morris opened the Studio on Main Street, Southampton in 1892. His son Doug sold the business to Jim Thomason whose son Neal took over the business in 2014. Neal reluctantly had to sell Morris Studio last year. Mary began as an intern almost 20 years ago and opened her own photography and frame shop on Jobs Lane after the Studio closed in 2017. She and Neal Thomason are archiving the historic collection of over 5,000 negatives, many of which are mounted on glass, and plan on publishing a coffee table size book this fall.
A close look at details in the many staged photographs reveals a whole world. Why are fireman dressed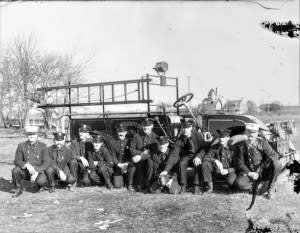 in their parade uniforms holding a pig in 1920? The long forgotten Womens Land Army was formed during WWI by college girls who came to Southampton to do the work of farmers who enlisted. What was their experience like? In 1930 a group of children from the Shinnecock Tribe are dressed in costume sitting on a horse drawn, drag sled (without wheels) waiting to join a parade. How did they like being pulled down Main Street? It must have been painful.
Tom Edmonds, Executive Director, says these historic photographs are a fresh look at Southampton and its residents from over 100 years ago. They capture people on familiar places to us in Southampton but who are now long dead. When I look at them I think "What was this person thinking in 1900? What would they think of Southampton in 2018?" This glimpse into our shared past is both eerie and fascinating. Anyone looking at these images will identify with them, even if they are not from Southampton.
The exhibit opens August 18, 2018 at the Rogers Mansion, a property of the Southampton History Museum located at 17 Meeting House Lane in Southampton, NY.
###
Contact:
Tom Edmonds
Executive Director
Southampton Historical Museum
17 Meeting House Lane,
Southampton, NY 11968
(631) 283-2494