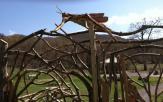 Cornwall, N.Y.
- The Hudson Highlands Nature Museum is seeking nature lovers to participate in
Art in the Wild, Naturally Inspired Trailside Creations
,
an outdoor art exhibit that will take place over four months in 2014 at the Hudson Highlands Nature Museum in Cornwall, NY. Artists and other interested people or groups are encouraged to apply to make a playful installation or sculpture at one of many sites on the Museum's Pond Trail. The purpose of the project is to broaden the audience for art and nature in Orange County and to help people deepen their appreciation of both art and the natural world.  This program is funded, in part, by Orange County Tourism and the County of Orange through its 2013-14 County of Orange Grant program.  "We are pleased that the County is helping to celebrate art and nature through this unique project," says Jackie Grant, Executive Director of the Museum. Rustic artist Daniel Mack of Warwick will be the curator for the exhibit.  He has worked with trees and natural materials for many years to make furniture, buildings and sculpture. Mack is currently involved with a similar project at Wildwood Park in Harrisburg, PA. "There was such variety of participants in the Harrisburg project including artists, school groups and nature educators!" says Mack "They all helped people see nature, and art, in new different ways. I'm happy we can do something similar here at the Nature Museum in Cornwall." The theme of the project is
CYCLES
. About ten proposals from applicants from Orange County and other counties in the region will be chosen to be installed for an opening just before Earth Day in 2014. It will close in mid- August. The artists selected will be paid a small honorarium to help off-set their costs. Anyone interested in applying to be a part of this project can download an application or learn more at
http://www.hhnaturemuseum.org/
where "Art in the Wild" is listed under events.  They can also visit the Museum's Outdoor Discovery Center to walk the Pond Trail to get ideas for where projects might be placed. The Visitors Center at the Outdoor Discovery Center is open on weekends through November 17
th
. While at the Outdoor Discovery Center, applicants should also visit Grasshopper Grove, a new and unusual nature play area which features many different opportunities for children to explore nature and natural materials.  Applications are due by December 13, 2014. For more information see 
http://www.hhnaturemuseum.org/
under Events, or
contact Daniel Mack
mailto:rustic@waerwick.net
                                                                        ###
Photo Caption
: "Grasshopper" by Judd Weisburg, a sample of "Art in the Wild" now located over the entry gate to the Hudson Highlands Nature Museum's new nature play area, Grasshopper Grove.
Contact:
Marian Goldin Marketing Manager Hudson Highlands Nature Museum 845-534-5506, ext. 215