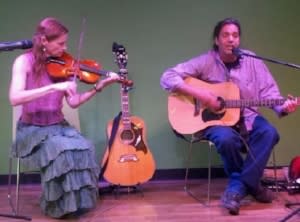 Scheduled for Saturday, May 13 at 1:00 pm
Utica, N.Y. – Explore the history of the Erie Canal through song with Mohawk Valley musicians Cosby Gibson and Tom Staudle.  These high-spirited artists, along with their guitar, violin, banjo, harmonica, and ukulele, will examine the style of songs performed during the construction of the canal and their origins.  Don't miss this original music program that celebrates the 200th Anniversary of the Erie Canal. This program takes place in the center's main gallery on Saturday, May 13 starting at 1:00 PM. 
The Oneida County History Center, formerly the Oneida County Historical Society, is a private 501(c)(3) not-for-profit educational institution and is dedicated to preserving history and promoting the culture of the Greater Mohawk Valley. Admission to this program is free for the general public; donations are encouraged. Please contact the center at 315-735-3642 or visit the OCHC website (www.oneidacountyhistory.org) or Facebook.com page for additional information.
###
 
Contact:
Rebecca M. McLain
Community Outreach Coordinator
Oneida County History Center
1608 Genesee Street                             
Utica, New York 13502-5425          
315-735-3642