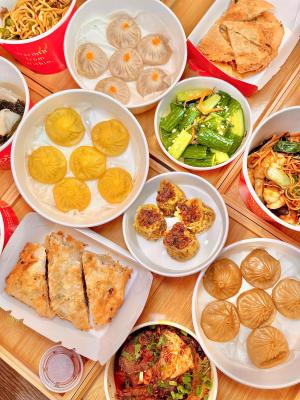 Shanghainese Fast-Casual Eatery Unveils Newest Location in Brooklyn's Culinary Hotspot
Brooklyn, NY - Nan Xiang Express, the burgeoning chain revered for its high-quality Shanghainese cuisine, is thrilled to announce the opening of its newest location in the heart of Williamsburg, Brooklyn's vibrant culinary scene.
Williamsburg, known for its multicultural dining landscape and enthusiastic food lovers, is the perfect backdrop for Nan Xiang Express's expansion. The neighborhood boasts a diverse range of culinary establishments from trendy brunch spots like The Butcher's Daughter and Sunday in Brooklyn to acclaimed bars like Maison Premiere.
"We are elated to join the dynamic culinary hub of Williamsburg, a neighborhood celebrated for its appreciation of diverse cuisine," said Co-Founder and Owner Eddie Zheng. "Our new location at 167 Grand St, Brooklyn, NY 11249, sits comfortably amongst popular eateries and bars, further enriching the dining experience for locals and tourists alike. We look forward to adding our unique Shanghainese flavors to this rich tapestry."
Nan Xiang Express' menu, brimming with a variety of traditional Shanghainese dishes and signature soup dumplings, offers an exciting new option for Williamsburg's food aficionados. As part of its commitment to delivering the same level of quality found at its Michelin-recommended sibling, Nan Xiang Xiao Long Bao, Nan Xiang Express maintains an affordable price point averaging $20 per person.
The restaurant's commitment to combining quality and convenience is further exemplified by its mobile app, developed by ABC POS, which allows customers to order ahead and access a rewarding loyalty program.
Nan Xiang Express' expansion journey continues with the commitment to open additional locations across Boston, Washington D.C., New Jersey, Pennsylvania, and Virginia. Williamsburg is just a starting point in this promising narrative.
The Williamsburg store is located at 167 Grand St, Brooklyn, NY 11249, and will be open every day from 11 a.m. to 11 p.m. For more information about Nan Xiang Express, visit their website at www.nanxiangexpress.com or follow them on Instagram at @nanxiangexpress.
About Nan Xiang Express
Nan Xiang Express provides customers with a unique, modern Chinese food experience with a welcoming, cozy atmosphere. Nan Xiang Express is on a mission to make Michelin-recommended quality Shanghai-style dim sum accessible to everyone, by offering high-quality soup dumplings at an affordable price point. While "Nan Xiang" pays homage to our sister restaurant Nan Xiang Xiao Long Bao, the term "Express" in the brand name conveys the restaurant's fast-casual approach to dining.
###
Hi-res images: folder
Menu: PDF
Press contact:
Chloe Zhao
(347) 277-8913