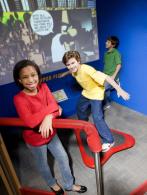 Rochester, N.Y. - The Strong's National Museum of Play is pleased to announce a partnership with the Let's Move! Museums and Gardens Initiative launched by First Lady Michelle Obama and the Institute of Museum and Library Services (IMLS) to fight childhood obesity. The national initiative helps children learn about healthy food choices and promotes physical activity through interactive exhibits and programs. The program aims to sign up 2,000 museums and gardens and reach 200 million visitors in the coming year.  According to the IMLS, "Today, nearly one in three children in America are overweight or obese. The numbers are even higher in African American and Hispanic communities, where nearly 40% of the children are overweight or obese. If we don't solve this problem, one third of all children born in 2000 or later will suffer from diabetes at some point in their lives. Many others will face chronic obesity-related health problems like heart disease, high blood pressure, cancer, and asthma." "We are delighted to join in this important initiative and help to make a difference," says Joan Hoffman, vice president for education at The Strong. "At the National Museum of Play, families can enjoy more than 150,000 square feet of highly dynamic, interactive exhibits where kids learn by active play. Each exhibit is created to engage and delight kids physically and mentally while meeting well-rounded educational objectives." While at the museum, parents are encouraged to help their kids hop, jump, skip, climb, and move through the activities found in the following exhibitions:
Field of Play: Scale the climbing wall, burn calories playing Dance Dance Revolution, move a ball across the ceiling with pulleys, or jump into a variety of active sports competitions with Kinect for Xbox 360.
Can You Tell Me How to Get to Sesame Street?: Reinforce counting skills as you hopscotch your way through the Sesame Street indoor playground.
Kid to Kid: Pirouette across the kid-sized stage, crawl the toddler maze, or challenge a friend to a Sony Play Station Move video game.
American Comic Books Heroes: The Battle of Good vs. Evil: Balance on a beam as you totter high above the city, chase villains through the (virtual) streets of the metropolis, and climb a skyscraper.
Berenstain Bears: Down a Sunny Dirt Road: Try a round or two of heart-pounding jump rope, serve up a healthy meal in the Bear Family Restaurant, climb the clubhouse stairs, and hand crank a spinning airplane.
Reading Adventureland: Skip down the Yellow Brick Road, ascend the beanstalk to the Giant's play room, and cross over the Troll Bridge (but watch out for the troll!).
National Toy Hall of Fame: Climb up the big spiral staircase to the famous hall where you can pick up a hula hoop and swivel those hips!
eGameRevolution: Step lively as you play one of the many games and activities on the LED Light floor or Nintendo Wii.
DanceLab: Gyrate to dances through the eras as you watch your shadows morph into fantastic shapes and patterns on the screen in front of you.
Summer Farewell Parades: Kick up those heels and march in a high-spirited end-of-day musical parade throughout the galleries.
Over the coming year, the National Museum of Play will post weekly tips about healthy eating and exercise on Facebook and Twitter. In addition, the museum's food court will post signage about healthy food choices. For more information visit the museum's website  http://www.imls.gov/about/letsmove.shtm.
###
Museum Hours: Monday-Thursday, 10 a.m. to 5 p.m.; Friday and Saturday, 10 a.m. to 8 p.m.; Sunday, noon to 5 p.m. Admission Fees: General admission (does not include admission to Dancing Wings Butterfly Garden®): Adults $12, Seniors $11, Children (2-15) $10, Children younger than two free, Museum members free.  Admission to Dancing Wings Butterfly Garden®: General Admission fee plus $2 for members, $4 for nonmembers; children under 2 free. Entry is by timed ticket only. Please call 585-263-2700 to reserve and purchase tickets. Parking: Free parking is available at the museum for all guests on a first-come, first-served basis. Please note that, on high visitation days, the museum lot may reach capacity early in the day. If space is not available on site at the time of your visit, additional parking is available at neighboring municipal garages for a fee. The Strong is not responsible for fees incurred at off-site locations. Contact: Susan Trien 585-410-6359 strien@thestrong.org Shane Rhinewald 585-410-6365 srhinewald@thestrong.org