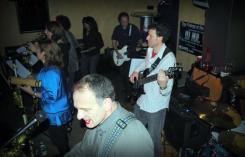 MasterCard's Employee Band The Transactions Performs at Manhattanville College in honor of  Inkwell Journal's 15th Anniversary
Purchase, N.Y.
- April is National Poetry Month. In celebration of Poetry Reading Day, Thursday, April 28th, MasterCard's employee band The Transactions is organizing a community fundraiser concert at Manhattanville College in honor of Manhattanville's award winning literary journal, Inkwell.  This year, Inkwell celebrates its 15th Anniversary. A portion of the proceeds will be used to sponsor the first Inkwell Journal High School Poetry Scholarship, open to HS seniors throughout the tri-state area. The concert is scheduled for April 28th 6- 9 p.m. and is located at Reid Castle, Manhattanville College, 2900 Purchase Street, Purchase NY.  Ticket price is $20. Reservations are required; for more information and to purchase tickets, contact Tujuanna Allen at
the_transactions@yahoo.com
 or (914) 414-2212. "We are honored to be selected by The Transactions in conjunction with National Poetry Reading Day. Their generous support will enable Inkwell to raise money to create opportunities for young poets through the inauguration of the Inkwell Journal High School Poetry Scholarship-something we have long hoped to do. And what a wonderful way to celebrate the 15th anniversary of our MAW program's literary journal," says Karen Sirabian, Director of Manhattanville's Master of Arts in Writing Program. Since their inception in 2008,  The Transactions have held two community events per year, in which they  identify a cause and organize a concert which is attended by MasterCard employees, friends and family.  It is an opportunity for the band to support the community through music, bring people together and increase cause awareness. The Transactions' fundraisers have been attended by hundreds of guests and benefited many deserving organizations including: The Steven Spring Foundation, December 2008; Blythdale Children's Hospital, April 2009; Girls Inc of Westchester, December 2009; Doctors without Borders, February 2010; and YWCA of Westchester, April 2010. According to Tujuanna Allen, band member and MasterCard Employee,  "We, The Transactions, applaud  Inkwell for its dedicated work in spotlighting the talents of new and emerging writers.  We are thrilled to dedicate our fundraiser concert to commemorate National Poetry Month  and raise money for Inkwell's 15th anniversary of  support and celebration of  the written word." Inkwell is produced in affiliation with the Master of Arts in Writing Program at Manhattanville College.  The program offers a highly flexible schedule of day and evening courses taught by distinguished authors and editors. Their Summer Writers' Week, held each June, is open to writers and aspiring writers
www.mville.edu/writersweek
.
About Manhattanville College
Manhattanville College is an independent, co-educational liberal arts institution, whose mission is to educate students to be ethical and socially-responsible leaders in a global community. Located just 30 minutes from New York City, Manhattanville serves 1,700 undergraduate students and 1,200 graduate students form 76 countries and 48 states.  Founded in 1841, the College offers more than 50 undergraduate areas of study in the arts and sciences and has one of the largest teacher education programs in New York State. The college also offers accelerated degrees, including a BA/MA in Creative Writing. Manhattanville College is located at 2900 Purchase Street, Purchase, NY 10577. For information and reservations, contact    Karen Sirabian, Director of Manhattanville College's Master of Arts in Writing Program    at 914 323-5239, e-mail  sirabiank@mville.edu    or log onto  www.mville.edu/writing   
###
Contact
: Cindy Beer-Fouhy
cindyf@bestweb.net
(914) 528-5535