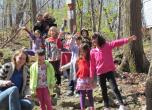 Cornwall, N.Y.
- When school is out the Hudson Highlands Nature Museum will be hosting school break camps at the Outdoor Discovery Center, on Muser Drive, across from 174 Angola Road, Cornwall. The camps will run from Monday, April 14 - Friday, April 18.
Camp options include
:
Full-day 5-day program from 9 a.m. - 3 p.m. for ages 6-10 and a half-day choose your day program from 9 a.m. - 11:30 a.m. for ages 4-6
.
  Youngsters will join museum educators for some seasonal fun. Campers will learn about wildlife, enjoy animal presentations, stories, crafts and activities plus, weather permitting take guided hikes on the woodland trails! "This is the first year the museum is offering a full-day option for children ages 6-10," says education director, Lisa Mechaley. "We know that some schools have shortened spring break so parents can call to work out options."   Pre-paid registration is required due to very limited space. Cost for full-day 5-day program: $220. Museum Members: $178. Cost for half-day program: $22 per day. Museum members: $17 per day. For more information and to register online visit hhnaturemuseum.org or call 845-534-5506, ext. 211                                                                         ###
Photo Caption
: School break camp at the Hudson Highlands Nature Museum's Wildlife Education Center takes place from Monday, April 14 - Friday, April 18 for ages 4-10. Photo by Marian Goldin.
Contact
: Marian Goldin, Marketing Manager Hudson Highlands Nature Museum 845-534-5506, ext. 215