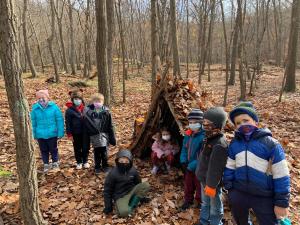 Cornwall-on-Hudson, NY – After a very successful pilot program in the Fall, the Hudson Highlands Nature Museum's new Homeschool Naturalist series for children ages 6-10 is offering a winter session. Located at the Nature Museum's Wildlife Education Center (25 Boulevard, Cornwall-on-Hudson) this 9-week series, which begins Tuesday, January 5 and meets once a week from 9am-1pm provides children the opportunity to explore, play, and learn in the forest.
Daily activities, games, stories, and nature play supports the Nature Museum's seasonal curriculum and provides crucial time to develop the social-emotional skills that are at the foundation of a child's learning journey. Environmental Educators ensure that each child's educational needs are met while nurturing more awe and wonder for the natural world. 
Guidelines from the State of New York, the CDC, Orange County Department of Health, and the ACA (American Camping Association) are followed to ensure that the programs meets the highest standards for health and safety, and have modified policies and procedures to facilitate all recommended safe physical/social distancing practices. 
You can find a full list of plans for safeguarding students on the Nature Museum's website, www.hhnm.org. 
Spaces are available in the program's Trekker Group (ages 8-10) which meets on a choice of Tuesdays: January 5th - March 9th or Wednesdays - January 6th - March 10th and the Explorers (ages 6-7)  which meets on a choice of Thursdays: January 7th - March 11th or Fridays: January 8th - March 12th from 9:00am – 1:00pm 
Visit hhnm.org for more information and registration. Registration fee: HHNM Members: $405 -- Not-yet-Members: $450. Pro-rated registration will be available for children who miss the first week if spaces are still available.
###
Photo caption: Space available for children ages 6-10 in the Winter Homeschool Naturalist program at the Hudson Highlands Nature Museum (hhnm.org).  Photo by Jennifer Brinker
For additional information contact:
Joanna Reisner, Marketing Manager
Hudson Highlands Nature Museum