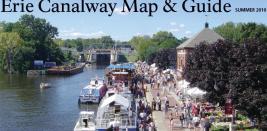 Waterford, N.Y. -
The Erie Canalway National Heritage Corridor Commission is distributing a new Erie Canalway Map & Guide to introduce visitors to the many things to see and do in the Erie Canalway National Heritage Corridor. People can obtain a copy at visitor centers, locks, and cultural heritage sites all along the New York State Canal System. "While several guides show separate sections of the canal corridor, this is the first of its kind to give people a sense of the whole National Heritage Corridor and offer direction for day trips and excursions," said Commission Chair Joseph Callahan. "We hope people will explore the canal close to home, but also discover some of the great sites further afield."  The eight page newspaper-style guide includes a map of the National Heritage Corridor, as well as a list of canal-related cultural heritage sites, boat rental and tour companies, places to cycle on the Erie Canalway Trail, and more. Senator José M. Serrano (D- Manhattan/Bronx), Chairman of Senate Committee on Cultural Affairs, Tourism, Parks and Recreation said: "During these times of economic uncertainty, it is important that we look to man-made wonders like the Erie Canal, which reminds us of the industry, resourcefulness, and greatness that resides within the State of New York. With over 80 percent of upstate New York's population living within this passage, tourism to the Erie Canalway Heritage Corridor not only provides the general public with invaluable cultural, historic and recreational resources, it also supports local economies that impact a great deal of New Yorkers." Assemblymember Steven Englebright, Chairman of the Assembly Committee on Tourism, Parks, Arts and Sports Development said: "The Erie Canalway National Heritage Corridor is one of New York State's true treasures. Historically, the Erie Canal united our State and our Nation and allowed our Country to become the economic powerhouse that it is to this day.  Today, the Erie Canalway National Heritage Corridor has once again become an engine for the economy as a tourism-based entity that brings millions of visitors to our State each year." The map and guide, along with the website
www.eriecanalway.org
,
are among the latest efforts by the heritage corridor commission to increase awareness about the waterway, trail, and national significance of the Erie Canal. The guide is available for download online at:
http://www.eriecanalway.org/explore_things-to-know_brochures-maps.htm
#### The
Erie Canalway National Heritage Corridor
spans 524 miles across the full expanse of upstate New York. It encompasses the Erie, Cayuga-Seneca, Oswego, and Champlain canals and their historic alignments, as well as more than 230 canal communities. The Corridor's commission and staff, in partnership with the National Park Service, work through public and private partnerships to promote historic preservation, recreation, education, tourism, and economic revitalization throughout the Corridor.
http://www.eriecanalway.org/
Contact
: Jean Mackay, Director of Communications and Outreach 518-237-7000, ext 222
jean_mackay@partner.nps.gov