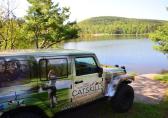 Greene County Tourism Entices Visitors with Adventure Contest and Prizes
Greene County, N.Y.
- Today, the Great Northern Catskills of Greene County debut the signature campaign of the Adventure Passport Contest -  the Adventure Passport Mobile Tour - at the Kaaterksill Rail Trail Opening in Haines Falls for National Trails Day.   The National Trails Day event at Kaaterskill Rails Trail is the first unveiling of the eye-catching Adventure Passport Jeep, a new tourism campaign that will support the Adventure Passport Contest, a multi-season effort, to showcase and promote the region's exciting adventure opportunities.  The Adventure Passport Mobile Tour hits the road today, handing out Adventure Passport Contest Brochures, Greene County Travel Guides, and brochures from local tourism attractions to entice visitors to participate in the contest while visiting the County. Tapping into the region's destination marketing campaign, the County's Official Tourism Vehicle acts as a mobile billboard for advertising, as well as a travelling visitor center. The Tour includes stops at more than 40 different events and festivals, all inclusive-family resorts, and major tourist attractions from June through Columbus Day. Greene County's Official Tourism Vehicle is now a four-door Jeep Wrangler supporting the "Awaken to Adventure" brand of the Great Northern Catskills of Greene County," states Warren Hart, Director of Greene County Economic Development, Tourism and Planning.  "Not only is the Jeep eye-catching and intriguing, it is representative of our outdoor based tourism community, offering mountain, forest and river adventure activities, and capable of acting as a year round mobile visitor center." The Jeep is fully wrapped in colorful images of Greene County's top adventure destinations, from NY Zipline Adventure Tours at Hunter Mountain and Zoom Flume Water Park, to Kaaterskill Falls and North South Lake State Campground, and images of skiing, golfing, mountain biking and hiking. The images featured on the Jeep were chosen to highlight the diverse elements of the adventure tourism sectors found within Greene County, states Hart. Funded by a special tourism allocation from the Greene County Legislature, the Adventure Passport Contest, Campaign and Mobile Tour were developed in partnership with the County's Tourism Advisory Committee, which is made up of ten Greene County tourism business owners and representatives. "The Adventure Passport Campaign and Mobile Tour is a true Greene County partnership, created by representatives from across Greene County, it is the feature campaign of the summer season, reinforcing the adventure brand of Greene County," states Kevin Lewis, Chairman of the Greene County Economic Development and Tourism Committee.  The Adventure Passport Contest was coordinated in tandem with local lodging facilities and attractions, which donated the prizes for the contest with the goal to get tourists to recognize the unparalleled beauty of the Great Northern Catskills of Greene County. Through the contest, the county hopes to encourage visitors to choose Greene County for their family adventure vacation, travel around the county and share pictures of their adventures, states Heather Bagshaw, Greene County Marketing Manager. Prizes include family vacations, lodging packages, golf passes, museum passes, canoe and kayak rentals, a mountain bike, gift certificates and many more. Upcoming stops on the Mobile Jeep Adventure Tour include:
Anthem Sport's Gran Fondo Catskills Cycling Race at Hunter Mountain June 1-2
Radio Woodstock's Mountain Jam Fest at Hunter Mountain June 6-9
NYC Watershed Experience at Brooklyn Bridge Park June 8
Taste of Country Music Festival at Hunter Mountain June 13-15
I Love Downhill Grand Prix of New York at Windham Mountain June 21-23
Athens Street Festival in Athens July 13
•·         Greene County Youth Fair in Cairo July 25-28
Catskill Mountain Thunder Motorcycle Festival in East Durham August 12-15
Follow the Jeep on Facebook.com/GreatNorthernCatskills and find additional information, contest details and more at passport.GreatNorthernCatskills.com/contest. 
###
CONTACT: Heather Bagshaw (518) 943-3226
Rebecca@inphorminc.com