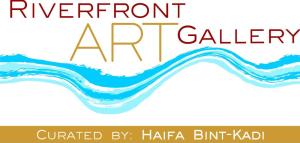 Yonkers, N.Y. – Yonkers Riverfront Art Gallery is pleased to announce the opening of A Higher Power, a new art gallery exhibit featuring Elvira Clayton. The gallery exhibit will be on view now through Saturday, June 19. We will host an in-person opening reception at the Yonkers Riverfront Art Gallery, 1 Larkin Plaza, Yonkers, NY, on Saturday, April 24, 1:00-4:30 P.M. Elvira's Live Artist Talk, hosted by art gallery Curator Haifa Bint-Kadi will take place at the Yonkers Riverfront Art Gallery on Friday, May 14, 1:00 P.M. Due to COVID-19 restrictions, there will be limited seating. Closing reception will be on Saturday, June 19, 1:00-4:30 P.M.
"My art practice is an exploration of personal, historical, and re-imagined memory." Stated Elvira, "I've used installation, performance, oral narratives, and assemblage to create work that responds to people who lived under American slavery. Through this process, I honor my own enslaved ancestors."   
Artist's Statement: "A Higher Power is a retrospective representing my years of practice as a New York City-based artist. The work is shown as a group of mixed-media series and includes photography, collage, assemblage, large-scale artist books, and installation.
Personal family history, collective community documentation, and fragmented historical memory are subjects explored through this work. Ritualistic iconography is embedded in the pieces. This element is a gesture of reverence toward ancestral energy, representing that ever-present thread that connects us to our past.
The exhibition's title, A Higher Power, is a phrase taken from my deceased father's journal- I proudly dedicate this show to him. This collection addresses the trauma, values, dignity, and joy of a people. It is a celebration of endurance and culture. I invite the viewer to take a close look and find our shared human connection."
ABOUT THE ARTIST:
Elvira Clayton is a multi-media artist working across installation, performance, oral history collection, collage, and sculpture. Born in Lafayette, La., growing up in Houston, Texas, She lives and works in Harlem, New York City. Inspired by ancestorial reverence, Elvira's practice explores matriarchal lineage, personal, historical and re-imagined memory. She is currently focused on a series of research-based work that uses slave-era textiles and craft practices to look at and tell stories related to American Slavery.
Elvira's work has been exhibited at Longwood Gallery in the Bronx, Allen Sheppard Gallery in Chelsea. McNeese University and Alexander Museum of Art in Louisiana. As a member of the performance group Black Women Artists, she has performed at the New Museum and the Brooklyn Museum in New York and Project Row Houses in Houston, Texas. Elvira has been an artist-in-residence at The Anderson Center for Interdisciplinary Studies, Red Wing, MN. And at Blue Mountain Center, blue Mountain, N.Y. Her work has been featured in Killens Review, Glasstire, Callaloo Journal, and Artsy.net. Elvira is a Laundromat Project Create Change Fellow and Commissioned Artist alumni. She is a four-time recipient of the Manhattan Community Arts Fund Grant.
###
ABOUT THE GALLERY:
The Riverfront Art Gallery opened its doors in 2009 and is located on the 4th floor of the Riverfront Library in downtown Yonkers, NY. The gallery curator Haifa Bint-Kadi exhibits contemporary, nationally, and internationally acclaimed artwork. The mission of the gallery is to present a diverse and balanced schedule of exhibits of high caliber, progressive artwork, and related programs not frequently seen in Yonkers and in surrounding communities. The exhibition schedule is managed by a committee that is appointed by the library director.
Hours of service:
Monday - Thursday: 12:00 P.M. - 7:00 P.M.
Friday and Saturday: 10:00 A.M. - 5:00 P.M.