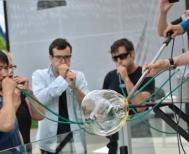 Museum Hosts Live Design Sessions with International Designers this Summer
Corning, N.Y. -
Opening May, 19, 2012, at The Corning Museum of Glass,
Making Ideas: Experiments in Design at GlassLab,
will showcase more than 150 design prototypes created at GlassLab, a pioneering collaboration between international designers and master glassmakers from The Corning Museum of Glass. The exhibition, which emphasizes the role of designers and the process of creation using glass as a design material, will feature the glassmaking experiments of nearly 50 designers who have participated in GlassLab to date, including trend-setters in product, toy, and even fashion design. Since 2007, the Museum's GlassLab program has provided leading designers with unprecedented access to hot glassmaking technology and the freedom to experiment with new design concepts alongside highly-skilled glassmakers. This collaboration-made possible by the development of an innovative mobile hot glass studio that has traveled to high-profile art and design fairs, workshops, and museums in Europe and the United States-has helped to expand the frontiers for design in glass and pushed the creative boundaries of its participants, who have included the designers Atelier Oï, Yves Béhar, Constantin and Laurene Boym, the Campana Brothers, Nacho Carbonell, Matali Crasset,  Sigga Heimis, Max Lamb, Tomáš Libertiny, Ted Muehling, and Massimo Vignelli, among others. "For decades, designers have had incredibly restricted, often indirect, access to glass, and thus a very limited understanding of its properties and potential as a material for design," said Tina Oldknow, curator of modern glass at the Museum. "GlassLab has been truly transformative for the field, a catalyst for innovation that has allowed designers with a variety of interests and backgrounds to work with glass in newly expressive ways. The design explorations made possible by this program will impact how we encounter glass every day." On view through January 6, 2013,
Making Ideas
will immerse visitors in the design process. Through a monumental video, drawings, and glass prototypes, they will be able to follow the progression of a GlassLab design event.  First, the concept for an object emerges from the designer's sketch or idea, and then begins to take shape in molten glass.  The object rapidly evolves as the designers and glassmakers experiment with the form in dialogue with one another, and the process culminates in the expression of the concept as a fully-realized object. The large exhibition gallery, designed by Paul Haigh of HAIGH Architects + Designers,  evokes the spirit of a designer's loft: a clean, open space in which to study, discover, and make. Themes explored in the exhibition range from the natural and anatomical to the poetic and whimsical, touching on nearly everything in between: dynamite from Stephen and William Ladd, spinning tops from Active People, and "pretzels" from Tobias Wong, to name just a few. An accompanying web-based app will provide additional depth and background on the process and featured designers. To enhance the gallery experience, the Museum will host live GlassLab sessions on its Hot Glass Show stage. From May 29 through August 28, visitors will be able to move between the exhibition and the performances to see firsthand how the program brings new ideas to life. Featured New York designers include Harry Allen, Stephen Burks, Wendell Castle and Michele Oka Doner. For a full schedule of GlassLab sessions at the Corning Museum, visit
www.cmog.org/glasslab
. The Corning Museum of Glass will once again partner with Cooper-Hewitt, National Design Museum to present GlassLab this summer. From June 30 to July 29 on New York's Governors Island, the Corning Museum's expert glassmakers will work with contemporary graphic designers included in the onsite exhibition
Graphic Design-Now in Production
, co-organized by Cooper-Hewitt and the Walker Art Center. A full schedule and list of participating designers will follow. In past years, GlassLab has been presented at Design Miami/ (2007, 2008); Cooper-Hewitt, National Design Museum (2008); Art Basel (2010, 2011); and the Vitra Design Museum's annual summer design workshop at the Domaine de Boisbuchet in Lessac, France (2006 - 2012). The program was enabled by the Corning Museum's design and development of a mobile, ultralight glassblowing studio that can be deployed in almost any urban or rural location. Since its launch, the following designers have collaborated with the Museum:  Active People (René Küng and Alex Hochstrasser), Harry Allen, Antenna (Masamichi Udagawa and Sigi Moeslinger), Atelier Oï (Aurel Aebi, Armand Louis, and Patrick Reymond), Shin Azumi, Tomoko Azumi and Barbara Etter, Yves Béhar, Constantin and Laurene Boym, Stephen Burks, Fernando Campana and Humberto Campana, Nacho Carbonell, Wendell Castle, Paul Cocksedge, Francisco Costa, Matali Crasset, Michele Oka Doner, Tim Dubitsky and Patrick Li, Sebastian Errazuriz, Paul Haigh, Sigga Heimis, James Irvine, Beat Karrer, Kidrobot (Chad Phillips), Steven Ladd and William Ladd, Max Lamb, Arik Levy, Tomáš Libertiny, Jason Miller, Ted Muehling, Olgoj Chorchoj (Michal Fronek and Jan Nemecek), Jon Otis, Massimo Vignelli, Moritz Waldemeyer, David Wiseman, Tobias Wong and Tom Scott, and Jeff Zimmerman. The Corning Museum of Glass is the foremost authority on the art, history, science, and design of glass. It is home to the world's most important collection of glass, including the finest examples of glassmaking spanning 3,500 years. Live glassblowing demonstrations (offered at the Museum, on the road, and at sea on Celebrity Cruises) bring the material to life. Daily Make Your Own Glass experiences at the Museum enable visitors to create work in a state-of-the-art glassmaking studio. The campus in Corning includes a year-round glassmaking school and creative center for artists, The Studio, and the Rakow Research Library, the world's preeminent collection of materials on the art and history of glass. Located in the heart of the Finger Lakes Wine Country of New York State, the Museum is open daily, year-round. Kids and teens, 19 and under, receive free admission.
###
Contact
: