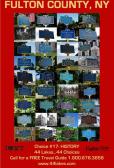 Gloversville, N.Y.
- The Fulton Montgomery Regional Chamber of Commerce has announced that a new history poster is printed and ready for distribution.  The Chamber is the designated tourism promotion agency for Fulton County that promotes tourism utilizing
I LOVE NY
tourism matching funds.  The history poster is one piece of collateral that the Tourism Department produces to attract tourists to the area. The history poster was designed by the Tourism Department's Summer Intern, Marlaina Wing, a student at Cazenovia College and Johnstown native.  "Marlaina approached me with an idea to do a history poster.  After a little research and discussion we decided to highlight the history of Fulton County through its historical markers," states Gina DaBiere-Gibbs, Director of Tourism. "The last poster the Tourism Department produced was in 2008 and it was outdoor themed.  The current tourism tagline is 44 Lakes...44 Choices and many of the ads are outdoor and recreational based themes.  While these are still important segments to highlight there are many other reasons to visit Fulton County," adds DaBiere-Gibbs.  "Over the next year various advertising will include new themes to highlight these other segments including history.  The poster reads "Choice #17: History. 44 Lakes...44Choices."" "This is a perfect time to add history into the advertising mix.  We are involved in the "Path Through History" initiative and very supportive of the tours and activities that local groups have started to showcase the history of Fulton County," concludes DaBiere-Gibbs. A limited number of free posters are available at the Fulton Montgomery Regional Chamber office at 2 North Main Street, Gloversville.  For more Fulton County tourism information visit
http://www.44lakes.com/
.
***
Contact:
Gina DaBiere-Gibbs, Director of Tourism, Fulton Montgomery Regional Chamber of Commerce 518-725-0641 or
tourism@fultoncountyny.org
Photo caption: New Fulton County History Poster