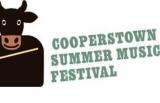 Pairs video footage and wildlife sound recordings from the Cornell Lab of Ornithology's Birds-of-Paradise Project with Live Performance of Robert Sirota's "Birds of Paradise"
Concert also features works by Mozart, Debussy, Poulenc, Francaix and Britten
Cooperstown, N.Y.
- Birds of Paradise, Greek mythology, and a piece Mozart called "the best work I have ever written," all are featured in Opening Night of the Cooperstown Summer Music Festival on July 7 at 7:30 pm at the Otesaga Hotel, 60 Lake Street in Cooperstown, NY. The Festival will premiere a new multi-media work that integrates a live performance of Robert Sirota's 2008 composition
Birds of Paradise for flute clarinet and piano
with video footage and wildlife sound recordings from the Cornell Lab of Ornithology's Birds-of-Paradise Project. At the pre-concert talk at 7 pm, Cornell Lab scientist Ed Scholes, composer Robert Sirota and Festival artistic director Linda Chesis will discuss their collaboration. Scholes, an evolutionary biologist, spent 8 years and 18 expeditions scientifically documenting all 39 species of the birds-of-paradise family with National Geographic photographer Tim Laman.  "The birds-of-paradise are universally captivating and have been inspiring poets, painters and musicians for centuries. Almost everyone, from scientist to regular citizen, is drawn to them out of a sense of aesthetic wonder similar to what we experience through fine art and music," says Ed Scholes.  He then added, "The multimedia piece accompanying Sirota's 
Birds of Paradise
 is a perfect combination of science, nature and the arts. We're excited that our spectacular video of these unique birds will be presented with Sirota's composition at this year's Cooperstown Summer Music Festival. " "Imagine watching these extraordinary birds in HD, hearing a composer's evocation of bird sounds, combined with actual bird calls," says Chesis, who will be performing Opening Night with James Roe, oboe; Marianne Gythfeldt, clarinet; Adrian Morejon, bassoon; Zohar Schondorf, French Horn; and Pedja Muzijevic, piano. The Birds-of-Paradise Project video that will be shown at the Festival was edited by Jim Berman, Creative Director of Zapcast Creative. Two composers' musical portraits of Pan and Syrinx will be performed: "Pan" from
Britten's
Six Metamorphoses after Ovid, Op. 49 and Syrinx by Debussy. Mozart's celebrated Quintet for Piano and Winds, the Poulenc Sextet and Francaix Quartet round out the evening's program. "The Mozart is the first work of its kind and a cornerstone of the woodwind repertoire. This program shows the woodwind family's breadth and variety of tonal color," says Chesis. "It's just perfect for a summer Sunday evening." Tickets are available online, CooperstownMusicFest.org and by phone through Brown Paper Tickets, 800.838.3006. Tickets also will be sold at the door, as available. Tickets are $25 for adults; $15 for students 6-18.  The Festivals popular and
free Pro Am Performances
, which pair highly accomplished amateur musicians with professional artists, will be held July 9 at 7:30 pm at Pathfinder Village in Edmeston, July 10 at 7:30 pm at Grace Church in Cherry Valley, and July 11 at 7:30 pm at Christ Church in Cooperstown.  A fourth free performance, the
Flute Fest
with the NYSMF International Flute Institute, will be held August 1 at the Otesaga. The Festival's 15
th
season continues at the Otesaga Hotel with
REBEL Baroque Ensemble
August 4 at 3 pm, and
Jazz with vocalist Hilary Kole
August 11 at 7:30 pm.  The Festival also presents three Wednesday evening (7:30 pm) concerts at The Farmers' Museum in Cooperstown:
Vienna 1: The Imperial City
August 7,
Vienna 2: A Tradition of Innovation
August 14, and the
East Coast Chamber Orchestra
August 21. For more information, go to
http://www.cooperstownmusicfest.org/
or call 877.666.7421.
[Calendar Listing]
Sunday, July 7, 7:30 pm
Cooperstown Summer Music Festival Opening Night Birds of Paradise: Music for Winds and Piano
Otesaga Resort Hotel 60 Lake Street, Cooperstown, NY Pre-concert talk at 7 pm with Cornell Lab of Ornithology scientist Ed Scholes, composer Robert Sirota and Festival artistic director Linda Chesis.
Francaix
Quartet
Britten
"Pan" from Six Metamorphoses after Ovid, Op. 49
Debussy
Syrinx
Mozart
Quintet in E flat major for Piano and Winds, K. 452
Robert Sirota
Birds of Paradise (2008)             with video from the Cornell Lab of Ornithology, edited by Jim Berman (2013)
Poulenc
Sextet
Performers:
Linda Chesis, flute; James Roe, oboe; Marianne Gythfeldt, clarinet; Adrian Morejon, bassoon; Zohar Schondorf, French Horn; and Pedja Muzijevic, piano Tickets are available online, CooperstownMusicFest.org and by phone through Brown Paper Tickets, 800.838.3006. Tickets also will be sold at the door, as available. Tickets are $25 for adults; $15 for students 6-18.  [For more information, photos or to arrange an interview with Linda Chesis or any Festival artist, please contact Peg Odell, 607.544.1123,
odell5@stny.rr.com
]