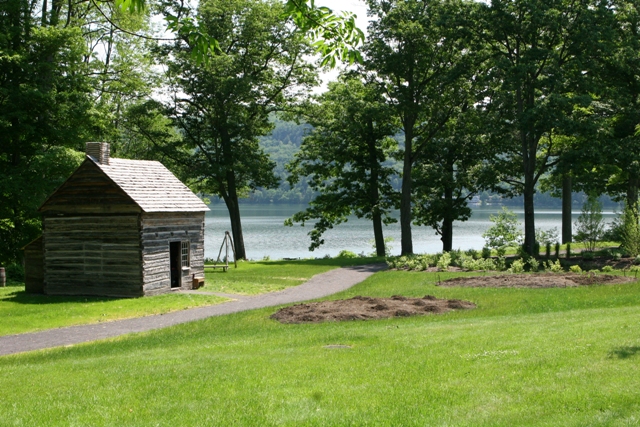 Cooperstown,N.Y. -
On Saturday, July 2, from 10 a.m. to 5 p.m., the Fenimore ArtMuseum in Cooperstown, N.Y. will officially unveil "Otsego: A Meeting Place" - its latest addition to the Native American Interpretive Area and Trail.   The day will offer a variety of family-friendly activities and programs.  Visitors will explore the lives and culture of the Haudenosaunee (Iroquois) people through their art,stories, and objects.  Entry to "Otsego: A Meeting Place" is free with paid museum admission. Located on north side of the Fenimore's expansive back lawn, the new area consists of the recently relocated Seneca Log House, a "Three Sisters Garden," a pond, and other features pertaining to a settlement of this type in the late eighteenth and early nineteenth centuries.   Activities on July 2 include cooking demonstrations, the story of wampum (in the Mohawk Bark House), potato stamping and splint basketry demonstrations, the story of Sky Woman's fall from the sky world, and stories of the Haudenosauneepeople.  You can even go inside the Museum to explore The Eugene and Clare Thaw Collection of American Indian Art. Native American educator and storyteller, Mike Tarbell, will share objects from the Iroquois teaching collection and the story of "The World of the Mohawk." Other activities include corn husk doll making, totem pole tours, and garden tours.  A casual lake view lunch or snack can be found at The Fenimore Café - just a few steps away.  Museum admission, which includes entry to "Otsego: A Meeting Place," is $12 for adults and $10.50 for seniors.  Children (age 12 and under), members of the New York State Historical Association, as well as active and retired career military personnel always receive free admission.  Visit FenimoreArtMuseum.org for more information and full schedule.
###
Image:
Photo of Otsego: A Meeting Place
About the Seneca Log House
The Seneca Log House is a single-family log house typical for most reservation Haudenosaunee (Iroquois) families during the late eighteenth and early nineteenth centuries. Adjacent to the house is a "Three Sisters Garden" with corn, beans, and squash. Medicinal plants are grown in their natural environment in the surrounding woodlands.
About Fenimore Art Museum
The Fenimore Art Museum,located on the shores of Otsego Lake -- James Fenimore Cooper's "Glimmerglass Lake" -- in historic Cooperstown, New York, features a wide-ranging collection of American art including: folk art; important American 18th- and 19th-century landscape, genre, and portrait paintings; an extensive collection of domestic artifacts; more than 125,000 historical photographs representing the technical developments made in photography and providing extensive visual documentation of the region's unique history; and the renowned Eugene and Clare Thaw Collection of American Indian Art comprising more than 800 art objects representative of a broad geographic range of North American Indian cultures, from the Northwest Coast, Eastern Woodlands, Plains, Southwest, Great Lakes, and Prairie regions. Founded in 1945, the Fenimore Art Museum is NYSHA's showcase museum. FenimoreArtMuseum.org
For more information or images, please contact
: Todd Kenyon, Public Relations New York State Historical Association Fenimore Art Museum/The Farmers' Museum Phone: (607) 547-1472 / E-mail:
t.kenyon@nysha.org