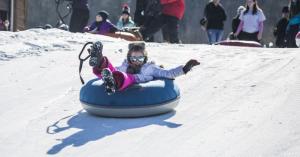 Malone, NY - Already a popular upstate New York venue for skiing and tubing, Titus Mountain Family Ski Center is raising the bar by replacing its current tubing area with a larger, faster, more convenient and more fun center to accommodate increased demand for tubing. 
It is slated to open this Thanksgiving weekend, should the weather cooperate. 
Visit the newly constructed tubing park and breeze down multiple runs that are now 800 feet long, and steeper for an added adrenaline rush. The runs have been widened as well  to accommodate double tubes holding two people at a time. When tubers have reached the bottom, skip the hike back up and step on New York State's newest 550-foot conveyor magic carpet lift. 
A new lodge on top of the tubing hill with views of the lanes will be open to the public as a warming hut. Additional rooms can be reserved for birthday parties, corporate events, or any occasion. Season tubing passes are $149 and there are no restrictions or black out dates. 
"Tubing is gaining in popularity and is both an alternative to skiing, or an additional amenity to the skiing experience at Titus," said co-owner Bruce Monette. "It's a fun, affordable way to get people outside and active all winter long."
Not only is the tubing at Titus fun for the whole family, but as the name implies, Titus is big on being beginner and family-friendly. It delivers a kid-friendly experience from the moment the car doors open. In fact, last season, it earned  the #1 resort for beginners in North America, the #2 most family-friendly resort and #3 best value resort in North America in Liftopia's 2018/19 Best in Snow awards.
Voters consistently applaud its "great grooming" and note there are "always chairs available," with a "perfect slope for beginners" and an "over-the-top family friendly" atmosphere. The "Best Kept Secret" program allows their ski school to create programs centered around skiers' needs, rather than making them fit their needs into a pre-made program.
The 2,025-foot summit mountain is home to 50 trails and glades over three inter-connected mountains accessed by 10 lifts, as well as the tubing center. Titus also has some built-in advantages, such as easy commutes from major cities with little or no traffic and short lift lines. Located in Malone, NY, it is just an hour south of Montreal, two hours from Ottawa, three hours from Albany, and about 5 1/2 hours from the New York City metro area.
"We make skiing with kids easier by offering plenty of easily-accessible beginner and intermediate terrain, an advantageous resort layout with short distances from the parking lot to the slopes, and ski-in and ski-out lodging," said Monette.
###
Contact:
Carrie Gentile, communications coordinator
Regional Office of Sustainable Tourism
direct: 518.621.3665 or 518.523.2445 ext. 123