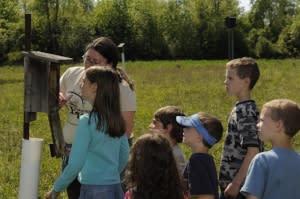 Mumford, Mar. 20, 2018— Not everyone gets out of town for spring break. Parents looking to offer video-game-free fun this April now have new Spring Break Camp options.
Building on the popularity of its summer camp programs, Genesee Country Village & Museum introduces a new Spring Break Camp, April 2-6, which includes busing from Rochester and is offered for children ages 6-9 and 10-15.
At the museum's 175-acre Genesee Country Nature Center, youngsters can enjoy hikes, games, crafts and plenty of time to explore the world around them.
In a separate program, the 19th-century Pioneer Farmstead offers each age group a chance to work with animals, help with chores and learn what life was like on a farm in the 1800s. Each youngster is loaned period clothing to wear throughout the week.
All sessions run from 10 am to 4 pm.  Transportation via a supervised camp bus from Rochester and extended care options are available.
Cost of the program is $240 for ages 6-9 and $280 for ages 10-15. GCV&M members receive a 10 percent discount.
For more information, visit the museum website www.gcv.org or call 585-294-8218.
About GCVM
GCVM is the largest living history museum in New York State with the largest collection of historic buildings in the Northeast. The museum, with its John L. Wehle Gallery, working brewery, vintage base ball and Genesee Country Nature Center, is open May -Oct., with a variety of special off-season programs, and located in Mumford, NY, 20 miles southwest of Rochester and 45 miles east of Buffalo. Visit www.gcv.org for more information.
Photo— Young campers gather around Natural History Programs Director Melissa Marszalek as she checks one of many nest boxes at the Genesee Country Nature Center. Photo by Loyd Heath
Contact: Judy Markham
Day of Event Contact: Becky Wehle