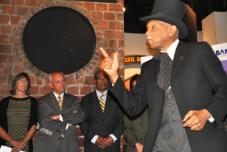 Federal and State Agencies promote Underground Railroad sites to travelers
Albany, N.Y.
- Congressman Paul Tonko joined officials from the National Park Service; Erie Canalway National Heritage Corridor; I LOVE NEW YORK; the New York State Office of Parks, Recreation and Historic Preservation; and others today to announce a joint tourism initiative that aims to increase visitation to upstate New York by highlighting historic sites, museums, and tours dedicated to interpreting the story of the Underground Railroad (UGRR). Historically, about eight out of 10 national travelers have included a cultural, arts, heritage or historic activity or event while on a trip of 50 miles or more. This represents a significant contribution to the State's vital $50 billion a year tourism industry.  "The Underground Railroad is one of the greatest stories in our nation's history, and I am proud of the commitment that Interior and the National Park Service are making to ensure it's told far and wide,"
Secretary of the Interior Ken Salazar
said. "Encouraging people to visit these hallowed sites will not only honor the men and women who risked so much in the name of equality and freedom, but will also drive tourism and help spur local economies in New York." As a major part of this collaborative initiative, from September 10
th
through 15
th
I LOVE NEW YORK will lead a
familiarization tour*
of historic sites and museums related to the Underground Railroad and slavery in New York, crossing the state with journalists from six different media outlets and a tour wholesaler, all from the United Kingdom. Many of these sites have received promotional and marketing support from the Erie Canalway National Heritage Corridor (ECNHC), which has recently been inducted into  the
National Park Service Network to Freedom Program
** in recognition of its important work linking and promoting UGRR sites along the New York State Canal System. In celebration of this momentous designation and to launch the familiarization tour, Dr. David Anderson, a renowned African American storyteller, actor and interpreter, portrayed Frederick Douglass in a theatrical sketch. Frederick Douglass, who was born a slave and managed to escape to New York as a young man, became an orator, writer, and key African American station master on the Underground Railroad. As a tireless abolitionist, he wrote and spoke against slavery in the U.S. and Great Britain during his lifetime. "In the history of New York, we also discover the history of our great nation - in fact, New York's canals were the ink that wrote our history," said
Congressman Paul Tonko
. "I want to commend the Erie Canalway National Heritage Corridor and its partners for putting together this familiarization tour that will bring international attention to the story of how our waterways served as the path to freedom for so many." "Canals in New York brought not only economic growth to New York State and a critical mode of transportation for people and ideas, but also played an integral role serving as a pathway or destination for freedom seekers," said
Beth Sciumeca, Executive Director of the Erie Canalway National Heritage Corridor
. "We look forward to working with our partners to help highlight this important story for New York's residents as well as for national and international travelers." "The places of refuge where African-Americans found shelter while fleeing slavery tell a powerful story about humankind's yearning for freedom," said
Rose Harvey, Commissioner of the Office of Parks, Recreation and Historic Preservation
. "Our agency looks forward to working with our partners in this initiative to introduce new visitors and tourists around the globe to an important chapter of New York's history." This multi-agency initiative, despite budget cutbacks, has made significant progress, such as acquiring the prestigious Network to Freedom designation for the Erie Canalway National Heritage Corridor and organizing an unprecedented UGRR familiarization tour. The Erie Canalway National Heritage Corridor, which includes 524 miles of waterways and 234 communities along the New York State Canal System, is the only national heritage area that has been honored with a National Park Service Network to Freedom designation. I LOVE NEW YORK and partners created itineraries, which have garnered domestic and international attention, highlighting UGRR sites and stories throughout the Corridor and New York State. "Travelers from around the world are amazed by New York State's renowned historical and cultural gems," said
Kenneth Adams, President, CEO & Commissioner of Empire State Development (ESD)
, which administers the I LOVE NEW YORK program. "This initiative will highlight an incredibly important story for New Yorker's and visitors from all over the world. I'd like to thank our partners for aiding the preservation of the road to freedom that led so many people out of slavery during the 1800s - the Underground Railroad.  Its preservation in New York State will allow all to witness this monument to those who struggled for freedom and those who selflessly aided them in their journey." "By introducing this history to international media and travelers, we are not only informing them of the significance of the Underground Railroad to New York State, but also introducing this product to a new market, therefore building opportunity for increased economic activity," stated
Michele Vennard, President/CEO of the Albany County Convention & Visitors Bureau.
"Through the collaborative efforts of a visionary group of partners, New York State can now take its rightful place in the inspiring international story of the Underground Railroad movement that influenced the course of history around the world," said
Paul Stewart of the Underground Railroad History Project of the Capital Region
. "We're proud to be a partner in this exciting initiative."  
* See attached Familiarization Tour Itinerary
** The National Underground Railroad Network to Freedom Act
of 1998 directed the National Park Service (NPS), to create the Network to Freedom program to tell the story of resistance against the institution of slavery in the United States through escape and flight. Through this program, NPS is demonstrating the significance of the Underground Railroad not only in the eradication of slavery, but as a cornerstone of our national civil rights movement.
For more information
on the National Park Service Network to Freedom legislation, visit
www.nps.gov/ugrr
. To explore Underground Railroad in the Erie Canalway National Heritage Corridor, visit
www.eriecanalway.org/explore_things-to-do_UGRR.htm
.
####
Download
Underground Railroad Fam Tour Itinerary
Photo Caption:
African American storyteller and scholar Dr. David Anderson portrayed abolitionist Frederick Douglass to begin the event announcing a joint Underground Railroad tourism iniative. OPRHP Commissioner Rose Harvey, Congressman Paul Tonko, Markly Wilson of I LOVE NEW YORK, and Erie Canalway Executive Director Beth Sciumeca look on.
Contact
: Jean Mackay, Director of Communications and Outreach 518-237-7000, ext 222
jean_mackay@partner.nps.gov